Public art in an urban environment compels passersby to react. It can inspire, titillate, offend, please or provoke. It is by definition not passive. Its job is to enter headlong into the experience of an urbanite, whether he walks by or catches a glimpse of a monument, sculpture or mural while driving past. This fall, pedestrians along Broadway can enjoy the major exhibition of nine monumental sculptures by Carole Eisner, situated in the malls along the avenue from 64th through 166th.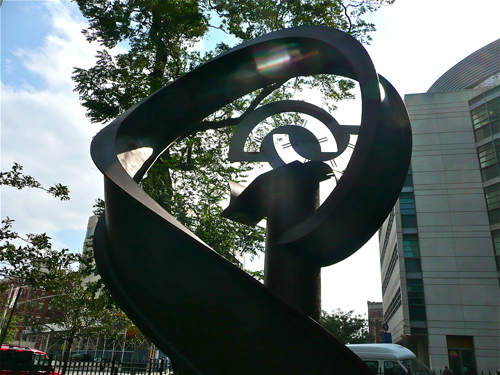 After a thrilling midnight installation of the sculptures -- complete with a massive crane, two flat bed trucks and a team of five able-bodied men -- the exhibition launched to much fanfare with a Ribbon Cutting ceremony near Lincoln Center, attended by city officials and the artist's fans. Carole Eisner on Broadway, organized by my contemporary art gallery Susan Eley Fine Art, the Broadway Mall Association and the NYC Department of Parks and Recreation, remains on view through December 8. Savor these alluring sculptures while you can; they will come down just as you begin to grow accustomed to their presence.
The Broadway Mall Association has arranged for an OnCell audio tour at each site to increase the interactive aspect of the show and to break down the barrier between artist and viewer. Prompted to punch in a corresponding number at each location, you'll be invited to listen to Eisner's description of each sculpture and even leave a comment. As one listener replied, "I am so moved; I've been a New Yorker forever. Thank you for helping to make New York the city that we love!"
Eisner welds her abstract sculptures from steel remnants she finds while scouring industrial scrap yards in Connecticut. Welding allows the artist to edit her work, adding or subtracting pieces as she goes, through a sort of a heavy metal collage process. Steel, she says, is surprisingly malleable.
Exhibit highlights include the lithe, 12-foot-tall Walter at 64th, standing as a beacon at the confluence of the swirling traffic patterns in front of the Lincoln Center. Her elegant torso (she is female, says Eisner, even with her given name Walter) was originally an industrial drill that supports the large head, perhaps once an enormous industrial gear. Walter is the Queen in a monumental chess set; to date, the artist has completed five of the pieces.
Dali's Moustache at 67th, also in the Lincoln Square BID, is painted red to reflect the sculpture's whimsical nature. It is named for the legendary artist's eccentric, quirky and highly coiffed moustache.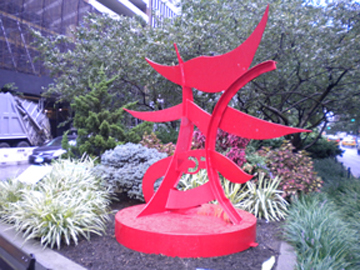 Giunta stands at 146th and is welded from scraps of riveted I beams and crushed steel, perhaps once segments of a century-old steel bridge.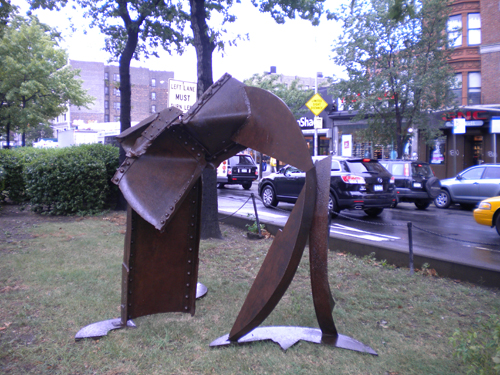 Swizzle at Mitchel Park at 166th, is comprised of a curved I beam swirling around a central pipe, both embracing and framing it. "The idea to work with rolled I beams came about by chance," the artist explains in the audio tour. "While working at a metal fabricator on a sculpture, I noticed a large steel plate. I asked if this could also roll I beams. Though the fabricator had never done this, the results were quite exciting. I went on to roll many I beams and then assembled them into sculptures, like Swizzle.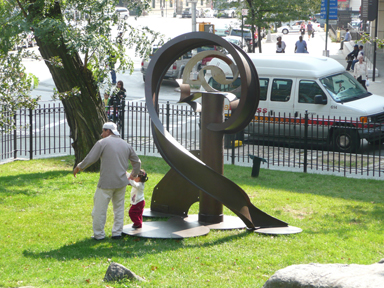 To celebrate Carole Eisner on Broadway, Susan Eley Fine Art is hosting In The Abstract, an exhibition of Eisner's indoor sculptures and oil paintings by California-based artist Liane Ricci, through November 5, at 46 West 90th Street; 917-952-7641.

SUBSCRIBE TO & FOLLOW THE MORNING EMAIL
The Morning Email helps you start your workday with everything you need to know: breaking news, entertainment and a dash of fun. Learn more