Pros: The Magellan eXplorist GC GPS is a small, durable and nifty gift for anyone who loves to travel near or far. For the urban outdoorsman on a serious treasure hunt, the eXplorist is very easy to use and ready to go upon opening the box. Its rubberized body with rubber keys makes it a rugged device. The transflective screen with 240 x 320 pixels remains bright in direct sunlight, has an easily accessible menu and fits easily in the palm of your hand. Tip: The device comes with 2 AA batteries, but be sure to have fresh batteries on hand.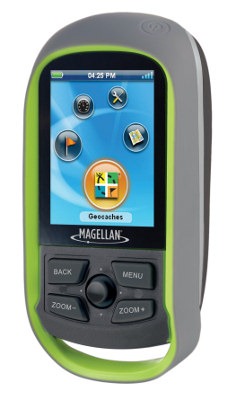 The eXplorist comes preloaded with a database of the world's most popular (paperless) geocaches stored in its memory (around a thousand) and has a memory of about 700 mb allowing for up to 10,000. The days of having to print out paper caches before heading out, are over. Worldwide base maps are included although not as accurate as devices used for turn-by turn directions. Whether you're in Rome, San Francisco or possibly your own backyard, you can use the eXplorist to hunt geocaches.
Cons: If you are a touch screen user, the eXplorist GC does not have one and could benefit from having one. (Magellan touch screen devices start at $349.99.) The screen is on the small side, but still allows for good viewing. The unit is not flat (1.4 inches thick), so unless you're wearing cargo pants, it isn't too pocket-friendly. However, the device has a loop beneath the keys for attaching a carabineer or a belt clip can be attached to the rear panel.

Dimensions: The handheld measures 2.2 inches wide and 4.4 inches tall and 1.4 inches thick with rubber buttons below the transflective screen.
If you're still in the dark about what geocaching is, the back of the eXplorist box says the following: Geocaching is a high-tech version of the game "hide and seek," where adventure seekers use GPS technology to hide and find physical objects, solve location-based puzzles, and share experiences online. Geocaching is enjoyed by people of all ages and promotes a strong sense of community and support for the environment.
Customer Service: No wait. When I opened the box, I had a quick question about changing the language from German to English, I called the toll-free customer service number and the native English-speaking representative answered my call immediately. My question was answered in seconds and a follow-up e-mail was sent to me within 3 minutes.
Price: The Magellan eXplorist GC retails at $199.99.
Contents in Box: Megellan eXploristGC GPS receiver, USB Data Cable, 2 AA
Batteries and User Handbook.
Free 30 day premium membership to Geocaching.com
FOLLOW HUFFPOST