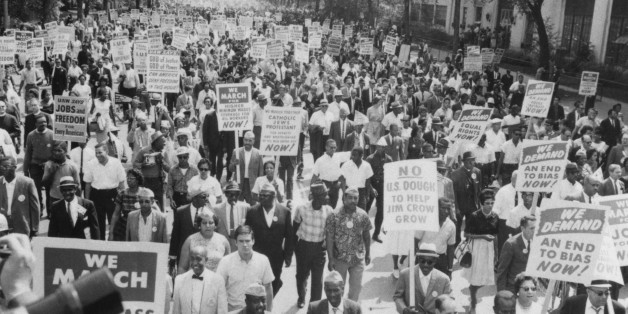 Today crowds congregate in Washington, D.C. to commemorate the 50th anniversary of the March on Washington. They gather, too, to address ongoing issues related to civil rights in our country and across the globe. Though much has changed -- this March will feature a speech by the first African American president of the United States and the first woman Speaker of the House -- much has not. The families of Medgar Evans, assassinated in 1963, and Trayvon Martin, slain in 2012, will be in attendance.
I am asking that we each take a moment and commit ourselves again to the work that began long before August 28, 1963 and continues today.
Although some of us think of that march as about Martin Luther King, there were many others who organized and brought the march to fruition. Some, such as Bayard Rustin (an openly gay African-American man whose leadership was essential to the movement), went unrecognized until much more recently. Some went on to be leaders in many other venues by holding office or struggling for justice in other ways.
In many ways, the civil rights movement was a student movement as well, beginning, some say, with a group of students from UNC Greensboro sitting down at a Woolworth's counter. Some of the iconic figures of this movement -- men and women, black and white, Jewish and Black Muslim and Christian -- were quite young.
Of course, the movement faced much opposition including the deployment of dogs and fire hoses and both legal and extra-legal efforts to sustain ongoing segregation of schools and public institutions across the nation. Efforts to change the economic and political consequences of slavery and the realities of legalized and normative discrimination were neither simple nor always non-violent. That struggle remains today.
While we can point to an African-American president, we can also point to our failure to improve the economic situation of men and women of color. While the Voting Rights Act signed by Lyndon Johnson changed the world, efforts are afoot today to decrease access to voting for many Americans. Racial inequality is part and parcel of the criminal justice system and the experience of immigrants in this country.
When the march for social justice appears to slow to a crawl, it can discourage us from joining in. But today, as we think back, I hope we will think forward as well.
As a lifelong educator, I often think about how knowing our history is crucial to shaping the future. This year, One Book One Chicago, an annual celebration of a book that encourages the residents of the city to read together, documents the internal migration of African-American through Isabel Wilkerson's The Warmth of Other Suns. If we need inspiration to commit again to the struggle for social justice, we could start there.
SUBSCRIBE AND FOLLOW
Get top stories and blog posts emailed to me each day. Newsletters may offer personalized content or advertisements.
Learn more