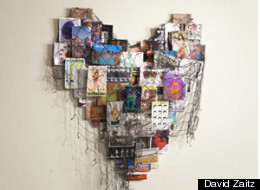 Divorce takes a toll on everyone involved and can often make you feel like a stranger in your own home. My clients tell me how the constant reminders of an ex-partner around every corner -- those honeymoon photos, or the blank spaces on the wall where those photos used to be -- can make your home feel like a shrine to the past, serving as a subconscious psychological roadblock that prevents you from moving forward. Whether you're looking to refresh your current space or are starting with an empty house in a new location, here are my top "interior remedies" to help you create a restorative, hopeful space that allows you to move forward after a split:
"Interior Remedy" For The Newly Divorced
Fill your space with things you love, or old hobbies you abandoned. Now is the time to do what you've always wanted to do: curate your collections for everyone to see. Maybe your ex-husband hated the pile of decorative pillows on your bed -- now is the time to express your individual style and make your bedroom as feminine as you desire.

Perhaps your ex-wife forbade you from bringing your collection of Samurai swords or vintage Playboys in the house. Find a special space for these items to be displayed in your home. Experiment with new colors and patterns you may have stayed away from because of your ex-partner's taste. Look at this as a liberating opportunity for you to be you.

If you're feeling overwhelmed, start with the main living area of your house where your family gathers the most -- the kitchen, dining room or living room -- and give it an update. The simplest way to drastically reshape any room is to give it a fresh coat of paint or add a new piece of furniture. Try updating your dining room chairs or adding a fun new piece of artwork to make a quick and dramatic change to your space. The faster you have one room complete and a place where you can feel comfortable, the faster it will start to feel like home again.

For many couples who have recently split, the bedroom can be the biggest reminder of the past. The first thing I recommend is to ditch the old blankets and splurge on a brand new bedding set you love -- from sheets all the way up to new throw pillows.

Paint a single wall to quickly transform the feel of your bedroom. Use a color that makes you feel happy, peaceful or passionate. Now is the perfect time to make this space your refuge and fill it with items that reflect your own individual style. Remember, this is your chance not to compromise on what you want.

It's important to clean out the past and make a space that is personal to you and your kids. Refresh your displayed family photos with special shots of just you with your kids and incorporate, fun, candid shots of your children playing together.

If you don't have kids, choose photos of your pet or good times with friends. Put a new spin on a Memory Board and create an Inspiration Board. Print out photos of the things and people you love most, add postcards and pictures of places you want to travel and new hobbies you want to try. Create a fun collage and display it as art. Pretty soon your Inspiration Board will become your new reality as you fill it with new memories.

It's normal to feel shell-shocked after a separation. It's important for you and your kids not to get stuck in transition. You can begin picking up the pieces by creating your own new space for you and your family. Pick one small project and start there -- repaint a single accent wall, buy a new piece of furniture or fun accessory like a chandelier or bookcase.

Even a small change can dramatically improve your mindset and keep you moving forward towards the next chapter in your life. Pretty soon, your photo frames will be filled with brand new memories!
Susan Manrao is a Los Angeles-based interior designer who specializes in creating and redefining spaces for newly divorced clients. Her work has been featured in numerous publications including The New York Times, Vanity Fair, InStyle Magazine, Style Network and more. For more information, visit susanmanrao.com