Today's your last chance to win a million bucks. The clock is ticking.
Don't throw your money away on a lottery ticket. Instead just write, shoot and submit a Super Bowl XLIV commercial for Doritos by midnight central time today (Monday, November 9th.)
If you make it as one of the six finalists, you'll win $25,000. If you are voted into the top 3, your ad will air during the Super Bowl. And if your ad makes it to first place on the USA Today Ad Meter, you'll win the cool million.
Oh, but you're not a Madison Avenue wannabe?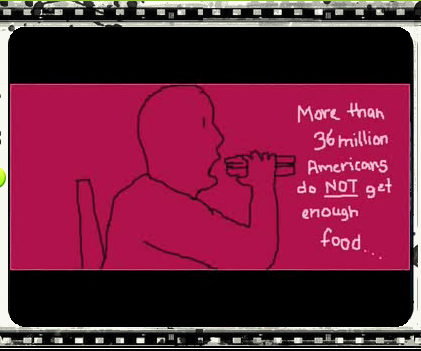 The Faces of Hunger in America film contest: Voting is going on now. Full disclosure: my 15-year-old son has entered an animated film. Check out his and the other entries here.
Well, perhaps you want to become a WashPo pundit?
Around 4,800 people wrote a short opinion piece to enter that contest--it closed for entries on October 21. Two days before Thanksgiving, the final ten will have been whittled down to the winner. The prize? The glory of having a weekly Washington Post column for 13 weeks (at $200 per column for a grand total of $2600).
That's what the John S. and James L. Knight Foundation has banked on with its News Challenge. There's still time to submit your entrepreneurial web idea to that one. If you want to change your community for the better, consider entering your idea for how to give people access to the news and information they need. The Knight Foundation will be giving as much as $5 million dollars to underwrite the best ideas that are submitted. "Since good new ideas can come from anyone, the Knight News Challenge just makes sense," said Eric Newton, vice president of Knight's journalism program. And "that's why there are at least two dozen other media innovation contests."
"It's so easy now to have a contest," agrees Leslie Walker, the Knight Visiting Professor in Digital Innovation at the University of Maryland. "In the old days, a contest was limited by the single bandwidth of the contest creator"--which usually meant print notices and lots of posters. "Now that bandwidth is augmented by websites and blogs that link and virally pass on word of an online contest."
Today's digital-media-enabled contests, perhaps even the most familiar reality-TV, American Idol-type kind, are popular because they promise a rags-to-riches success for at least one contestant--and a riveting drama for those watching. "Contests have become an important part of participatory media culture," admits Walker. But the value of Web 2.0 contests is "not only for the 10 percent of an audience that actually enters them" hoping for some monetary or other kind of reward, she notes. All of the rest of us are beneficiaries of the ideas and innovations that the contests encourage. Different voices are heard than otherwise would be, blue-sky ideas are floated, business models are invented.
Contests are the pop-culture equivalent of crowdsourcing. Contests are cheap and quick, yet they manage labor-intensive challenges: they do our talent searching and our R&D. They mash-up new technologies and broadcast ideals of social justice. They provide feedback and build ownership.
Take one last example: hunger in America. There's no shortcut way to manage the grassroots food pantries and other on-the-ground projects that actually get food into people's hands. But there are more efficient ways of getting the word out that hunger is a problem in the United States. Create a film contest. Publicize it. Get contestants. Then, once all the entries are in, convince someone like me to help publicize the videos. And then as people come to your site, watch your message repeat in places that you couldn't buy your way into--at least without more resources than you have. That's the beauty of a contest. A contest not only encourages entries, it provides entrée to engagement.
ps 1: Okay, so you didn't enter the Washington Post contest and you don't have time to get your Doritos ad together? But you want to be a player in at least one Web 2.0 contest? Well, you could always enter the weekly write-a-caption-to-a-New Yorker cartoon contest. The winning caption writer gets a signed print of the cartoon.
ps. 2: You want to learn a bit more about crowdsourcing? Take a look here at an article written (and widely reprinted) by Daren C. Brabham.
FOLLOW HUFFPOST