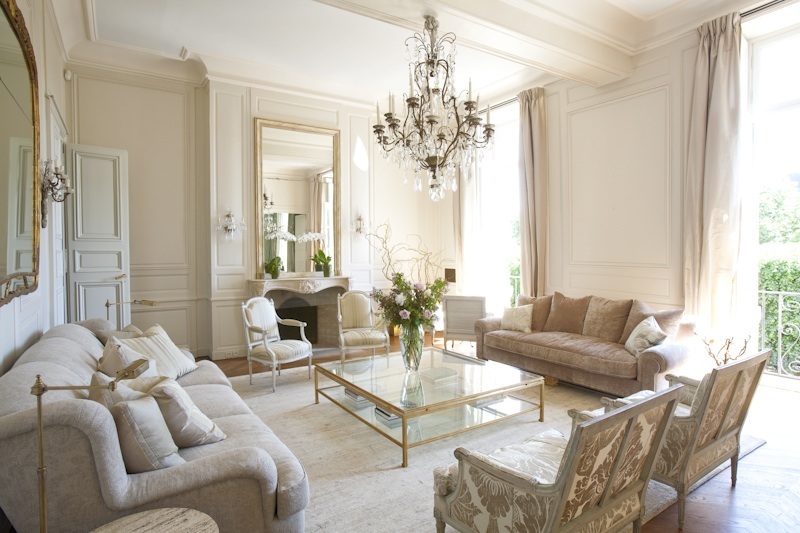 Victor Hugo lived here, as did Eminénce Rouge Cardinal Richelieu and Madame de Sévigné, whose sizzling letters shone a spotlight on court life under Louis XIV. Now you too can take up residence in an aristocratic apartment overlooking the 17th century Place des Vosges in Paris.
Designed by Jacques Grange, whose clients include Princess Caroline of Monaco and, in New York, Paloma Picasso and the Mark Hotel on Madison Avenue, he's transformed a majestic 206-square-metre space into a three-bedroom residence, overlooking the Place des Vosges, the prototype of all residential squares in European cities.
The square is the most coveted address in Paris, described by locals as; "the country in the city". This multi-million dollar apartment, designed with short-term rent in mind (actor Milla Jovovich was among the first in), occupies the aristocratic first floor - the étage noble.
The main 'summer' salon, painted blanc cassé, with a breath of blue on the vertiginous ceiling, is bathed in sunshine by day. In the evening it shimmers with reflected light from the chandeliers. The furnishings are oversize sofas, pretty French chairs and round side tables from the Giacometti studio.
"Oversize sofas make you feel cozy," says Grange. "That's the lesson of Coco Chanel."
There's a library, a 'winter salon' with a roaring fireplace and a professionally equipped kitchen. It's chased and workmanlike, concealing the dishwasher and fridge. "You can throw a party and the waiters find it a perfect space," says Parker.
The four-poster bed in the master bedroom is swagged in a pearl-green silk canopy and the pretty 19th century chairs are silk-upholstered. Upstairs, two bedrooms are masculine (for him) and playful (for children). The bathroom is black and white marble with Art Deco-inspired nickel fixtures.
"It's charming," says Grange, surveying the sumptuous results of his two-year collaboration with Nikki Parker, the owner. Parker worked for Ralph Lauren, opening stores across Europe, before she undertook this project.
"I had this concept of a beautiful private residence I would rent, offering the rare experience of living like an aristocratic Parisian," said Parker (indeed you can whistle up a butler, chef, driver, should you wish). "I needed a great French decorator. It had to be Jacques." Parker feels confident that it's the only apartment of its kind, an alternative to a five-star hotel, in Paris.
Grange's aesthetic is informed by a classic, Parisian education. He's a big-thinking designer who likes rare marble, chandeliers the size of a Smart Car and pedigree paintings.
"In Paris I am very protective of classicism. In New York I am free and more interested in the energy," he says, referring to his work for the The Mark Hotel. "I'm like a film director, I cut, I edit," he says. "But most of all, in this apartment I woke up the beauty."
"Of course we considered 21st century needs," Parker says.
To this end walls of cupboards line a small dressing room leading to a sleek Art Deco-inspired bathroom off the master bedroom. Grange has constructed a wall of mirror and brass doors, concealing a shower and separate toilet beyond the bath.
With little structural change to the entire apartment Grange built a long, narrow library and re-designed a staircase leading to the mezzanine.
"You can dine in the kitchen but the winter salon is so much nicer," Parker says. "It's a sexy, relaxed room, you put your feet up and watch television (Grange dislikes concealed televisions and his huge black plasma screen seems to dissolve against a dark background.)
Here the walls are covered with bronze jacquard fabric. Two chartreuse leather club chairs Parker found in a market at Saint Sulpice are snug by the stone fireplace - found by Grange in the south of France. The most remarkable aspect of the room is the painted, beamed ceiling (a classified historic monument) which has a Flemish, bronze candle chandelier.
"Jacques has a unique way of mixing elements," Parker said. "I showed him pictures of a mirrored hall in a Venetian palace and he immediately adapted it to the entrance, piecing together vast squares of antique glass which are joined at the corners with brass studs."
Outside, you are in the heart of the chic Marais district, where art galleries, restaurants and small boutiques occupy the colonnades of the Place des Vosges.
Contact: http://www.pavillondemadame.com/

SUBSCRIBE TO & FOLLOW LIFESTYLE
We're basically your best friend… with better taste. Learn more