Residents of Turtle Bay are used to seeing shiny black vehicles with diplomatic license plates but it is not every day one with 20 foot blades slips into a parking spot adjacent to the "Gateway to the United Nations," Dag Hammarskjold Plaza, on Second Avenue at 47th Street.
To mark last Thursday's one-year anniversary of U.N. Security Council Resolution 1769 -- which authorized deployment of the Darfur peacekeeping mission and 18 helicopters -- the Save Darfur Coalition delivered a shiny black helicopter, to the United Nations to jump-start stalled international relief efforts.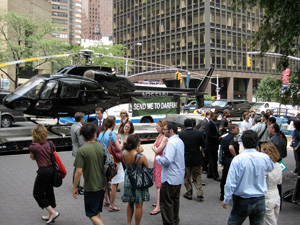 "The U.N. has had a year to come up with helicopters," said Jerry Fowler, President, Save Darfur Coalition -- an alliance of more than 180 faith-based, advocacy and human rights organizations. "The Security Council must act to fulfill the promises they made to the civilians of Darfur," said Fowler.
The gesture underscored the need for leading nations to supply helicopters and basic supplies, from boots to ration packs, critically needed by the African Union-United Nations mission in Darfur (UNAMID) peacekeepers on the ground in Darfur.
"The symbolism is very important," said Thomas Withington, an independent defense analyst and author of a new report, released Thursday, that outlines the countries that have the critically lacking helicopters needed to protect civilians in Darfur. "Helicopters on their own will not solve the problem."
The report identifies more than 20 countries with surplus aircraft that could be made available for the mission. The Czech Republic, India, Italy, Romania, Spain and Ukraine have an estimated 71 helicopters available, four times the requirement. NATO member states alone could jointly provide 104 such helicopters. The full text of the report can be located here: http://www.savedarfur.org/grounded
The resolution authorized a 26,000 peacekeeping force to protect the Darfuri people. The mission has deployed only 9,000 to the region. "The question to ask," suggested Withington, "is why, if they have the capacity, it's not being deployed."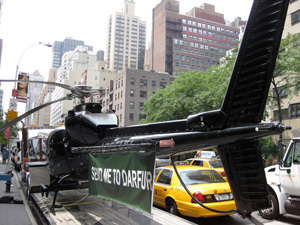 And speaking of deployment, Scott Farley, drove his flatbed truck with the helicopter strapped upon it, from Edison, N.J., home of Liberty Helicopters, across the George Washington Bridge and down Second Avenue. He had no idea as to the purpose of his mission. He'd heard the Mayor would be attending the event (not).
Farley, 47, who lives in Linden, N.J., received a call Wednesday evening asking if he'd be able to do the job the next morning. He was in Indiana at the time, drove his truck east to pick up the "U.N." delivery and take it to its destination Friday morning. Mission accomplished.
As for Darfur and Resolution 1769, it is a "worldwide failure of political will to deal effectively with the Darfur crisis," said Fowler.