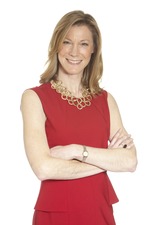 Follow the conversation on Twitter and share a photo of yourself wearing red #RedSelfie.
When the editors at Woman's Day started brainstorming the first-ever Live Longer & Stronger Challenge last spring, the idea seemed simple: We would find a group of women across the U.S. who had or were at risk of heart disease; team them with our contributing editor, nutrition expert Joy Bauer, RD; give them eating plans, exercise tips and weekly check-ins over the course of six months; and thereby help them lose weight and lower their heart-disease risk factors. Easy, right?
Well, as anyone who's ever tried to shed a pound (or 10 or 100) knows, completely overhauling your diet and the way you move is really, really hard work. Our health editors found six amazing women across the country, let Joy loose on them, and we sat back and crossed our fingers.
Over the next few months, the news started to roll in. Sandra reached the 50-pound milestone; Deborah reversed her high blood pressure. I heard cheers erupting from health director Abby Cuffey's office one day: She had just talked to Antoinette, a heart attack survivor who had received news (and congratulations) from her doctor because her cholesterol was now in excellent range. Our group was off to more than a strong start -- they were actually succeeding.
It quickly became apparent that -- besides the expert guidance they were receiving -- one factor was driving these women forward. They had discovered an incredible tool for making heart-healthy changes truly stick: group support.
That fact alone is not exactly newsworthy. Multiple studies have shown that teaming up with a buddy or joining a community helps bolster weight loss. The incredible part was that we had a front-row seat to watch science in action.
We had created a private Facebook group to serve as a way to share information, but it actually turned into the secret of the team's success. Day after day, the six women posted questions, tips, recipes, triumphs, struggles and progress pictures. This forum was the first place they went when they needed some motivation to go for a walk or when they hit a serious milestone, like dropping 10 pounds or significantly lowering their cholesterol.
But it wasn't merely the cheers and (virtual) smiles that the women gave one another when they reached a goal. It was the words of encouragement and judgment-free exhortations to get back on the wagon when their motivation to exercise waned or the siren call of chocolate cake proved too hard to resist. As the challenge went on, the six women shared email addresses, phone numbers and social networks. They texted and called one another, growing closer despite the distances between them.
Antoinette recently commented that the group support was the single reason she didn't go back to her unhealthy ways. For her, having so many virtual supporters led to success, whereas all of her prior attempts at weight loss fell by the wayside within weeks.
These six women are now a collective 293 pounds lighter, and their cholesterol and blood pressure numbers are within safe and normal limits. On Feb. 11, they will meet on the stage of Jazz at Lincoln Center during the 2014 Woman's Day Red Dress Awards, which recognize the men and women who have contributed to heart-disease research and advocacy. What a moment that will be! As women striving to be our best selves, it's so important that we support each other in every way. By working together, we're working smarter.
This post is part of a series produced by The Huffington Post and the American Heart Association in recognition of National Wear Red Day (Feb. 7, 2014), the aim of which is to raise awareness that heart disease is the No. 1 killer of women. To read all the stories in the series, click here. And to follow the conversation on Twitter -- and share a picture of yourself wearing red -- find the hashtag #RedSelfie.
SUBSCRIBE AND FOLLOW
Get top stories and blog posts emailed to me each day. Newsletters may offer personalized content or advertisements.
Learn more