By all accounts, the Obamas are planning a quiet vacation this week on Martha's Vineyard. The Vineyard Gazette reports this morning that the First Family's arrival on the Island on Sunday will be closed to the public, and that the family will spend a lot of private time on Blue Heron Farm, the property they've rented in Chilmark.
While the national media seems frustrated with the lack of planned public outings, I'm hoping this means that the Obamas' vacation will be like every other summer visitor's in one respect: Lots of delicious, home-cooked meals with local food. After Obama's encouraging comments yesterday about the importance of more fruits and vegetables in school lunches and the possible creation of a farmers' market outside the White House, it's clear that good food and better nutrition have crystallized as priorities for this family.
They couldn't have picked a better vacation spot. While the media is busy dubbing the Vineyard the "Hollywood of the East," in reality, the biggest Island stars in August are the annual Agricultural Fair (happening right now; check out the bluefish tacos at Tiki Tacos), the farmers' markets, the roadside farm stands, and the beach plum and blueberry bushes carpeting dunes and hills.
Whoever will be cooking for the Obamas (presumably White House Chef Cristeta Comerford) is truly in luck, as within a radius of just two or three miles of Blue Heron Farm lie the resources for amazing summer meals. Blue Heron is technically in the town of Chilmark, but it's less than a mile from the center of West Tisbury, the agricultural heart of the Island. For the Obamas--or anyone else visiting the Vineyard who wants to eat well--there's a great map of Island Farms put together by the non-profit local food group Island Grown Initiative.
Here's a quick list of the some of the great resources concentrated near the "Summer White House:"
1. The West Tisbury Farmers' Market (at the Grange Hall, State Road, West Tisbury Center), the original and biggest farmers' market on the Island, is less than a mile from Blue Heron and open from 9 to 12 am on Wednesday and Saturdays. This is the spot to snag goodies not just from nearby farms, but from all over the Island: Aquinnah baker Juli Vanderhoop brings her wood-fired oven-baked bread, foccacia, and sweet pastries down from Orange Peel Bakery. From Down-island comes Katama Apiary with their honey, as well as old-time farmer Bob Daniels with his fingerling and purple potatoes and Morning Glory Farm with its famous corn in six varieties. Pick up local vinegars from Tiasquam Brook Farm, baby vegetables from Stannard Farms, greens from Blackwater Farm, baby bok choi form Krishana Collins, and Menemsha Cache oysters from Roxanne Ackerman. Also witness here the diversity of local ag initiatives on the Island: Whippoorwill Farm CSA has a booth here, as does the FARM Institute's WISP (Work, Income-Sharing Project) program for farmers-in-training (ages 11 to 15). Special note to Bo: best place to meet fellow canines, too.
2. Alley's Farmstand (State Road, just behind Alley's General Store) is new this year and a boon to cooks as it is open seven days a week. Also less than a mile from Blue Heron, it has little treasures like freshly snipped herbs, newly dug potatoes, and just-picked blueberries, as well as non-local staples like lemons and limes. Keep an eye out for multi-hued local eggs from Up-Island Farms.
3. Specialized farms: Only a couple miles further afield, visit Mermaid Farm (9 Middle Road, Chilmark) for heirloom tomatoes; North Tabor Farm (4 North Tabor Road, Chilmark), for salad greens, Allen Farm (421 South Road, Chilmark) for local lamb and eggs, and Native Earth Teaching Farm (94 North Road, Chilmark) for eggs and local pork when available. Stop at Beetlebung Farm (Beetlebung Corner, Chilmark) for greens and herbs or head down to Fiddlehead Farm (632 State Road) for Masssachusetts cheeses, local ice-cream, pies, and veggies. And visit the Farmstand at Nip 'n Tuck on State Road for beets, carrots, onions, greens, and eggs.
4. Worth the drive: Michelle Obama might want to go along for the ride to the Friday morning Edgartown School Farmers' Market (just a few extra miles down the road). While the market is small, it's just the latest exciting development for the Island Grown Schools program (school vegetable gardens in all eight island schools in less than a year and a half). Another key stop in Edgartown: Morning Glory Farm, not just for veggies, but for local pastured chicken, humanely and locally slaughtered thanks to an innovative Mobile Poultry Processing Unit that Island Grown Initiative brought to the Vineyard three years ago. Lastly, the new Down Island Farmers' Market at Tisbury Wharf (Tuesday mornings) is worth a stroll for breads, jams, vegetables, cheeses and more from both smaller Island farms and off-Island Massachusetts farmers who come over for the day.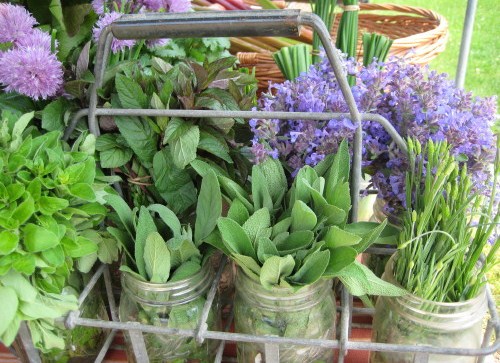 SUBSCRIBE TO & FOLLOW THE MORNING EMAIL
Start your workday the right way with the news that matters most. Learn more