Mention the words "conservation" and "preservation" and many people immediately think of the environment, the sweeping plains of Africa, the pristine landscape of Alaska or the intractable Amazon Forest. I have however been involved over the past 20 years with preservation and conservation of a different kind: the conservation and preservation of cultural heritage. Though it covers a huge range of disciplines, cultural heritage involves anything that defines us as social human beings, encompassing both the tangible and intangible.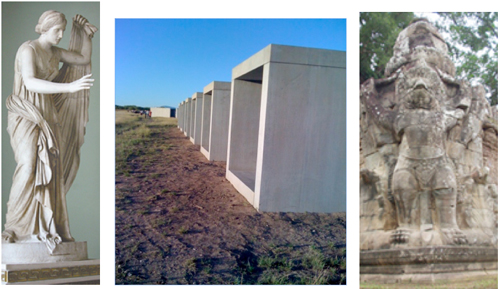 Maybe it's an El Greco oil painting or a 1st century Roman sculpture, maybe it's a 12thcentury "Garuda" at Preah Khan in Angkor, Cambodia or maybe it's the 1980's Donald Judd concrete sculptures in Marfa, Texas. Art, artifacts, buildings, sites -- those things in our past, whether from 20 minutes ago or 20 centuries ago, define where we have come from as human beings and allow us to see more clearly where we might be heading. It can also help us to embrace and understand intangible culture as experienced through language, music and social customs.
Though this is different from environmental conservation, it's not exclusive of it; if we don't have a viable planet, we don't have anything - but I believe that to really be 'in touch' we have to understand and protect our human past as well.
For example: If I say the word "apple," it is possible that you might think of a delicious red fruit hanging from a tree (some say responsible for original sin) but you're more likely to think of the latest app for your cell phone. This isn't random; the little white apple with the bite out of it gets our attention because of a long history of Emblemata (images that sum up or evoke a certain thought or feeling) that can be traced through human history -- all the way back to cave painting. We're hip to Apple's new products partly because of our history of cultural symbolism. We get it, not just because we're smart or because the gurus at Apple are smart, but because human beings have been using and refining emblems for centuries.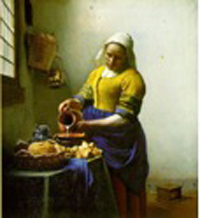 Vermeer used paint to reveal light in his work and the world marveled at this new way of seeing, of being in the moment. This tradition allowed for contemporary artists like James Turrell to use light in ways that question and redefine our perceptions. As Isaac Newton so eloquently put it, "If I have seen further it is by standing on the shoulders of giants." The past informs the future.
With all this in mind, twelve years ago I gathered a small group of like-minded friends and formed the Friends of Heritage Preservation (www.fohpinfo.org). Our goal was to respond to critical preservation needs in our own community and abroad; to be active citizens in the quest to preserve our cultural past, and to appreciate contemporary monuments of our own time. Just as with environmental conservation, the future depends on the stewardship of all of our resources.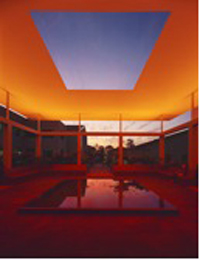 To date, we have been involved in 41 projects on 4 continents and continue to seek out projects that form a vital link to our cultural heritage. We've seen that it is possible for individuals to make a great difference particularly when their involvement is combined with other people and resources.
When you embrace your passion and pool your resources with friends, the impact in the world can be significant. Making a difference in this way is an attainable goal for many people and the rewards are often both powerfully enriching and of lasting cultural value.