Throwing a garden party is an invitation to indulge fantasies and exercise creative opportunities. Whether you're style is laid-back or posh, a garden setting presents entertaining at its most creative.
Personally, I delight in dressing up garden objects that traditionally serve one purpose and using them for another. For a harvest feast in the vegetable garden I used a wheelbarrow as a buffet table. For more formal occasions on the porch, I fill a plant stand with a large bouquet of cut flowers. It leaves more room on a buffet table or a dinning table where small floral arrangements work better. The plant stand can be moved about and set where it is easily noticed, sometimes on the terrace or at an entrance to the garden or by the front door. Guests walk around it and smell the flowers. Fragrant flowers do lift spirits.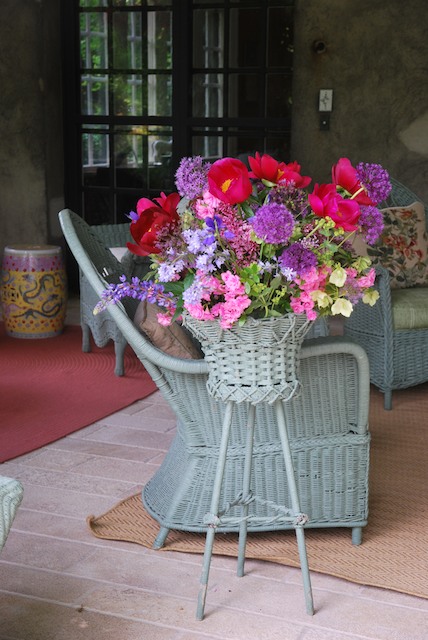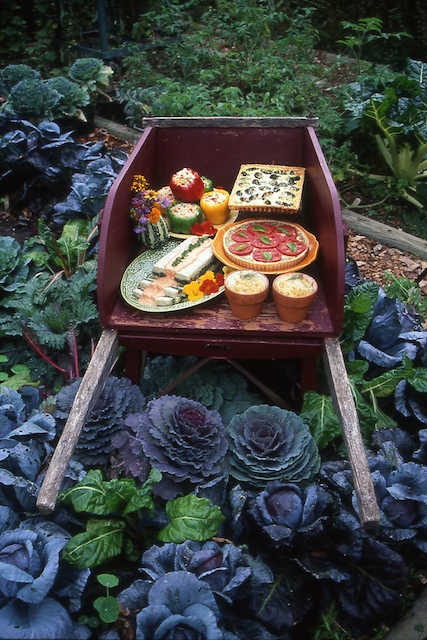 Actually, birdbaths make the biggest splash when used in a variety of ways. Since they come with their own pedestal, anything they hold is in the spotlight. If I'm in a hurry, I simply float flat or cupped flowers such as large-flowered clematis, hollyhocks, roses, and lilies to decorate the bowl.
To romantically illuminate the night, a birdbath masquerades as a candle stand tucked among the flower borders. One large pillar candle, protected from the breeze by glass chimneys, and surrounded by water and floating flowers is a lovely sight.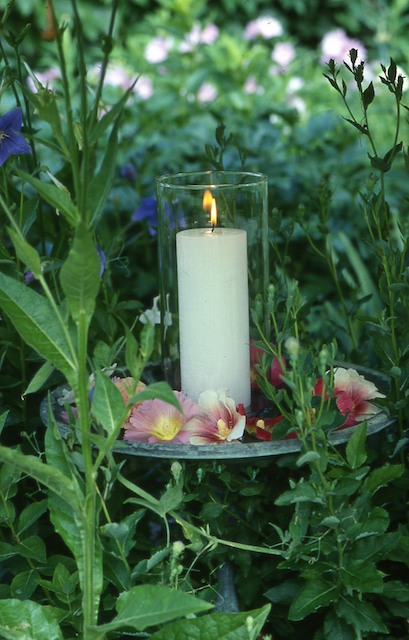 For a more extravagant display, I tape blocks of floral foam securely onto the bowl of the birdbath to support a large bouquet of flowers. Branches of shrubs and long stemmed flowers can all be displayed to good effect. A few vines dangling down from the arrangement adds interest. If the birdbath is lightweight and easily moved, it too can be placed on a terrace or a porch, in a garden, or at an entrance where it is the center of attention. Birdbath flower arrangements are perfect displays for a garden wedding too. And, it is not beneath me to place one in a flower border to hide a hole where a plant died.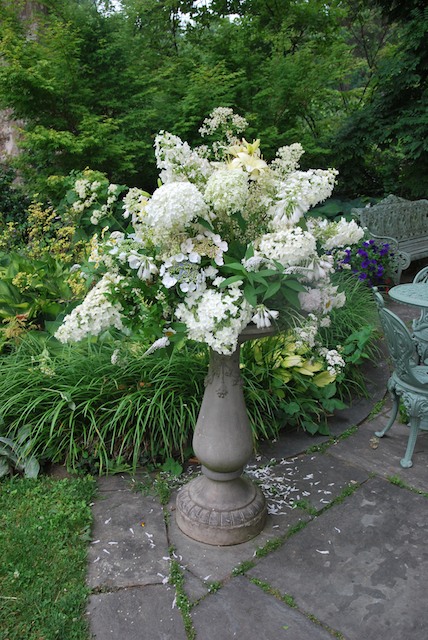 I've also placed a birdbath along a woodland walk to hold wine glasses so guests could grab a drink on a garden tour and on the terrace to hold hors d'oeuvres or cupcakes on a tiered cake stand. The food never touches the birdbath. I place a cake stand on top of the birdbath and the food goes on the cake stand. There is room to float some flowers around the base of the stand.
I've noticed that when something is unexpected it takes people by surprise. It makes them pause and look closer. Sometimes they even laugh. Laughter is always welcome even I they are making fun of me. It wouldn't be a party without it.