Six zucchini plants more than feeds my family of seven, weekend guests and neighbors all summer. After boiling, sautéing and baking tiny zucchini, and pureeing larger ones for breads, we still are surprised to find several hiding, in spite of their baseball-bat size, under even larger leaves. Conventional wisdom in peaceful Vermont advises locking cars at shopping centers to avoid finding your backseat filled with generous donations of zucchini left by a kind, over-productive gardener.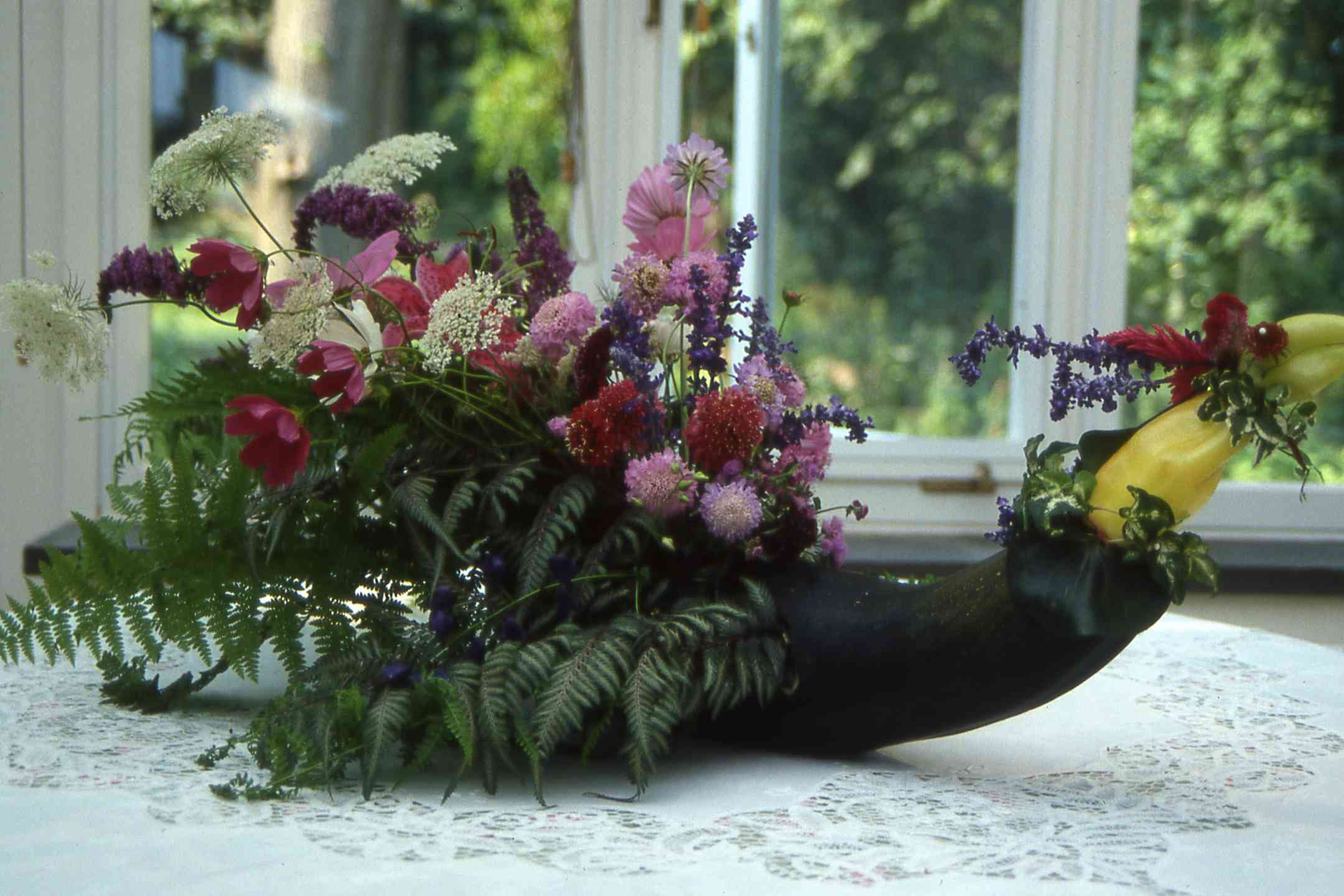 To solve the problem of an abundance of zucchini I came up with two additional solutions. A playful one is to turn a zucchini into a peacock centerpiece. If I'm feeling practical, I make soup. The whimsical peacock centerpiece is an easy project to attract the attention of young children. To do it, slice off just enough of the bottom so the squash sits flat on an oval platter. Then scoop out flesh near the back of the zucchini for the peacock's tail flowers. Fill the opening with moist floral foam, and poke in flowers and ferns with arching shapes. I chose white Queen Anne's lace, pink cosmos, purple butterfly bush, and blue scabiosa. The beak and the head are fashioned from small yellow peppers attached with straight pins. I sliced an opening in the top pepper for the beak. As the pepper dried over the next few hours the beak opened. If you are so inclined, a flower can be inserted in its mouth. Small leaved ivy formed a collar where the neck met the body and where the head meets the neck. The crushed velvet of cockscomb provided the peacock's comb. And a frilled collar of Queen Anne's lace decorated the neck. The peacock may be a little quirky, but it amused guests and the seeds of a smile were planted.
My second solution brings smiles too. Zucchini makes a delicious, nutritious, and low-fat soup, with a creamy, velvety texture without the addition of milk or cream. The skin of the squash gives the soup a rich green color and the seeds, cooked and blended into a puree, add rich flavor and texture. Here is my recipe:
____________________________________________________________________________________________
Green Goddess Zucchini Soup
1 large yellow chopped onion, coarsely chopped (about 1 cup)
1 large garlic clove, chopped
2 tablespoons extra-virgin olive oil
3 small zucchini, washed, ends removed, cut into 2-inch pieces
6 cups chicken broth
Salt and freshly ground pepper to taste
In a large soup pot, over low heat, sauté the onion and garlic in the oil for five minutes, or until the onion is soft and translucent. Add the zucchini pieces and chicken broth and bring to a boil over high heat. Reduce the heat to low and simmer for 30 minutes, or until the zucchini is soft when poked with a fork. Puree one-third of the soup at a time in a blender or food processor, starting at low speed to prevent the hot soup from flying out. Pour into a tureen and serve immediately (for a cold treat, refrigerate for several hours. The soup tends to thicken a bit in the refrigerator. You can thin it with chicken broth, water, or milk, even skim).
This Blogger's Books and Other Items from...
SUBSCRIBE AND FOLLOW
Get top stories and blog posts emailed to me each day. Newsletters may offer personalized content or advertisements.
Learn more