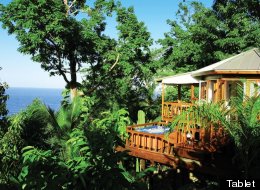 The beach, in itself, is a wonderful thing. But there are times when you want more than just sand and surf. Instead we've got our eye on these Tablet hotels where the local life is as enticing as the water.
Want more? Our Tablet10 lists feature a wide range of top-10 hotel lists for any theme or purpose.
Top 10 Hotels For Beach Culture
Why We Picked It: This north coast town has a history as a discreet Caribbean escape. Today it's as well known for its natural charms as for Geejam, a boutique hotel with a world-class recording studio.

Why We Picked It: It's well on its way, to be sure, but at the moment Be Tulum on the Riviera Maya still strikes just the right balance between rustic charm, far-flung isolation and a certain low-key glamour.

Why We Picked It: It's been some time since Koh Samui was an unspoiled little hippie paradise, but all that activity means there's never a dull moment -- and you'll appreciate The Library's quiet.

Why We Picked It: Compared to its neighbor Thailand, the beach towns of Vietnam are still relatively low-key. The well-preserved village of Hoi An, with its Japanese-style footbridges, bustling markets and French patisseries, has to be the most enchanting example. Kick back in your own private villa at The Nam Hai and wonder why you hadn't thought of Vietnam before.

Why We Picked It: Parts of Bali have been a little too thoroughly developed for our tastes, but the island's east coast mixes traditional ways of life with low-key, low-impact designer hospitality at Alila Manggis.

Why We Picked It: Imanta Resorts in Punta de Mita, on the Pacific coast, is a model of splendid seclusion, but a few miles up the coast is Sayulita, a colorful little surf village that serves as the antidote to Mexico's big resort towns.

Why We Picked It: Oman's coastal capital could hardly be more different from its flashy Emirati neighbors. The Chedi's historic architecture and Muscat's vibrant local culture complement the charms of the beaches.

Why We Picked It: Forgive us, but we find we just can't say enough about Trancoso, a beautiful beach town that's managed to preserve its local character, even though hotel's like the Etnia Pousada & Boutique make it a world-class destination.

Why We Picked It: Lauded as "France in the Caribbean," St. Barth's stands out among its island neighbors as a bastion of european glamour. Fortunately, this also translates into exceptional fresh food, delivered via boat from France once a week, excellent shops, a thriving nightlife and of course the stylish, yet laid-back, La Sereno.

Why We Picked It: The colonial city of Cartagena is like a Caribbean time capsule, a particularly lovely window into the region's past. The best beaches are out of town but easily accessible by ferry. The eccentric La Passion Hotel boasts an incredible rooftop pool with great views of the historic city center.
Follow Tablet on Twitter: www.twitter.com/TabletHotels