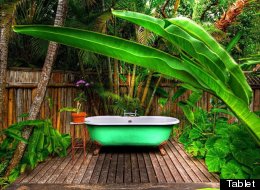 We've all got our own particular requisites when choosing a hotel room. Some of us are toiletry connoisseurs, others minibar hounds, still others passionate devotees of a certain brand of bedside radio.
Surely, though, we can all agree that when it comes to little things with a big impact, the bathtub reigns supreme.
Top 10 Best Hotel Bathtubs
Why We Picked It: If ever there was a land that embraced the ritual of bathing, Morocco is it. Once the luxury of someone else doing the washing has been exhausted -- if that's even possible -- retire to La Sultana's tub, featuring masterful zellij tilework and ornately carved, sunken spaces.

Why We Picked It: For fans of the side-by-side couples massage, we present the side-by-side bathing experience offered by pairs of copper tubs in the suites at Singapore's ultra-designed New Majestic Hotel. Dare we call it Double Bubble?

Why We Picked It: Tucked away with nothing but verdant hills, Phranang's white sand beach and the Adaman Sea for neighbors, Rayavadee is all about relaxation. The elevated, circular bathtubs are constructed from stone, teak and bamboo, and it's safe to assume floating flower petals and flickering candles as regular accompaniments.

Why We Picked It: The Standard is known for its exhibitionist tendencies, and the baths are no exception. With wide-angle High Line and Hudson River views, a demure covering of bubbles suddenly seems quite necessary -- or not.

Why We Picked It: Perched above the medieval city of art, Il Salviatino, a refurbished 15th-century villa, offers completely modernized suites; though fortunately traces of antiquity remain, particularly in the majestic, tin plated and mahogany framed bathtubs, some with sweeping views of the city's iconic red tile roofs.

Why We Picked It: Goldeneye's original villas bear appealing layouts, but its Ian Fleming's house that claims the best bathtubs. Traditional claw-foot tubs sit primly out on the back deck, painted green to blend in with the enshrouding palms and flanked by candles; Blackwell rum optional.

Why We Picked It: Designed by local hotshot Andre Fu, The Upper House hotel is contemporary Asian luxury at its best and thus, the bathtubs are too. Each room features freestanding limestone tubs with three floor-to-ceiling windows offering views of Victoria harbor and the islands, bringing new meaning to the term "bathed in excess."

Why We Picked It: Often it's the urban environments that demand a good end-of-day soak, and London is no different. Fortunately The Connaught has deep tubs in all the rooms -- but it's their Apartment Suite where the circular, freestanding marble-based tub takes center stage.

Why We Picked It: Tucked deep into Costa Rica's rainforest, this eco-conscious resort ensures total immersion into the natural surroundings, even while bathing. The indoor-outdoor tubs at El Silencio Lodge borrow water from the adjoining river and offer open-air, panoramic views over the treetops.

Why We Picked It: Mixing high design with environmental responsibility, this sprawling estancia earns rave reviews for its contemporary architecture, which luckily extends to its bathtubs. These sculpted beauties are handmade exclusively for Estancia Vik by Uruguayan artisans using local beech wood.
Follow Tablet on Twitter: www.twitter.com/TabletHotels