Rizwan Manji is a self-described "dark-skinned, so Indian" actor -- one who, even if he chose a stage name like Chris, would still be "the Indian guy." But when his new show, Outsourced, premieres on September 23, he will be in the company of many other Indian actors on a comedy set in the Southeast Asian nation. NBC has enough faith in the show to give it the coveted 9:30 Thursday night slot, following hit shows 30 Rock and The Office and forming a triumvirate of workplace-based programs. Manji is enthusiastic about the new show, on which he has a leading role, saying, "We're telling real stories of real people, and it's very funny."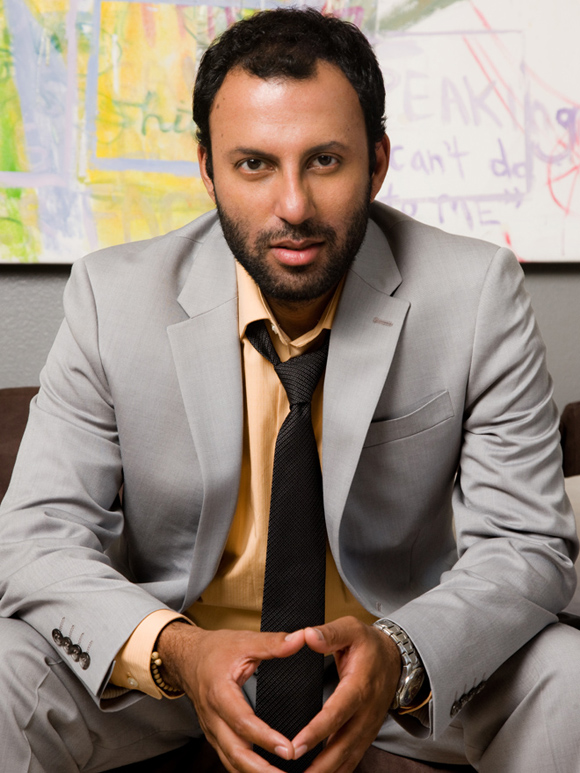 He rejects fears expressed by some critics that the show is racist. "NBC has screened Outsourced for many people in the Indian community, and the response has been surprisingly positive," says Rizwan Manji. "Indian people are okay with laughing at ourselves." The new show is based on the 2006 film of the same name, and follows an American novelty sales manager played by Ben Rappaport who is sent to India when his entire department is outsourced. Rizwan is the ambitious and manipulative Rajiv Gidwani, assistant manager of the Mid America Novelties call center in India, who aspires to take over the top job.
Rizwan says he shares his character's ambitious tendencies. This is evident when he looks back at the reality that he was, in his own words, "the dorkiest acne-faced kid ever" growing up in Toronto, but convinced that he would someday be a star. "I was cast in the one act play Final Curtain in junior high," he recalls, "I remember the first laugh I got, and thinking, 'Oh my God, they like me! This is what I'm going to do.'" But his ambition was very specific. "When I was growing up, my favorite show was Three's Company. I wanted to be Jack Tripper."
Such a goal was not shared by his parents. Both his mother and father had emigrated from Tanzania to Canada to give their children advantages they hadn't had. He did manage to spend a year at the University of Alberta, but admits to only enjoying the acting classes. With the help of his sister, he convinced his parents that he did have a future in acting. Rizwan graduated in 1995 from the American Musical and Dramatic Academy in New York and was, he says proudly, the first one in his acting class to get a job. "I was happy to get small parts at first," says Manji. "Sometimes my Indian looks helped me because they were looking for diversity. But I also played my share of cabdrivers. And while I was happy to get smaller roles on TV, I was always wondering how to be a lead."
A turning point for Rizwan Manji came in 2001 with a meaty role in the film American Desi. "Indian-American cultural identity films were just coming out, and that was the first of its kind," says Manji. It was also a turning point in the Manji family. Up to that point, he had been working temporary office jobs in between acting gigs. When asked what his son did for a living, Rizwan's dad would tell people his son "worked with computers." Not untrue, given that Rizwan had worked for companies including Merrill Lynch as a temporary executive administrative assistant, but dismissive of the acting work he had also done. American Desi changed that. "From that day on, he tells everyone his son is an actor," laughs Rizwan. "Now he's like my agent."
The year 2001 was also pivotal for Rizwan for a darker event: He was supposed to be working in the World Trade Center on 9/11 but missed the call from Merrill Lynch to take the temp assignment. His boss, however, died that day. Six months later, Rizwan and his wife, Taslim, headed out on a backpacking trip to Africa and Southeast Asia. "We found a lot of warmth on that trip -- a sense that we're all in this together, the world grieves together," he says. He has since embraced the work of the Aga Khan Foundation and its Partnerships Walks to lift families in the developing world out of poverty.
Rizwan has a long list of credits in both film and TV: from Charlie Wilson's War to Glee, 24, Privileged and FlashForward. But he is particularly excited about Outsourced: "I would love for this show to be on for another five years. I have never had as much fun as I'm having with this character," he says. He's even at peace with the mustache he grew for the role, though his wife hates it and he says food gets caught in it. "My daughter loves it, though, and can even say 'mustache'," he laughs about his 20-month-old.
Rizwan urges everyone to watch episode five of Outsourced which involves a series of misunderstandings relating to a made-up holiday, Vindaloo Day. "I get to have my Three's Company moment!" crows Manji, "I'm finally Jack Tripper!"

SUBSCRIBE AND FOLLOW
Get top stories and blog posts emailed to me each day. Newsletters may offer personalized content or advertisements.
Learn more