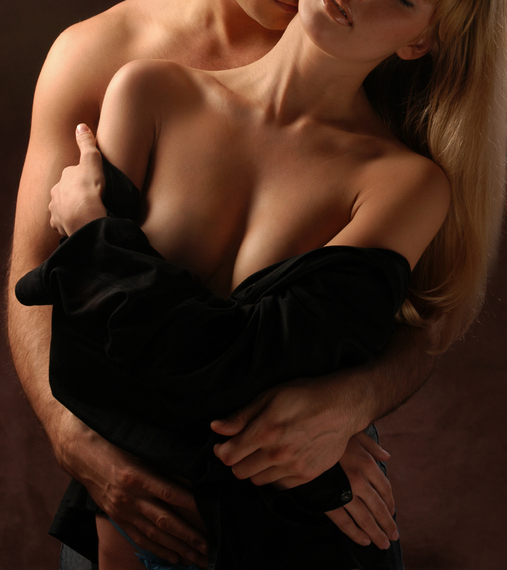 I got to thinking; how many kinds of sex are there? Oh, come on, you know you were wondering too!
Let us begin.
First Time Sex -- It's usually clumsy at best and unless you are a good communicator (screaming God's name doesn't count) then you will most likely not get the most satisfying result. That's politically correct talk for: you won't reach your highest peak. The thought is usually a lot more rewarding than the actual act.
Random Stupid Sex -- The name pretty much tells the whole story. If you're going to have sex with someone you don't know just for fun, chances are good you won't have any ... fun, that is. There's just so much wrong with this idea I don't even know where to start. I have to come clean here -- I've always wanted to experience a steamy one night stand but the closest I've gotten was buying a T-shirt with a picture of a night stand complete with a lamp and book on it with the words "one night stand" underneath. Yeah, I know, pretty pathetic. But seriously, with all the crazies out there I'd think twice before having crazy stupid sex. Yikes, I sound like my mother!
New Relationship Sex -- This happens when two people have gotten to know each other, respond well to each other's needs and go out of their way to please the other person. At this point, women are still wearing sexy undies and shave their legs often. Men still suck in their gut and wear expensive cologne. It sounds like a win but it often goes sour when you find out that she's a crazy bitch or he's a conceited jerk. New relationship sex is often confused with true love sex but it doesn't come close.
True Love Sex -- This is epic sex providing climax and cuddle time worth their weight in gold. It's a hard find (pun intended) but worth the search. This brings forth two people who are intent not only in sexually pleasing each other but also strive to please each other the other 23 hours and 56 minutes of the day. Awesome!
Lazy Sex -- Who hasn't had lazy sex?! This is what happens when epic sex has been around for a while. It threatens the foundation of the true love status and should be identified and remedied ASAP. Lazy sex is responsible for 52% of women venturing out of the marriage for sexual satisfaction. You can recognize lazy sex when neither of you wants to move around too much, get too sweaty, or exert too much energy. It's basically the "I'm here, you're here, let's do it" attitude. A relationship death sentence if there ever was one.
Cheating Sex -- This is hot and torrid (I've been told) and addictive. Many a marriage has lost its way because they were on the wrong end of this kind of sex. I'm lucky enough to have never been on the other side of this kind of sex and loyal enough never to have been the cheater. I have to confess that it holds a mystique that intrigues. But considering the cost of a family lost and a true love forfeited, I can't imagine that it's worth it. I've witnessed plenty of marriages that have battled cheating sex, none of which has ever had a happy ending.
Make-up Sex -- This sex is always easy. Both parties want to come together (When will these puns stop?) to make amends and seal their love. It's usually sincere, caring and hot. It also comes with loving conversation afterwards that seals their commitment to never quarrel again. That is until the next time he criticizes her wardrobe or she his drinking. Make up sex is almost always worth fighting for.
Mercy Sex -- Everyone has had to have mercy sex at one point or another. Right? The kind of sex you have because you feel obligated or badly for your partner. Yeah, it's not the best sex, but it's got to put you up there in the "nice person" category. Don't you think?
Empty Nest Sex -- It's wild, it's noisy, and it's everywhere. When the kids are gone, the gloves come off. It should be called Making Up For Lost Time Sex, but we won't quibble.
Alone Sex -- I'm not sure I should be talking about this as no one ever admits to it (really, people?) so it must never happen anywhere in America. So I'll just say that it's probably the easiest sex there is, no one to please but yourself and it's a pretty easy recipe for success. But not having anyone to talk to, moan to, scream at, (is it hot in here?) or to hold tight, well, it has its down side. Still, I'm betting it's better than random stupid sex. But I could be wrong.
Three-Way Sex -- All right everybody, settle down. I'm sure there is a ton to say about this, but since I have absolutely no clue and everyone I've asked (over 40 people) claim to have no experience, I am just going to have to leave this as an honorable mention and leave the rest to your imagination. Let me just say that as a child of the 60s I believe in "to each his/her own" (holding up the V peace sign with my fingers) and there is absolutely no judgment here. After all, it's really none of my business.
S&M Sex -- Oooh, sounds intriguing! Alas, I'm in the dark with this one. But I think it involves rubber, chains, handcuffs and feather ticklers. Throw in a big bag of M&Ms and I'm game! I've always been a sucker for those things that melt in your mouth, not in your hand. Oh my!
Having chronicled all of the types of sex I can't help but think I've missed one or two or ten or twelve.
I'd like to go on record as saying that I'm a big fan of sex but an even bigger fan of love. Sex is easy to find, easy to have and easy to walk away from. Love is none of these things. Unfortunately, sex without love seems more futile by the day.
I love knowing that I go to bed with and wake up to the one man with whom I shared clumsy first time sex, new relationship sex, true love sex and make up sex with. I think that's how it's supposed to work.
You tell me.
Earlier on Huff/Post50:
Who: Ralph Macchio, 50 Why: He kicked his way into the hearts of 80s teens as the David to Cobra Kai's Goliath in The Karate Kid. Macchio's baby-faced good looks made him a mainstay in other hits from the era, including The Outsiders and My Cousin Vinny, before he disappeared from the big screen. It wasn't until he appeared on Dancing With The Stars that we remembered Daniel-San is quite a looker.

Who: Steve Martin, 66 Why: The comedian who brought belly-laughs to "Saturday Night Live" has introduced his audience to all of his talents over the years. Whether it is his memoir "Born Standing Up", his pieces for "The New Yorker", or his Grammy winning bluegrass album -- Steve Martin's clearly not slowing down -- and we don't want him to.

Who: Barack Obama, 50 Why: Besides being the first African American to hold the office of President of the United States, the Harvard-educated Barack Obama has clearly kept his family a priority, taking on another role as assistant basketball coach, and, as his Father's Day essay reports, making sure his two girls still 'do their chores, make their beds, finish their schoolwork and take care of the dog,' regardless of their White House residency.

Who: Richard Branson, 61 Why: The British business tycoon has conquered just about everything -- including space. When Branson was 16, he started a magazine called Student, and hasn't slowed down since. Branson has always enjoyed what he does, which is one of the reason we believe he is so successful. "For me business is not about wearing suits, or keeping stockholders pleased. It's about being true to yourself, your ideas and focusing on the essentials," asserts the billionaire. Branson is a representative of The Elders, a group determined to reach peace, eliminate suffering, and provide education around the world. This is one of his many humanitarian participations. Photo: Getty

Who: Robert Redford, 75 Why: The two-time Academy Award winning actor has done more than star in some of the most memorable films of all time -- he's helped make sure movies get made. In 1969, Redford bought Timphaven Mountain in Provo, Utah - which he renamed, "Sundance" after his iconic role of "The Sundance Kid". The Sundance Film Festival is the preeminent event for Independent films in the United States. Redford was the inaugural chairman. Photo: Getty

Who: Steven Spielberg, 64 Why: Although he made his make in films such as "Jaws" and "E.T.", his later films reflect a more serious nature. "Schindler's List", "Saving Private Ryan", and "The Color Purple" are examples of his work which resonate on greater cultural challenges. Spielberg has donated to numerous hospitals, charities, and disaster relief organizations.

Who: Howard Schultz, 58 Why: The former Chairman and CEO fo Starbucks is more than the man behind a good cup of coffee. Schultz has lead with his soul, allowing him to act responsibly in his business ventures. He speaks out on his concerns of the global economic crisis and has been awarded numerous times for his charitable efforts. Specifically, the National Leadership Award, the International Distinguished Entrepreneur Award and the FIRST Magazine Responsbile Capitalism Award.

Who: Tom Ford, 50 Why: The Texas born Fashion designer, style icon, architecture buff and Academy Award nominated director is one of the most important men in popular culture today. Ford transformed the house of Gucci (which was valued at $4.3 billion when he started and $10 billion when he left) back into a Fashion powerhouse. Shortly after, he started Tom Ford - a brand, which when it started, was considered to be the epitome of a modern day gentleman's wardrobe. Although sometimes controversial, Ford has spoken out about his homosexuality and his opinions on monogamy and sexuality.

Who: Colin Powell, 74 Why: The retired Four-Star Army General and former (and frist African American) Secretary of State has done far more than serve our country, but we must make mention of it. Powell has received the Defense Distinguished Service Medal (with three Oak Leaf Clusters), the Army Distinguished Service Medal (with Oak Leaf Cluster), Defense Superior Service Medal, Legion of Merit (with Oak Leaf Cluster), Soldier's Medal, Bronze Star Medal and the Purple Heart. Although his reputation was soiled in the now infamous WMD/Invasion of Iraq speech, Powell was since spoken out about reforming the intelligence community. An interesting fact about the former Joint Chief of Staff: He restores old cars as a hobby. Photo: Getty

Who: Dan Marino, 50 Why: Not only has the gridiron icon been ranked as the No. 25 football player of all time by NFL Films in 2010, but he has also raised more than $30 million with the Dan Marino Foundation to help children with autism, like his son, Michael. Married to wife Claire since the 1980s, the father of six is also an entrepreneur with a growing restaurant chain.

Who: Alec Baldwin, 54 Why: While we wag our fingers at the actor's tendency for outrageous Twitter outbursts -- and extreme love of Words With Friends -- Baldwin's charm knows no bounds. As Saturday Night Live's most frequent host, the smarmy exec with the heart of 24K gold on 30 Rock and the narrator of the phenomenal Frozen Planet series, we'll look the other way at the 54-year-old's more juvenile tendencies.

Who: Matt Lauer, 54 Why: Co-host of NBC's "TODAY" since 1997, the dashing Lauer is the cream in our morning coffee, mixing the serious presidential interviews and reporting from the Middle East with the just-plain-goofy, including that "Where In The World Is Matt" travel segment thing and a recent smooch with Howard Stern. Only Lauer has the brains and the likability to strike the balance with panache.
Follow Tammy Bleck on Twitter: www.twitter.com/tammybleck