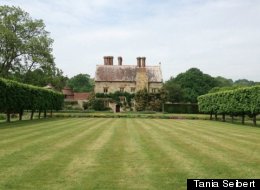 Have you ever read an author's work and wondered where the inspiration came from? What surrounding scenery led to the author's creation of new worlds, new characters, to emerge on each page of the novel in your hand? Did Clarissa Dalloway kiss Sally Seton, smelling the fresh flowers and green summer grass, in the same garden where Virginia Woolf sat, writing her story? Unfortunately, to humanity's and to my own great dismay, we may never ask Mrs. Woolf this question in person; her thoughts have been lost to the Ouse River, drowned away in the waters of her death. But on a lighter note, what does remain, for all writers of the past and present, are the landmarks of their writing: the footsteps traveled, the homes inhabited, the stains of ale on aged wooden countertops. What remains for each of us to experience are the places holding the memories of our most beloved authors, where we can see what they saw, envision their thoughts turning into words on a page, and develop the inspiration for our own writing.
I have recently returned from a trip abroad, studying creative writing in Lewes, England with my fellow English enthusiasts from Rutgers University. Over the course of my two and half week stay in England, I was able to experience the wonders of a literary pilgrimage, of the magnificence in visiting the homes of writers who have influenced not only modern literature, but my own writing. Hiking through the South Downs of England's Sussex County, I journeyed to the homes of Virginia Woolf, Henry James, and Rudyard Kipling, experiencing the greenest, most beautiful landscapes along the way. Despite the sweat stains, blistered toes, and hefty amount of complaining, on my part, during these scheduled hikes to each writer's house, there is no sweeter taste than that of completing a 12 mile hike with an afternoon nap in Virginia Woolf's garden.
Inspiration is difficult to capture through words; words may be the result of inspiration, but the feeling in itself is something indescribable. After walking through the tour of Monk's house, the once home of Virginia Woolf, and viewing her private bedroom, her lovely garden, and most of all, her glass enclosed writing room overlooking vast green meadows, I felt a surge of creative inspiration unlike anything prior. There is something that must be said, and deeply encouraged to pursue, about simply sitting in an English garden, where one of the most influential female writers of the past sat, and envisioning her writing the words to Mrs. Dalloway in the very same spot.
In the rest of my travels to the homes once occupied by Henry James and Rudyard Kipling, my feelings of awe and inspiration only amplified. Walking through hidden pathways, sitting in flower filled gardens and writing poems of my day's hike, viewing the rooms where Kipling envisioned the world of The Jungle Book, I truly understood the incredible value of preserving these writers' homes. If there is ever an opportunity to visit Sussex, I only ask you to do what I've done: pack a knapsack and throw on your hiking boots, travel along the South Downs, stop as many times as you like to breathe in the unbelievable views, and make your way to the homes of some of England's greatest writers from our past. And, if you're a writer, don't forget to bring a paper and pen, because I dare you to sit in Virginia Woolf's garden and not write the greatest poem of your life.
View of the town of Lewes, in East Sussex, England, where I stayed during my trip. In the distant hills lies the area known as the South Downs National Park, through which I hiked on a daily basis and during my travels to the houses of Virginia Woolf, Henry James, and Rudyard Kipling. At one time or another, each of these writers lived in the county of Sussex, distinguished now by its two distinct inner counties: East Sussex and West Sussex. Fun fact: Mick Jagger was forced to spend a night in the Lewes prison, during June of 1967, arrested for illegal possession of Benzedrine and cannabis. I guess he couldn't "get no satisfaction" with the Lewes judicial system.

This photo does zero justice to the magnitude and beauty of the English landscape. Here is a view of the South Downs, taken during a 12 mile hike on my way to Virginia Woolf's house. If you are lucky enough to take a trip to Sussex, you will not regret admiring this greenery in person. The journey of a literary pilgrimage holds as much value as its destination.

The home of Virginia and Leonard Woolf, purchased in 1919 and sold to the University of Sussex in 1972; it became open to the public after it was turned over to the National Trust in 1980. This particular part of the house was Virginia's private bedroom, accessible only from the outside and footsteps away from her exquisite garden. Virginia slept here alone, and when not in her writing room or garden, spent a great deal of time working on her stories and novels here. It is not surprising that she found inspiration to write with a garden like this just outside.

This is Virginia Woolf's garden, where she walked, worked, and wrote on almost a daily basis. Her morning routine, which my study abroad trip loosely followed as our own schedule, consisted of morning tea (it's England, a morning without tea is simply blasphemy), then a stroll through the garden and down by the Ouse River (where she later drowned herself), followed by an afternoon of writing. Apart from the blooming flowers and plants everywhere you step, the garden looks out toward the overwhelmingly beautiful landscape of the South Downs. After soaking in the sunlight and breathing in the beauty of my surroundings, I sat beneath these trees, pulled out a pen, and tried my best to write down the impossible feelings of being in this garden.

This photo is of Virginia Woolf's private writing room, which is a small, rectangular space located in the back of her garden. The room has two, large glass doors directly in front of Virginia's writing desk, which open up into a view of green grass, blooming flowers, and the hills of the South Downs in the near distance. It was impossible not to be envious of this writing room, with its simplicity and rawness, perfection for a writer. What more could an author want than an enormous wooden desk, a chair, pen, parchment, and the English landscape at her fingertips?

On the hike back from Virginia Woolf's home, I traveled along the banks of the Ouse River, where Virginia drowned herself in 1941. The distance from Virginia's house to the river is over one mile long, a considerably long walk to ponder the thought of suicide. My fellow trip members and I walked the path from Virginia's house to the river in a state of tangible sorrow; when we came to this spot, I suggested we say a brief eulogy for Virginia Woolf, and wish her farewell. Though the river is quite beautiful, surrounded by green meadows and the indescribable English landscape, I suspect it would be difficult for anyone to stand before it, after having just seen Virginia's home, her garden, and her writing room, without feeling an insurmountable sadness.

Here stands Lamb House, once home to Henry James, where he lived from 1898 to 1916. This house was also home to famous writers E.F. Benson and Rumer Godden, as well as a place of visit for numerous well-known authors of the past. Lamb House, to be quite frank, is rather dull on the inside; though beautifully furnished and rich in historical memories, I did not feel the surge of inspiration or the personal connection to Henry James that had affected me during my visit to Virginia Woolf's house...that is, of course, until I stepped into his garden. Don't let my opinions discourage you from touring inside the house, for it is certainly worth seeing, but there's something about English gardens that the inner writer in me just cannot resist.

Henry James's garden, much like Virginia Woolf's, is brimming with colorful flowers, greenery, stone pathways, and open grass ideal for sitting and writing. Like many of the gardens I visited over the course of my stay in England, and believe me when I say there were MANY, Henry James's garden is positively beautiful. While there, I took a seat on this white, circular bench, closed my eyes, and simply admired the nature around me; the birds chirping, bees buzzing, the impossibly pleasant English accents of passersby...and I can confidently say that Henry James's garden is the standard for what an English garden should be.

Here is an image of the hidden, jungle-like pathway that surrounds Henry James's garden. After taking a stroll through the flowers and open grassy space of the garden's center, I ventured onto this pathway and found myself in a new, surprising environment. The beauty of James's garden lies in this experience, of changing emotions, changing scenery, and the opportunity to marvel at nature. If you're looking for inspiration to write during your Lamb House visit, I would highly recommend a turn down this path.

My visit to Bateman's, the home of Rudyard Kipling from 1902 to 1936, was one of my favorite moments over the course of my two and a half week stay in England. Not only is the house absolutely beautiful, with each room revealing aspects of the man who Kipling was, but it also acts as a museum of both his life's work and the memories of his family life. In each of my visits to the writers' homes, one of the most rewarding elements was being able to feel a personal connection to these writers, through the objects they left behind and their imprints that still remain.

Behind Rudyard Kipling's house is the open space of his koi pond and surrounding garden. This particular garden was my favorite of the three visited during my literary pilgrimage, for both its whimsical features and incredibly tranquil atmosphere. The trees on the left hand side of the photo, which stretch further than can be seen and stand in multiple groups throughout the garden, place you in an "Alice in Wonderland" like dream state; I found myself frequently looking into the bushes for a white rabbit with a pocket watch. Sitting with my bare feet nuzzled in the grass and watching the koi fish flip their tails up out of the pond water, I felt a connection not only to The Jungle Book, but also to nature and to myself as a writer. This garden is one you simply should not miss.

Inside of Rudyard Kipling's house is his writing room, filled with books, bookcases, artifacts, paintings on the walls, and enough rich mahogany to inspire anyone to write. Unlike Virginia Woolf's writing room, which thrived on its airiness and simplicity, the essence of Kipling's writing room lies in its dark coziness and furnishings that make it so distinctly Kipling. Everything from the aroma of wood, to the sight of crumpled pieces of paper filling up the trash and trickling over to the floor, makes you want to curl up onto the bench beneath the window and write deep into the night hours.