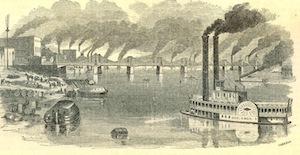 Over 135 years after Andrew Carnegie helped make Pittsburgh one of the world's leading steel suppliers, the Iron City is still working to shed its antiquated coal-hole stereotype. Yet despite its disadvantages (or perhaps, because of them), the Western Pennsylvania metropolis is putting a positive spin on its steel-town rep via a rich cultural legacy and numerous groundbreaking, future-minded green developments. Drawing on its historic ingenuity and mechanical know-how, Pittsburgh is focusing on energy-efficient initiatives, and is now among the top cities with the highest number of LEED-certified buildings in the US (49, to be exact). Here are ten resourceful gems that are helping Pittsburgh lose the literary epithet, "hell with the lid off" in favor of a brand-new designation, "the new Emerald City."
10 Sustainable Spots In Pittsburgh
This Blogger's Books and Other Items from...