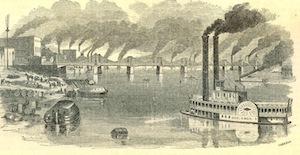 Over 135 years after Andrew Carnegie helped make Pittsburgh one of the world's leading steel suppliers, the Iron City is still working to shed its antiquated coal-hole stereotype. Yet despite its disadvantages (or perhaps, because of them), the Western Pennsylvania metropolis is putting a positive spin on its steel-town rep via a rich cultural legacy and numerous groundbreaking, future-minded green developments. Drawing on its historic ingenuity and mechanical know-how, Pittsburgh is focusing on energy-efficient initiatives, and is now among the top cities with the highest number of LEED-certified buildings in the US (49, to be exact). Here are ten resourceful gems that are helping Pittsburgh lose the literary epithet, "hell with the lid off" in favor of a brand-new designation, "the new Emerald City."
10 Sustainable Spots In Pittsburgh
Operated by the non-profit educational organization RiverQuest, Explorer is one of the world's first green passenger boats, using the river to connect people to their surroundings while informing the community about the area's ongoing environmental transformation. The educational watercraft was built specifically for Pittsburgh, with a diesel-electric hybrid engine expected to considerably reduce emissions. If boats could be LEED-certified, this one would be deemed Platinum.

Venture Outdoors recently helped break the Guinness World Record for "Largest Raft of Canoes and Kayaks" at the Paddle at the Point event on World Environment Day, but the local recreation organization also specializes in a range of outdoor activities for amateurs and professionals alike. Whether hiking, biking, or kayaking, Venture Outdoors aims to make the most of Pittsburgh's natural attractions, especially its prized rivers: the Ohio, Allegheny, and Monongahela.

When physical activity proves too exhausting, Green Gears appear like magical three-wheeled fairies, ready to whisk tired citizens off to their next destinations. But the eco-friendly trikes aren't just for pooped pedestrians -- they're available for city tours, public festivals, and at a dollar a block, they offer locals a sensible commuting option as well.

Historically, St. John the Baptist Church on Liberty Avenue first served as a sanctuary for Pittsburgh residents, and while God has since moved out, the building continues to act as a house of worship... for beer, that is. Construction first began in 1902, but by 1993, the church was abandoned, until a team of beer-lovers decided to turn it into a pub in '96. These days, the spirit may be less Almighty than yeast-fermented, but many of the building's original details remain, including the Douglas Fir floors and eight restored lanterns. The former altar is now a brew house, with enormous steel and copper tanks yielding tasty ales. As a church that has been converted into a brewery, the Church Brew Works is an excellent example of adaptive reuse. Plus, it's just the place to relax and unwind -- that is, if you can stand the stench of beer, wood, and sin. (Tip: try the crocodile pierogi.)

The 1.5 million square-foot David L. Lawrence Convention Center is named after the only man who served as both mayor of Pittsburgh (1946-59) and the 37th Governor of Pennsylvania (1959-63). David L. Lawrence's progressive policies were aimed at urban renewal, and like its namesake, the convention center is at the forefront of civic revitalization. It's the first convention center in the world to be Gold LEED-certified, and since it was built in 2003, it's hosted the 2009 G-20 Summit. Yet the massive convention center isn't just about landfill diversion ratios; it also features a $2 million public art collection, including Jenny Holzer's For Pittsburgh, the artist's largest LED art display in the country, which emits words from five Pittsburgh-themed books.

Hosted by the Pittsburgh History & Landmarks Foundation, these weekly walking tours are truly a bargain -- and not just because they're free. Every Friday, knowledgeable docents await to take both visitors and locals on a pedestrian journey throughout the city, offering insights into the history, architecture, art, and culture of Pittsburgh. The area of focus rotates monthly, ranging from Grant Street, the Market Square Area, and the Penn-Liberty Cultural District to Fourth Avenue, Oakland, and the rivers' shores and bridges. The non-profit historic preservation association also offers custom tours for private groups and special Saturday tours as well.

Home to Pittsburgh's own "almost famous sandwiches," the original Primanti Bros. in the Strip District is a local gastro-landmark. Since first opening in 1933, the legendary restaurant has expanded to include 15 locations throughout the city, not to mention three locations in Florida. Known for craftily combining sandwiches and sides into one tasty dish, Primanti Bros. has become a global foodie destination. And while the restaurants may not be among Pittsburgh's 49 LEED-certified, they put French fries inside their sandwiches. If that's not being resourceful, what is?

The CONSOL Energy Center is the new home of the Pittsburgh Penguins, and is officially the only green arena in the National Hockey League. The state-of-the-art venue also has a seating capacity of more than 14,000, with over 150 events projected annually, including Paul McCartney's two-evening Grand Opening Concert August 18-19. While the center boasts a 4,000 square-foot Penguins team store and 800 HD TVs, sustainable components include low chemical-emitting paints, skylights, occupancy sensors, reduced water usage, and earth-friendly wood.

Operating since 1877, the funicular railway has since made the switch from steam power to electricity, but many authentic features have survived, including the cars' custom hardware, amber glass transoms, and hand-carved wooden panels. A new observation deck furnishes expansive views of the three rivers, while a museum allows for an intimate look at the railway's machinery in action. After more than 130 years of operation, the Duquesne Incline continues to transport commuters daily.

Located in the pleasantly-dubbed Friendship neighborhood, the 18,500 square-foot Pittsburgh Glass Center is a studio, gallery, venue, and educational institution devoted to the production of hand-made glass. The center makes use of an existing structure that has been combined with a new, green-friendly building, with natural light, heat, ventilation, and salvaged materials throughout.
Follow Tanja M. Laden on Twitter: www.twitter.com/trippybroad