Iconic Images of Peggy Moffitt in Rudi Gernreich Designs, Captured by William Claxton (PHOTOS)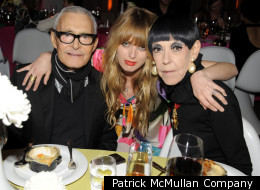 Peggy Moffitt was the definitive mod model, with a short mass of brunette hair carefully coiffed into a slick bowl cut and huge kohl-trimmed eyelids gazing out from beneath the fringe. Over the course of the past 50 years, photos of Peggy Moffitt have proven to be more than just vintage modeling shots; they are iconic images of an era that only get better with age. The model's striking looks aside, the success of these pictures came from working with designer Rudi Gernreich and Moffitt's husband, photographer William Claxton. Gernreich, Claxton, and Moffitt came together to create a series of stunning portraits that not only captured the height of fashion, but also an unforgettable period in American history.
In Los Angeles, the Museum of Contemporary Art presents The Total Look: The Creative Collaboration Between Rudi Gernreich, Peggy Moffitt, and William Claxton, a free exhibition that showcases some of the best images from the eponymous designer, model, and photographer. But you don't have to live in LA to see the pictures; we've got a few right here, with more over on Pop Curious.
Peggy Moffitt Modeling Mod Designs by Rudi Gernreich, Photographed by William Claxton
Peggy Moffitt modeling Rudi Gernreich design, 1968, photo by William Claxton

Peggy Moffitt modeling Rudi Gernreich design, 1968, photo by William Claxton

Peggy Moffitt modeling Rudi Gernreich design, 1968, photo by William Claxton

Peggy Moffitt modeling Rudi Gernreich design, 1968, photo by William Claxton

Peggy Moffitt modeling Rudi Gernreich design, 1971, photo by William Claxton

Peggy Moffitt modeling Rudi Gernreich design, 1971, photo by William Claxton

Peggy Moffitt modeling Rudi Gernreich design, 1972, photo by William Claxton

Peggy Moffitt modeling Rudi Gernreich design, 1975, photo by William Claxton

Rudi Gernreich and Peggy Moffitt, 1968, photo by William Claxton
Follow Tanja M. Laden on Twitter: www.twitter.com/PopCuriousMag