I was with a client the other day and when I asked her what she wanted her garden to 'say' she responded "I want to feel warm when I am in this space and not necessarily in the sense of inviting, but...HOT." The garden consisted of several woody specimens, which provided structure to the space -- so they had to stay put. Since her vision was one filled with pops of bold color, my design process went straight to shades of red and orange. My design process went straight to hues of red and orange. Contrasting color and texture in a garden makes things exciting to the eye versus a blanket of monotony and by adding some warm toned flowering perennials she got the 'hot' garden that she wanted. I know that sometimes you read a label of a plant at a garden center and it tells you it will bloom a certain color but when the flowers finally arrive you might be thinking whoever wrote that label must be color blind. There are many true reds out there (such as the cardinal flower) and brilliant orange blooms (like butterfly weed) that are waiting for you to give them a try, if you desire.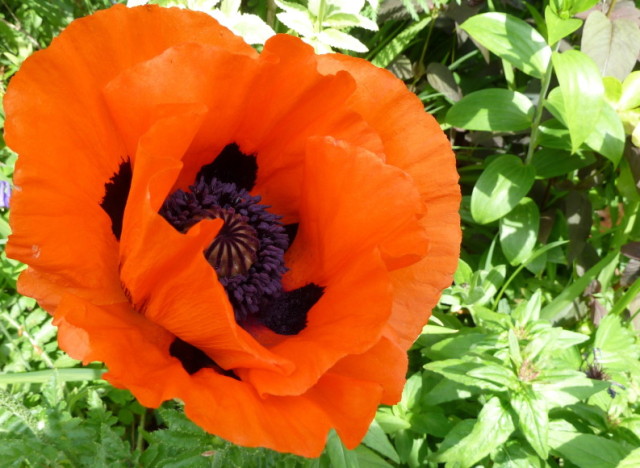 Red and orange can make a powerful statement and with power comes responsibility, a little can go a long way. Since they are such powerful colors, pay careful attention when selecting plants to pair them with, especially in smaller urban gardens. When I use these hot colors I like to stick to a particular palette range. In doing so, the warmth will shine through and there will be less fear that a rainbow might have exploded in your backyard (I do have dreams about that). Unless you are going for a Bruce Springsteen tribute, stay away from pairing intense reds with true blues and whites in one bed. Vibrant oranges paired next to light pinks can be somewhat counter-intuitive and lessen the power trip.
When contemplating flowering companion plants to play in your hot bed, pay attention to the bud and the interior flower color of your red and/or orange power players. With careful observation you might notice that they are giving you a clue as to whom they might like to play with. A good example of this would be the Oriental Poppy 'Prince of Orange'. When the prince finally reveals its open flower you will notice its ink colored center blotch and stamen with hints of dark purple which is screaming for a companion plant that backs up those deep hues, such as Salvia 'Caradonna'. Maybe you're not up for the super impact situation but still want to play it warm. If you want your red and/or orange selections to be played down slightly, and a little more mellow, take a cue from the red hot poker. Notice how the flowers fade in to a salmon color which is a nice pairing with orange to soften the tone.
Some do like it hot, and as Sugar would say 'Dont Fight It' - I have a tendency to agree with her.
SUBSCRIBE TO & FOLLOW LIFESTYLE
HuffPost Lifestyle is a daily newsletter that will make you happier and healthier — one email at a time. Learn more