On the crowded boulevard of La Cienga, across from a neon flashing sign that reads "LIVE NUDE GIRLS GIRLS GIRLS," just a block south of Hollywood restaurants like STK, lies a courtyard hidden from the street. Inside is the Largo at the Coronet, a 60-year-old 280-seat theater with a huge stage and old school sunken seats. The area was once used as a dance rehearsal/teaching space by actress and pin-up girl Betty Grable.
I was there on a Friday night for the sold out, monthly Acker & Blacker's The Thrilling Adventure Hour, a staged show in the style of old-time radio. The night consists of witty comedy skits that pay homage to 1940's era radio with jingles and messages from spoof sponsors such as Patriot Brand Cigarettes. During the opening speech, the audience learns that the actors are required to be well-dressed and stand before modern "microphones," holding scripts, and enacting all variety of comedic genre tales. Oh, and like in a 1940s broadcast, no cursing.
Ben Acker and Ben Blacker write and produce a new show each month and have since March 2005. The show stars the WorkJuice players (Paget Brewster, Samm Levine), acting out ongoing characters, but they are also joined by special guest stars from TV and film. This month, Star Trek's Wil Wheaton was scheduled to appear, but he apparently took ill and didn't show. Actress Lake Bell (What Happens in Vegas, It's Complicated) performed though, and in the past so have Dave Foley, Kevin Pollak and Andy Richter.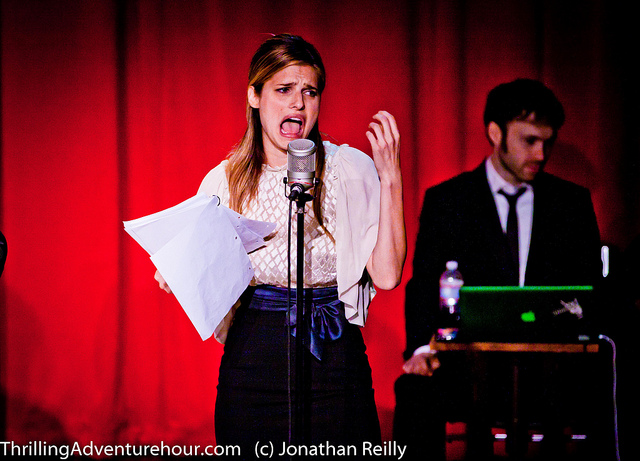 The house was full of artsy folks, newbies like myself and loyal regulars who seemed to immediately recognize their favorite characters like Sparks Nevada, Marshal on Mars. Some of the women in the audience were even dressed in vintage clothing to go with the overall setting and theme. The show regularly sells out, but is also available via podcast.
It took a few minutes for my over-stimulated brain to adapt to just listening to the stories unfold. Fortunately, many of the actors acted along as they narrated and the laughter of the crowd was contagious. In many ways it's like a stand-up comedy act, but more tongue and cheek and musical. In the end, I can honestly say that I had so much fun being there and watching the performance that I was already eager to come next month to see what happens to the characters next.
The next show is scheduled for October 2nd and guest stars include Community's Gillian Jacobs, Battlestar Galactica's Michael Hogan, Buffy's Juliet Landau, Weeds' Justin Kirk and more. Tickets cost $26.00. Twitter: @ThrillingAdv
FOLLOW HUFFPOST