Miami has always been a mucho mas kind of city. Not only do we appreciate excess, we embrace it in all forms. And Art Basel, in its second day, in its 10th anniversary year, was dizzyingly excessive. In yesterday's blog debut, we wrote of our intention to "Basel so hard" that we would, essentially, need to be in clinical care by Monday morning. We think that time may have already come.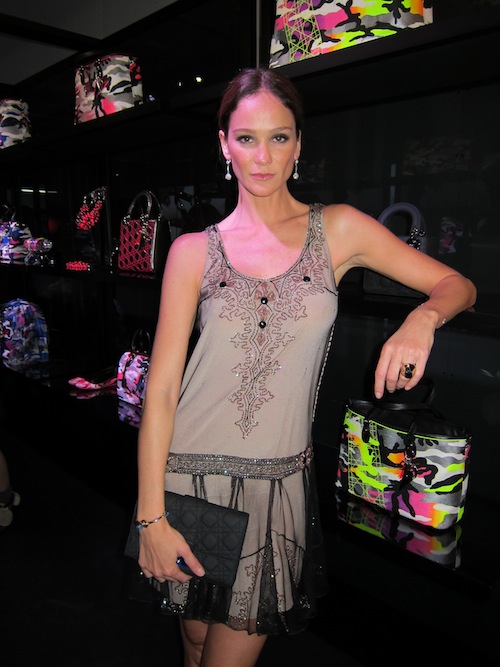 Inés Rivero at the Pop-Up Shop featuring Anselm Reyle for Dior
We kicked the night off at Christian Dior's pop-up boutique in the Miami Design District, hosted by model Inés Rivero, where Berlin-based abstract artist Anselm Reyle was on hand to celebrate his collaboration with the luxury brand. The boutique, open only during Basel, is stocked with the Anselm Reyle for Dior collection of metallic leather and neon camouflage-splashed handbags, shoes and accessories, as well as a Dior café and nail bar where guests so inclined can have their manis done in matching camo from the accompanying Dior Beauty collection.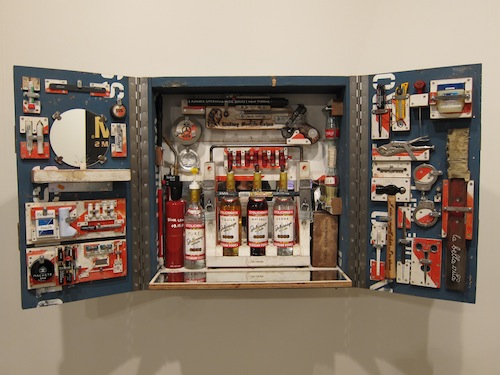 Tom Sachs' Lindsay at Art Basel Miami Beach Vernissage
We dashed to the mammoth Miami Beach Convention Center for the VIP opening of Vernissage, the mother of all art mash-ups, to ogle art by masters from Picasso to Warhol and everyone in between. Despite the early hour (6-ish), red dots marked many of the works, including a pair of moody black-and-white Horst photographs of Marlene Dietrich. While our favorite piece -- Tom Sachs' Lindsay, a celebrity morality tale featuring a fire extinguisher bearing tabloid mom Dina Lohan's name and Sharpie-labeled bottles of booze for the rest of the clan (other downward-spiral accoutrement included an engraved hatchet and Vaseline) -- remained unmarked, we surely couldn't afford it anyhow.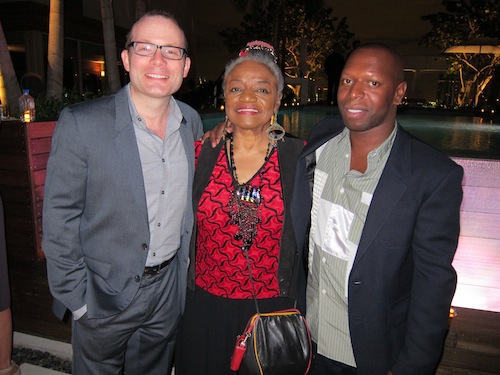 Thom Collins, Faith Ringgold and Rashaad Newsome at Ocean House
Then it was off to the southernmost point of Ocean Drive for a duo of private house parties, both (thankfully) at the same address. Miami Art Museum Director Thom Collins hosted the museum's International Committee on the balmy oceanfront penthouse deck of restaurateur (Mr. Prime One Twelve) Myles Chefetz's residence at Ocean House, joined by the museum's featured artists, Faith Ringgold and Rashaad Newsome. The International Committee had every reason to celebrate -- 2012 marks the museum's 10th anniversary. Steps away, Miami-based financier Jorge Mora held his annual Wednesday Art Basel soiree at his three-level, Latin art-filled townhouse.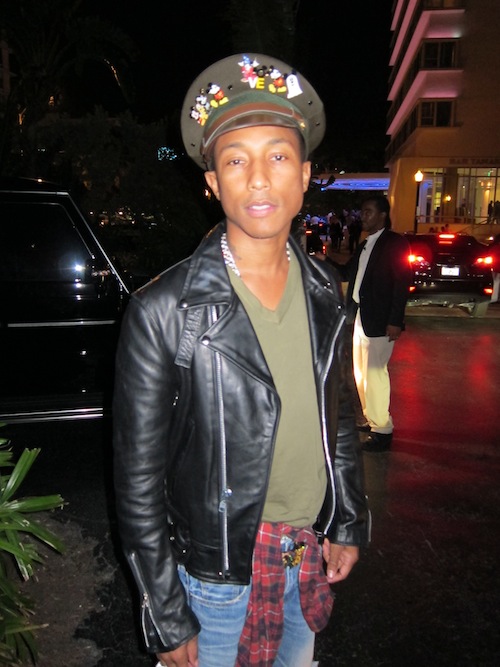 Pharrell at The Raleigh Hotel
Next stop was The Raleigh Hotel for one of Basel's hottest events, a dinner hosted by the Kingdom of Morocco and Maybach. By this time, Collins Avenue had become one big traffic jam -- the only real downside of Art Basel -- and, short of traveling by map à la The Muppets movie, we'd be lucky to get there in time for dessert. But, Miami being Miami, the night was still thriving, and the glamourati -- including Jeffrey Deitch, Naomi Campbell, Pharrell, Monique Lhuillier, Gabrielle Anwar, the sisters Hilton and Kyle Maclachlan (we couldn't stop staring at wife Desiree Gruber's fabulous glasses, which made her look not unlike a dominatrix school marm) -- in good form.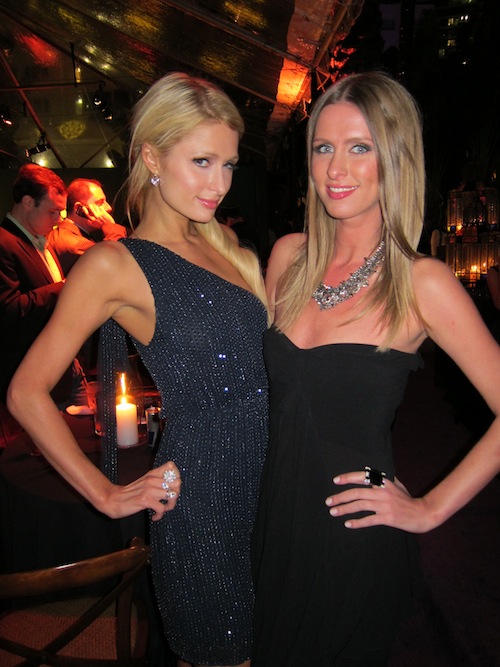 We risked life and limb getting into the (re)opening party of Shelborne South Beach, where Miami social photographer Seth Browarnik's exhibition drew a massive, genetically blessed crowd that included, besides gaggles of models, Gabrielle Union, Alanis Morissette, Ivana Trump, James Rosenquest and Paul Sevigny. The oversized prints, capturing fond Miami moments such as Karl Lagerfeld and Anna Wintour at a poolside Chanel resort show at The Raleigh, matched the oversized personality of the extroverted lensman.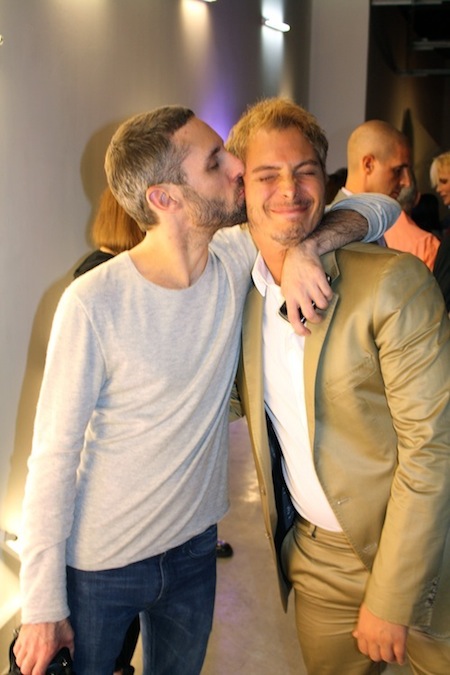 Photographer Seth Browarnik and Nick D'Annunzio
On to the Bass Museum of Art, where Austrian sculptor Erwin Wurm held court at the opening of his exhibition, "Erwin Wurm: Beauty Business," for a throng of 2,000-plus art lovers, many of whom posed for photos in front of Wurm's 'knitted,' 22-foot wall installations reminiscent of grandma's needlework gone awry. Sensory overload nearly prevented us from stopping to smell the roses, as it were, taking in the major sculptures placed throughout the grounds of Museum Park. Dramatically lit amidst the darkness, the effect was beautifully, eerily surreal.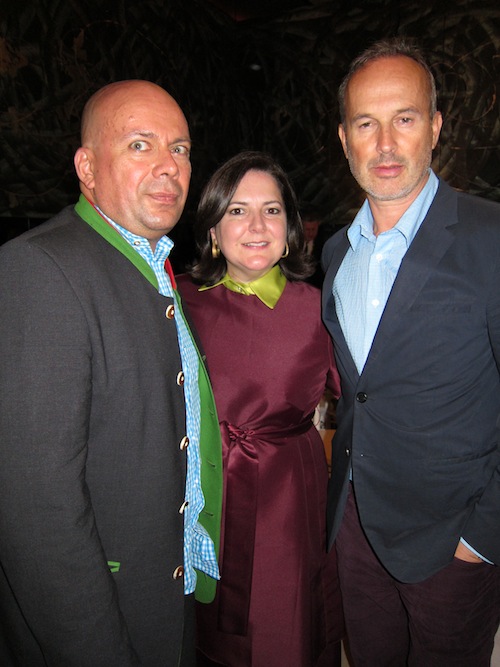 Peter Doroshenko, Sylvia Karman Cubiñá and Erwin Wurm at Mr. Chow
Our micro-moment of tranquil art bliss was jolted back to manic reality at Mr. Chow at the W South Beach, where the crowd was so dense we just planted ourselves at the door, letting the mosh pit lift and whisk us to the back for the dinner in Wurm's honor, attended by artists Teresita Fernandez and Laurent Grasso, author Anthony Haden-Guest and the man synonymous with Art Basel, Sam Keller, who directed the Miami Beach fair from 2000 to 2008.
Too late to make it to designer Jeremy Scott's soiree at the boutique Base -- alas, we inevitably have a Basel regret or two -- we wrapped the night, as we often do, at Soho Beach House for the Louis Vuitton and Art.sy beachside barbecue hosted by the art site's CEO Carter Cleveland, Russian art mogul Dasha Zhukova and Wendi Murdoch. The scene was super-glam yet relaxed, with guests including Owen Wilson, Adrian Brody, Naomi Campbell, and Paris and Nicky, lulled by the waves of the starlit Atlantic. As we staggered out just shy of 1 a.m. -- sober yet crippled by our beloved stilettos -- we encountered hundreds of partygoers, looking alarmingly alert, still going strong.

SUBSCRIBE TO & FOLLOW THE MORNING EMAIL
Get top stories and blog posts emailed to me each day. Newsletters may offer personalized content or advertisements. Learn more