THE BLOG
How to Take Advantage of Hotels' Social Media Programs
Save Money, Time and Get Your Voice Heard:
With websites like tripadvisor.com, orbitz.com, expedia.com and the numerous others that are promising incredible discounts on random hotel rooms, hotels are working extra hard to get guests' attention and create loyality. Travelers looking for the right hotel to stay in are bombarded with information and it can get hard to decipher what is actually a good deal, or what hotel would best fit their needs.
The hotel industry's latest strategies have moved into the social media arena, which is great for savvy travelers who know how to utilize the benefits of iPhone apps, twitter and facebook. Here, we speak to a few hotels that are leading the charge in the social media space. They give readers a glimpse into their offerings how travelers can benefit from their programs.
Joie de Vivre Hotels = Great Unpublished Deals For Facebook and Twitter Followers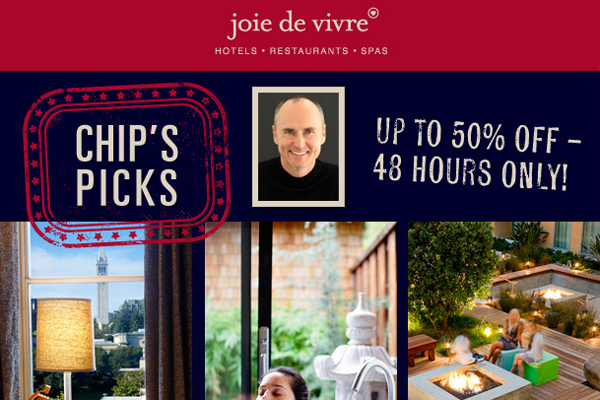 Joie de Vivre Hotels facebook page
Joie de Vivre Hotels twitter page
Joie de Vivre Hotels have been in the hotel business for over 20 years with 30 hotels in California, 18 restaurants and 5 spas. Their first hotel was the famed Phoenix in the gritty part of San Francisco. Being in the midst of the technology boom, Joie de Vivre has lead many of the original social media efforts in the hotel industry. Ann Nadeau heads marketing at Joie de Vivre and shared some of the programs that followers on twitter and facebook can benefit from.
AN: We believe that Being a part of the conversation is extending the guest experience. The staff is writing to guests before their visits via facebook and twitter. A lot of customer service is being addressed via social media, for example if someone tweets that the room is cold, then we can responds to that immediately. Our staff understands the importance of social media. These platforms are a new way of communicating, and we have always been very responsive. To us it is another medium -- and this medium is amplified. All our managers are engaged in that. It is in our DNA, it is an extension of who we have already been.
What does that mean for the guests?
AN: That means that our guests or prospective guests can benefit from our social media efforts. The two big programs we have online are Facebook Friday and Twitter Tuesdays. There, we list great specials that are not published anywhere else. Another very successful program is Chip's Picks. This is basically a fire sale on rooms that we have available in 48 hours. We try and keep our specials and deals very simple. I get so confused with emails from places like Gilt.com and Jetsetter.com. Yes, they might offer great rates, but you really have to read the fine print to benefit from the deals. Through our social media efforts we offer the best price with the best service. Clear and simple.
Facebook and Twitter also act like ongoing social research studies. Hotels can ask questions to their readers and get real time answers about what visitors want from their hotel experience. So if you have something to say, say it on the hotel's twitter and facebook page.
Hilton Hotels and Resorts = Order Your Dinner Before You Arrive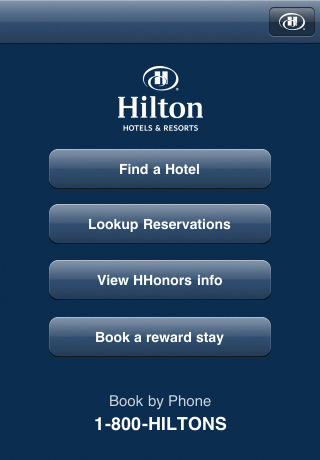 Hilton twitter page

Hilton welcomes guests in more countries than any other full-service hotel brand, with more than 530 hotels and resorts in 76 countries across six continents. They own 10 different hotel brands from the uber-chic Conrad Hotels to the family-focused Hampton Inns. Although the Hilton Hotel Group is one of the largest in the world, they are using social media to create a more intimate experience for visitors.
Some of those include their iPhone application where guests can:
Find a hotel
Look up reservations
View HHonors info
Book a reward stay
Order a meal en route to their Hilton hotel
Chuck Sullivan, Senior Vice President of Global Online Services for the Hilton Hotel Group, spoke to The Huffington Post about some of the social media programs they are implementing and about how guests can benefit from them.
CH: We want to be the go-to source for information about the destinations where our properties are located. We have been beta testing a program called Hilton Suggests on twitter. The goal is to provide an insider's view of places to go/see/visit while staying at a Hilton. For example, a guest might ask, "I will be in town at 6 p.m., where can I get a great deep dish pizza?" We want to provide that information and build a sense of community.
Where can readers get the best room rates?
CH: Because our goal is a close relationship with our customer we don't broadcast to one channel, rely on email blasts or pop up ads. We don't publish better deals via facebook or twitter. The price we offer on our website is the best price you will get anywhere. You won't find a better price on websites like expedia.com, but you might get a better price on an opaque website like priceline.com, but you don't know it's a Hilton property until your credit card gets charged. So, the best bet is to book directly through us.
Kimpton Hotels = Secret Passwords Get You a Surprise and Delight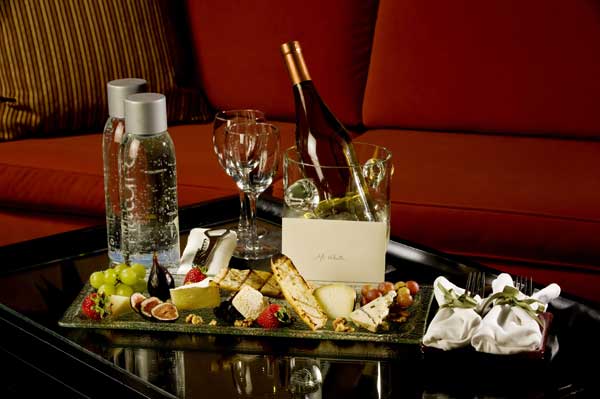 In 1981, Bill Kimpton pioneered the boutique hotel concept in the United States. He was not a hotelier, but a frequent flyer to Europe and he loved the boutique hotel concept there, so he brought it to the United States. Now, the Kimpton group has over 50 hotels across the country and continues to grow.
The Huffington Post spoke with Niki Leondakis, Chief Operating Officer of Kimpton Hotels. She has created programs such as Kimpton Cares and Kimpton's Red Ribbon Campaign. She believes that giving back to the community is a vital responsibly for every business, and through her hard work, Kimpton is succeeding in doing so. As for guests and social media followers, her hotel has been engaging them via facebook and twitter for years.
NL: We have special offers and promotions on twitter where there is a secret password in the summer time like "Flip flop" and it goes out to our twitter followers. So, when they check into one of our hotels using the pass code, they will get a surprise and delight -- it can be things like free wine or an upgrade. They get these surprises just because they follow us on twitter and they got the password. We see a lot of retweeeting from the twitter passwords.
Roger Smith Hotel = Get Access to the "In Crowd"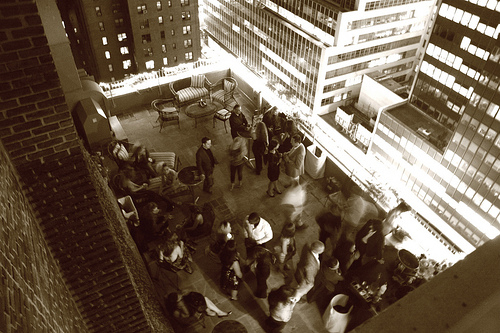 Roger Smith Hotel facebook page
Roger Smith Hotel twitter page

Opened in 1930, this small New York hotel is nestled amongst the skyscrapers in midtown and has an impressive social media following for being such a small property. The owners, who spend a lot of time in Spain, have focused on cultural and arts events, which adds an interesting twist to the traditional hotel stay. Because of this, prominent players in the art and social scene flock to the hotel for their events hosted in their innovative gallery called The LAB Gallery.
The Huffington Post spoke with Adam J. Wallace, Director of Digital Marketing at the hotel, about how he has managed to create a social following that rivals many major hotel brand.
AW: Through social media we wanted to "make friends" with the NY scene. We wanted to get involved with interesting people doing great work with the online marketing crowd. There weren't any hotels in the social media space doing this at the time, so we were able to create a strong and passionate following. It is our events with thought leaders that have given our guests access to these great minds. Some events that our followers get access to include art discussions and exhibition openings that we host at the hotel. These events really create a sense of community and involvement.
When you are a follower on their twitter or facebook page, you'll find out about all the impressive list of events and speakers that they hosts at their hotel. It is a way that the public can get access to a group of super-select individuals, and all you have to do is follow the hotel on facebook and twitter.
Wyndham Worldwide = Helping Women on Their Way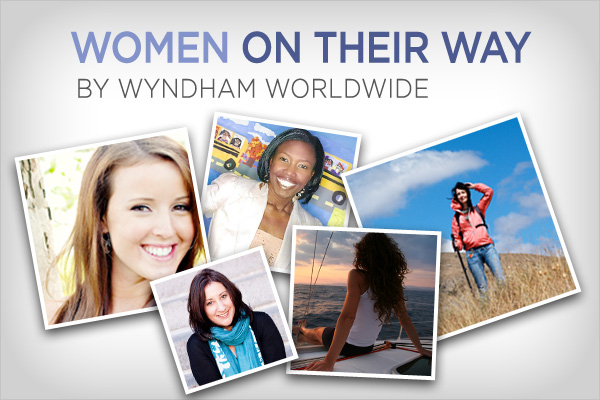 Wyndham Worldwide facebook page
Wyndham Women on Their Way twitter page

Wyndham Hotel Group is huge. It encompasses approximately 7,150 franchised hotels and approximately 605,700 hotel rooms worldwide. Wyndham Exchange & Rentals offers leisure travelers, including its 3.8 million members, access to over 85,000 vacation properties located in approximately 100 countries.
Alyson Johnson, the Vice President of Corporate Communications, took some time to tell me about one of their programs that focus specifically on women and women's travel needs.
AJ: "Our Women on Their Way travel web site for women features reviews from bloggers, a travel blogger contest and many of the Wyndham Worldwide hotel brands are currently using social media for outreach to customers and other media outlets."
On this site, women can read articles like "Top 5 Travel Items For Women in 2011." The focus is on women's empowerment and advice about life - not just about travel. It is a refreshing change from many hotel websites that self promote. Here, women can get solid advice about issues that affect them on a daily basis. Of course, there are links to their property websites that offer specials geared towards women.
Engage and Save
Social media can be a great traveling companion. Through twitter and facebook, you can get your voice heard on a larger scale than you would by simply complaining to the front desk. If you have a problem with your hotel visit, social media gives you an amplified voice - so use it. Sign up with hotels' twitter and facebook pages. There you can track specials as well as post complaints. You can use iPhone apps as a great way to keep track of your hotel reservations (if the hotel you are staying at offers an app), so it might be worth the time to download the hotel app, which are always free.
If you can navigate the crazy world of social media, you can take advantage of the many offers that hotels are diligently creating for you.
Advice For Those Wanting to Start a Social Media Campaign
Each of the hotels we spoke to had words of advice for others -- be it worldwide hotel chains or individual blogger -- who want to use social media to build their businesses; here is what they had to say:
Ann Nadeau: "Social media is all about relationship building, it is an extension of being authentic -- be transparent and you will get forgiveness."
Chuck Sullivan: "Make sure that you do a thorough environmental scan of social media and don't just cling onto the first opportunity that jumps through the door. There are lots of options out there, but it is important to see what is growing, decreasing, what the trends are when you build a strategy for social media."
Niki Leondakis: "Whatever you do don't outsource your social media efforts and don't put it on auto pilot. Be authentic, real, and transparent. Make sure that the people who are behind facebook and twitter are intimate members of your team. It is an opportunity to be genuine and true. Social media is real information in real time."
Adam Wallace: "Many people go into social media with the goal of amplifying their message to everyone, but the goal is to connect with individuals who can share your message. Don't blanket out your message."
Alyson Johnson: "Quite simply, do your research and have internal resources."
If you want to meet these hotel execs or learn more about how social media is affecting the travel industry, attend The Eye For Travel Summit in San Francisco on March 2-3.
Tell us about some of the great hotel deals and services you have gotten by following social media.
MORE:
Travel Expert
,
Teresa Rodriguez Williamson
,
Kimpton Hotels
,
Roger Smith Hotel
,
Wyndham Worldwide
,
Joie De Vivre Hotels
,
Chuck Sullivan
,
Alyson Johnson
,
Hilton Hotels And Resorts
,
Ann Nadeau
,
Niki Leondakis
,
Adam Wallace
,
Social Media In The Travel Industry
,
Eye For Travel Summit In San Francisco