THE BLOG
Manhattan's Soon-to-be Hot Spots
New York City's scene can be loosely compared to a social archaeological site. There, within the vast levels of red carpet events and velvet-roped undergrounds is a labyrinth of cool places that lie just beneath its pulsing membrane. Since I've never explored the city like a social anthropologist, I took a few days to uncover some hidden treasures, that to some, might not seem to deserve a second glance. Ironically, New York City loves the spotlight, but once a venue gets flooded with the intense rays of the hipsters' bright lights, some of the original sparkle seems to disappear in the harsh glare of the masses. So, for you trendsetters, here are a few Manhattan gems that I found, that are still in the shadows of the big city's glow, but are shining nonetheless.
STAYING: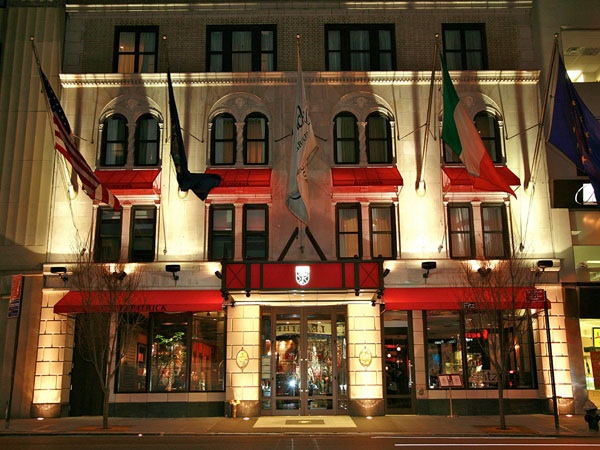 On Lexington, between 56h and 57th Street, there is a place that carries you back to the kind hospitality that the Irish pride themselves on-always a warm smile and kind word. The hotel is surprisingly dainty, which is ideal for its guests. The quaint lobby has an actual desk where you check in, not a long marble counter with endless lines of grumpy business travelers. And, in true Irish style, high tea is served between 3:00 pm and 5:00 pm in their cozy restaurant The Fitz.
The owners of the hotel are the Fitzpatrick family who have been in the hospitality industry for decades. Their properties are both here in the United States and in Ireland. What's so nice about the Fitzpatrick Hotel is that it offers many different types of room configurations-from well-appointed standard rooms to incredibly decadent luxury suites. And, with only 6 rooms to a floor, you can't get lost!
This charming hotel is an ideal destination for couples who want to get away to a sweet place where they will be treated like royalty, or families who want the boutique hotel experience with the option of connecting rooms. The luxury suite and a two-bed standard room share a hallway and front door that can be closed, making the two hotel rooms one big apartment. This set-up can easily sleep 6-8 people.
The newly appointed Fitz restaurant serves breakfast, lunch, and light dinner. There, you'll find books lining the walls, and if you're staying at the hotel, you are welcome to take a book back to your room. When I was there they were offering a "Buy one get one free" lunch special and a two-for-one drink special during happy hour (which happened to be packed with good-looking young professionals who, I'm sure, work on Madison Ave.).
The Fitzpatrick Manhattan
687 Lexington Avenue
Between 56th & 57th Street, New York, NY 10022
Tel: +212 355 0100
Fax: +212 355 1371
Email: reservations@fitzpatrickhotels.com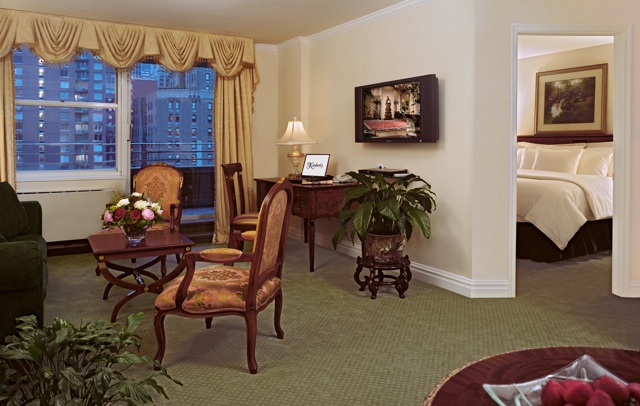 When I walked into the lobby of this hotel, I could hear the soothing buzz of foreign languages, and I could tell it was primarily French with the gentle "vooous and tooous." It looks like the Parisians found this place before this San Franciscan. The hotel is located on 50th Street between Lexington and 3rd,which is prime real estate in the city that never sleeps. What is so impressive about this hotel is that most every suite has a nice sized patio with a table and chairs. I was staying here on a warm June night, so I invited two friends over to join me on the patio, and we enjoyed the view of the Chrysler Building while sipping cava and nibbling appetizers that one of my friends flew over from Barcelona that afternoon.
This all-suite hotel is the perfect destination for a family of four, or girlfriend getaways. My suite had a huge king-size bed with a pullout couch in the living area. The room also has a small, hidden kitchenette with a microwave, refrigerator, and sink. If you wanted, you could easily buy your own groceries and live in your hotel room while dining on the balcony - which is not a bad idea. I have to admit, though, that my favorite part of the suite was my Jacuzzi bathtub.
Other perks of the hotel include the use of any of the New York Health and Racket Ball Clubs throughout the city. Also, on Sundays, for $20, guest can take a brunch cruise on a 75-foot yacht that is owned by the hotelier. Or, if you prefer to see the city at night, you can take the Thursday or Saturday evening cruise. For you late night hipsters, Nikki Midtown (think Nikki Beach in Miami) is connected to the hotel, so guests of The Kimberly are put on the VIP list when going to Nikki Midtown.
The Kimberly Hotel
145 E 50th St
New York, NY 10022
(212) 763-8570
www.kimberlyhotel.com
DINING

Belcourt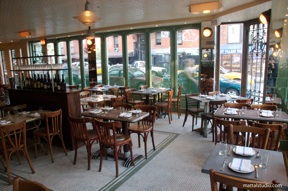 Tucked away in the East Village, I found a darling neighborhood restaurant called Belcourt. It is located on the corner of 2nd and 4th Street where its antique, Parisian windows wraps around the corner, and beneath the vintage train station lamps, cute tables are filled with beautiful East-siders sipping cocktails and eating oysters.
Matt Hamilton, who is no newcomer to the New York gastronomic scene, is the chef and partner of this soon-to-be hot spot. Most recently he ventured on his own and opened the critically acclaimed East Village restaurant Uovo and then headlined as Executive Chef at Olea Taverna in Brooklyn and Pair of 8's on Manhattan's Upper West Side. Like any good chef, he spent two years on a Tuscan farm learning the age-old secrets of harvesting and pressing olive oil and raising and butchering livestock. After his Italian sojourn, Chef Hamilton worked as the sous chef at Prune in the East Village. He now continues his love of food at Belcourt where he oversees every detail creating unexpected, innovative dishes with classic influences from Europe and the Mediterranean, as well as Turkey, Lebanon, and Morocco.
My meal in this chic, yet inviting restaurant was extraordinary. I started with the fava bean/sweet pea raviolo with mushroom, brown butter, mint, pine nuts and Parmesan, along with the grilled Spanish octopus with cardamom pickled carrots, mint and jalapeno cilantro sauce. Then I noshed on the grilled fillet of bass with grilled frisee, sunchokes, parsley, lemon beurre blanc, fried capers. I finished my meal with Ricotta fritters with warm chocolate sauce.
This is the perfect venue for those who really want to experience a charming Manhattan restaurant while people watching and dining on fresh cuisine that is created with thoughtful passion.
Belcourt
84 East 4th Street, New York City
212-979-2034
http://www.belcourtnyc.com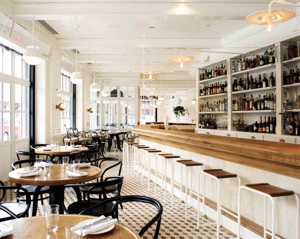 This venue, in the trendy Meat Packing District, is not going to be flying under the radar for very long. The Standard Grill restaurant is the hotelier genius Andre Balazs brand-new darling and he has spared no expense in making this the restaurant "the" places to see and be seen. And because the grill will be open 22 hours a day, you'll have plenty of opportunity check out the crowd. Breakfast starts this week.
Not only is this restaurant a feast for the belly, it is a feast for the eyes. The floor is made up of 250,000 pennies and you can tell that every inch of this restaurant was designed to please the visual palate. Even the staff here looks like they just walked off a runway and into the restaurant. Really, everything is perfect.
The Standard Grill's menu changes daily and feature meats and fish thoughtfully prepared, by chef Dan Silverman. Prior to opening the Standard Grill, he was the acclaimed chef at Lever House Restaurant.
I was there for a light dinner and I ordered the haricots verts salad, with yogurt, cinnamon, and crispy shallots. Yum.
Plan on making reservations, or chilling at the bar with a cocktail (make sure you look divine). The Standard Grill is destined for greatness, so get there early.
The Standard Grill
846 Washington Street
New York City
212-645-4100
http://www.thestandardgrill.com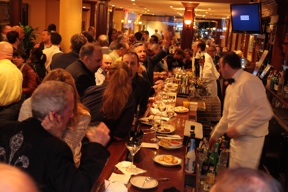 It's always a pleasure to meet the guy whose name is on the awning, and when I had dinner at Ben & Jack's, I got to meet Jack. Jack and his family came to the United States over 20 years ago from Albania in hopes to live "The American Dream." For him, "The American Dream" was owning a first-class steak house. Well, fast forward to 2005, and Ben and Jack (who are cousins) opened up their first steak house in 2005.
There are two Ben & Jack's Steakhouses now, I ate at the restaurant located on Fifth Avenue between 28th and 29th Street, which just opened. The menu includes their famed beef, including Midwestern prime, which is dry-aged on the premises for 21 to 28 days. Ben & Jack's signature cut is a Porterhouse for two, three, or four guests, served sliced alongside its king-sized bone.
Because I'm not a big red meat eater, I started with the massive seafood platter. Being from San Francisco, I know good seafood, and I was mighty impressed with the lobster, crabmeat, and shrimps that were served on this huge platter. I could have stopped there, but I followed that with a piece of Chilean sea bass and fresh spinach. There was no way I could eat dessert after that meal. Think big portions, and don't bother counting calories here.
This little gem is a perfect place for those who enjoy the art of dining in style and love long, uncomplicated dinners with a great choice of food options.
Ben & Jack
255 5th Avenue
New York, NY 10016
212-532-7600
http://www.benandjackssteakhouse.com
URBAN RELAXATION
The Hotel Gansevoort
Yes, the Hotel Gansevoort is already famous for its rooftop deck and the many beautiful people who saunter in and out of its revolving door. But now, it's not the bottles of champagne and fabulous guests that are getting people's attention, it is what's happening underground at the Gansevoort that is literally turning heads, necks, and torsos. Just days ago (June 29, 2009), their new exhale spa opened, and with it, an impressive bevy of workout classes that the locals are flocking to.
My favorite is the live DJ's Core Fusion classes. Yes, you work out to a live DJ. And you know if the DJ is good looking, you'll be working out just a little bit harder. Another popular class is the Core Energy Flo, which is a combination of yoga, intense core training and Qi Gong circular movements, with some stretching to move energy and produce a state of inner calm and balance. Really, after a week in Manhattan, it's exactly what a girl needs-some inner calm.
Classes are $35 for exhale guests and $20 for hotel guests.
Right now, the Gansevoort Hotel is offering a pretty nice package called the "Transformation Package." Basically, you get one night accommodation, time to hang out by the pool, one free cocktail per guest, breakfast, you choice of one signature therapy at exhale, and one of those crazy workout classes that everyone is raving about.
For reservations visit www.hotelgansevoort.com or call 212-206-6700.
Hotel Gansevoort NYC
18 Ninth Avenue (at 13th Street)
New York City
212-206-6700
http://www.hotelgansevoort.com
I'm off to the British Virgin Islands tomorrow for the famed Wine Makers Dinners. We will be dining on island throughout the BVIs, including Sir Richard Banson's Necker Island. Stay tuned!
MORE:
New York City
,
Hotels & Resorts
,
Restaurants
,
Manhattan
,
Travel Expert
,
Teresa Rodriguez Williamson
,
Hotel Reviews
,
Gansevoort Hotel
,
The Standard Grill
,
Jetset Extra
,
Exhale Spa
,
Tangodiva.com
,
Dan Silverman
,
Steak House
,
Matt Hamilton
,
Kimberly Hotel
,
Core Fusion Class
,
Fitzpatrick Hotel
,
Ben & Jack's
,
André Balazs
,
Travel
,
Belcourt