Hopefully 2010 is the year that airlines focus more on passenger comfort and less on nickeling and diming us over pillows, blankets and baggage. Domestically, JetBlue and Virgin America began the march toward greater passenger comfort.
Take a look: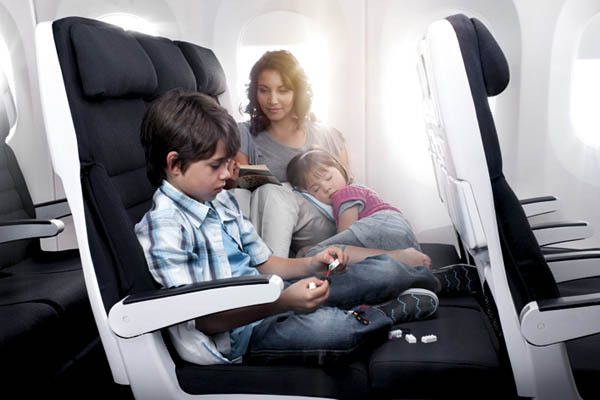 Mom and Kids on Air New Zealand's New Economy Skycouch Configuration (Boeing 777-300)

Cabin of JetBlue's newest A320 aircraft
Last year, Qantas upped the comfort ante on international long haul flights with the debut of its Airbus 380 in October 2009. Wally Mariani, Senior Executive Vice President, the Americas (Qantas Airways) says: "Everything on board has been designed or chosen by our Creative Director, world renowned designer Marc Newson, from the seats to the cutlery, crockery and soft furnishings so it was a major step-change in aircraft design."
On January 25, 2010, Air New Zealand raised the stakes even higher when it unveiled the prototype for its new long haul cabin for its new Boeing 777-300s - which like Qantas' Airbus 380 will increase the comfort level in every class of service with some unique Kiwi twists.
Chief Executive Officer Rob Fyfe says when Air New Zealand receives its first new Boeing 777-300 ER in November, it will put "the magic and romance back into flying. For the past three years we have been designing a new long haul experience that will reignite the passion of today's travelers."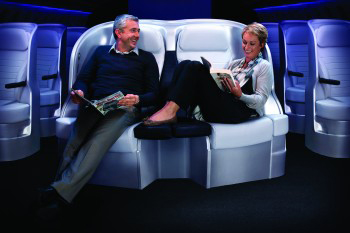 Couple in Air New Zealand's Premium Economy (777-300 ER)
In the U.S., JetBlue and Virgin America have focused on passenger comfort since inception. With its launch on February 11, 2000, JetBlue introduced passengers to in-flight entertainment options for every leather seat. "Having leather seats in coach was a huge departure from the norm" according to JetBlue spokesman Bryan Baldwin. Baldwin says JetBlue offers the most standard legroom on domestic flights with its cheapest seats having a pitch of 34 inches.
Seat Guru, the website that details 710 seatmaps for 98 airlines, defines seat pitch as: "the distance from any point on one seat to the exact same point on the seat in front or behind it." Generally, you check the seat pitch to try to determine how much legroom you may have. Typically, the exit row and bulkhead seats have the most generous legroom (which is why some airlines charge extra for those seats).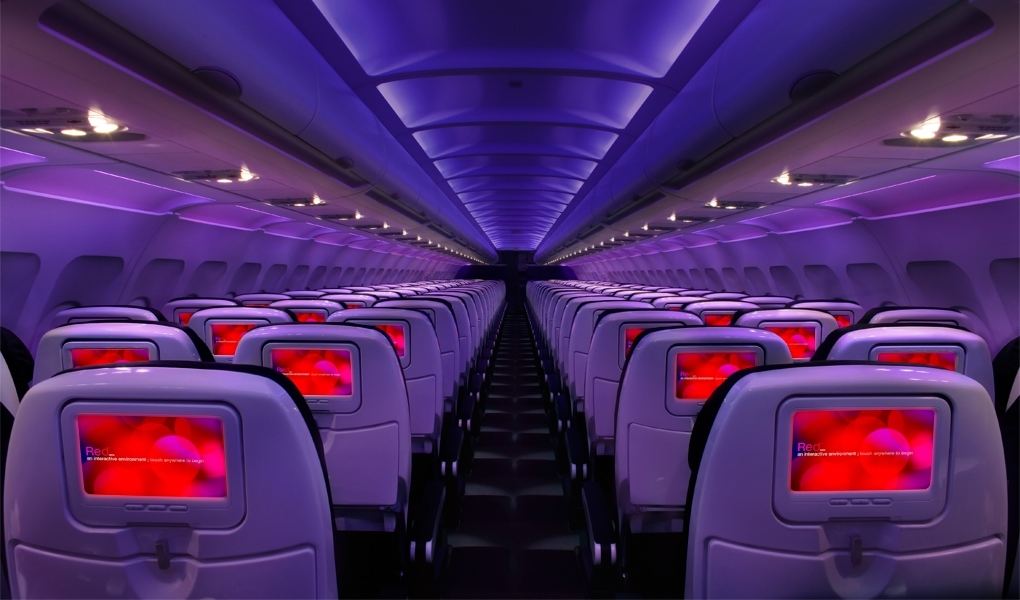 Photo: Virgin America
Virgin America launched in August 2007 "with the idea of reinventing all aspects of a typical domestic flight- with better design, innovative technology and features that give guests more control over their flight experience," says Abby Lunardini, a Virgin America spokesperson. Beyond touch-screen in-flight entertainment and becoming the first to offer fleet wide Wi-Fi, the airline introduced us to mood lighting designed to put us in a more serene mood. Lunardini says the lighting "transitions between 12 shades of lighting based on outside light (with settings like "Seattle Morning", "Dusk", and "Night")." And even their least expensive economy coach seats have a "more ergonomically correct design and pitch. The knee raise is higher than on other domestic carriers," says Lunardini.
International flights (already known for greater comfort than domestic), began to glow with Virgin Atlantic's pioneering development of mood lighting. It introduced mood lighting in its Upper Class Suite in 2003.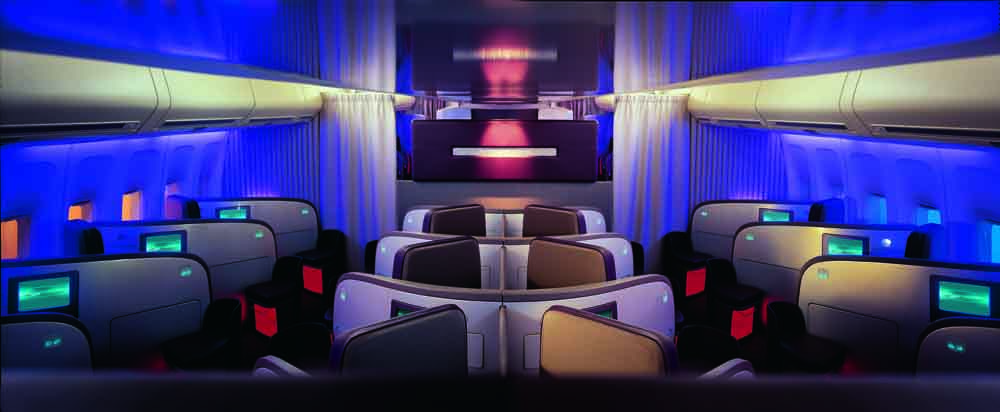 Virgin Atlantic Upper Class
And international skies got even brighter in October 2009 with the debut of Qantas' Airbus 380.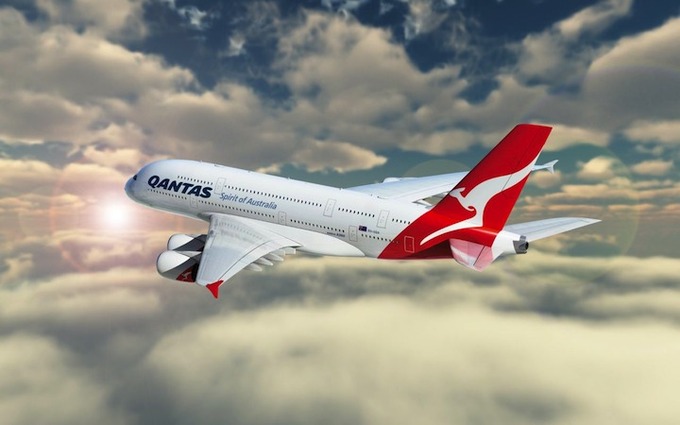 Qantas A380
Qantas now offers nonstop flights on its Airbus 380 between Los Angeles and Sydney and Melbourne. By early January 2010, Qantas had sufficient Airbus 380s to begin offering daily nonstop flights from Los Angeles to Sydney. It has three flights per week between LAX and Melbourne. The Airbus 380 will ultimately become the airline's flagship plane as Airbus completes its order for 20 planes (it currently has 6).
Mariani of Qantas says: "the economy seats designed by Marc and produced by Recaro recently won an Australian Design award and are extremely comfortable and innovative and just last week the A380 First suite won the Good Design™ Award by The Chicago Athenaeum Museum."
Highlights of the award winning First Class on the Qantas A380 include:
• 14 individual suites featuring electronically adjustable seat with programmable positions and fully adjustable multi-zone massage function.
• Seat converts into a fully flat bed complemented by a foam mattress, sheepskin overlay and fitted cotton sheeting.
• Leather guest seat and large dining table designed to accommodate two.
• Mood lighting, enhanced cabin soundproofing.
• Designer pajamas.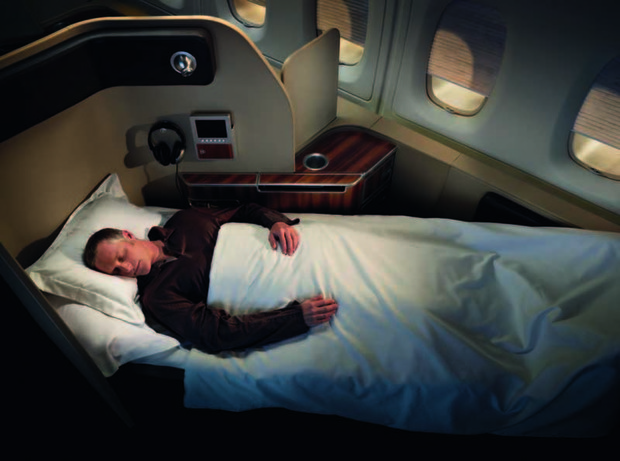 Qantas First Class Sleeper
Premium Economy on the A380 features seats with 9 inches of recline, a fold-out foot rest and seat pitch of 42 inches along with many other perks including fancier cuisine.
The award winning Qantas A380 Economy seat is the world's first single-beam aircraft seat for more legroom. Other assets created by the design's focus on ergonomics and comfort include:
• A seat base that moves in conjunction with recline, providing more comfort.
• Multi-adjustable headrest and cushioned armrests.
• Cushioning designed for side-sleep.
• Unique netted "footnet" leg support.
• Business and connectivity features as well as a state-of-the-art entertainment system with over 1,000 on-demand audio and video entertainment choices.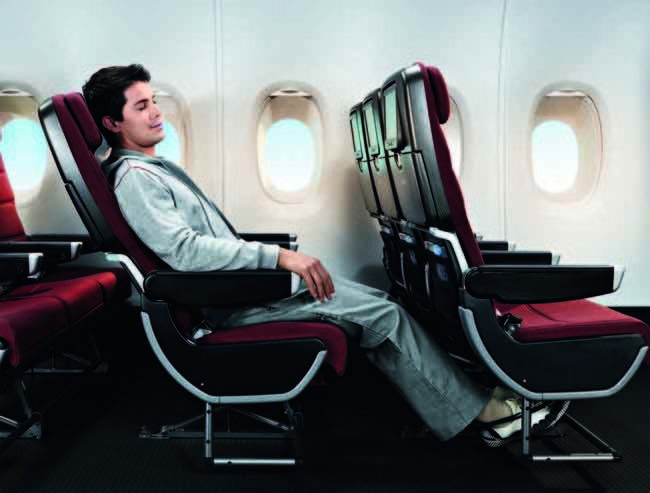 Qantas Economy Class - Sleeping Man
And then on Monday, Air New Zealand's Rob Fyfe brought passengers more good news. Fyfe says: "For those who choose, the days of sitting in economy and yearning to lie down and sleep are gone. The dream is now a reality, one that you can even share with a traveling companion -- just keep your clothes on thanks!"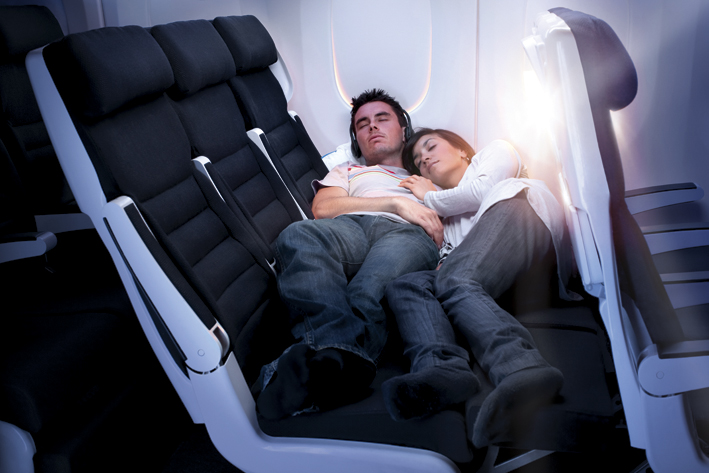 Young Couple stretched out in new economy Skycouch
Photo: Air New Zealand
Air New Zealand's 'Skycouch' is a specially designed row of three seats, engineered to create a lie-flat, flexible space from the seat back in front, providing a place for the kids to play, to a flat surface for adults to relax and sleep.

Twenty-two sets of Skycouch seats will be available, being the first 11 window rows in the Economy Class cabin. For two adults traveling, purchasing the Skycouch will be based on buying two seats at standard prices with the third seat at approximately half price. Full airfare details will be announced when it goes on sale in late April.
The skies will be even rosier for Premium Economy and Business Premier passengers. Whereas most airlines serve Premium Economy passengers economy-style food, Fyfe says: "Our new Premium Economy cabin with uniquely Kiwi designed Spaceseats will offer unparalleled comfort and legroom with new shared-meal experiences more familiar in tapas restaurants or bistros than at 35,000 feet."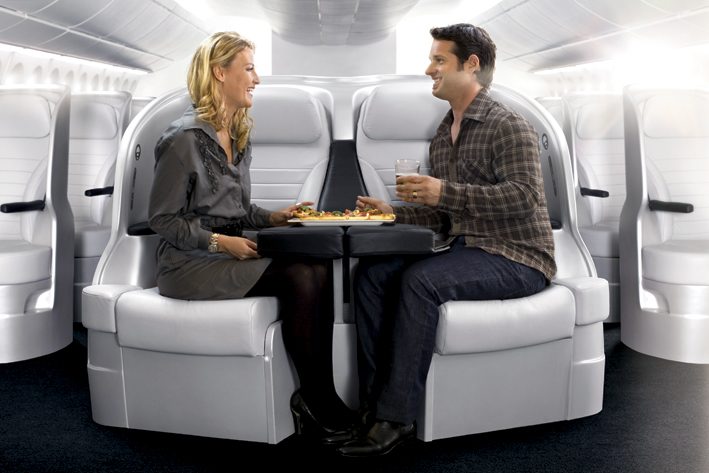 Photo: Air New Zealand
Air New Zealand's award winning Business Premier cabin will feature an enhanced sleep experience closer to being snuggled into one's own bed. Complete on-demand food and beverage service will also be offered.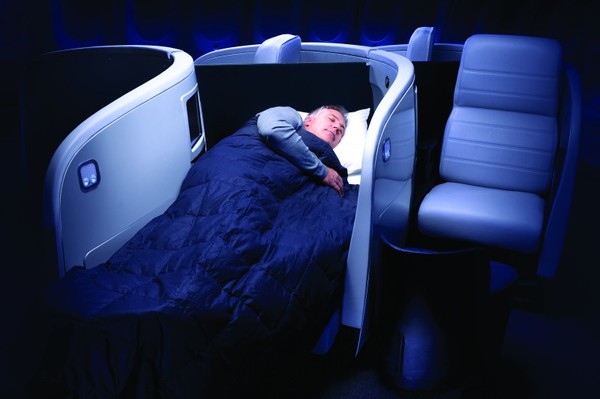 Mr. Fyfe says each of the three zones in Air New Zealand's long haul aircraft of the future will be a step ahead of competitors in comfort enhanced by "the world's most innovative food and beverage service and state-of-the-art entertainment system."
In Air New Zealand's passenger surveys, the airline discovered food matters to passengers and often people ate when they weren't really hungry in fear that they would miss a meal opportunity. On-demand food has been added to address these concerns.

"Being able to order a steak, medium rare in Business Premier, a pizza for two in Premium Economy or a late night snack in Economy, whenever you want, will be a very cool experience. New oven technology that will cook food from scratch rather than simply reheating and a new digital in-seat ordering service will make this truly the first time real food has been served at 35,000 feet," says Fyfe.

Economy Passenger eating an "on-demand" burger in Economy class

The first Air New Zealand routes to offer the reconfigured cabins will be on selected NZ5 and NZ6 services from Los Angeles to Auckland beginning in December 2010, followed by dedicated return services on NZ1 and NZ2 from Auckland to Los Angeles and through to London as of April 2011.
Finally, we can look forward to boarding.
Follow Terry Gardner on Twitter: www.twitter.com/terrytravels1