I kicked off my week with a preview of Alexander McQueen's dramatic Savage Beauty show at the Metropolitan Museum of Art, feeding my Anglo mania from the breathtaking royal wedding. While I swoon for anything in tartan, I'm more of a Francophile; I may adore Philip Treacy's whimsical toppers, but my hat collection brims with colorful berets. Thankfully, I didn't need to hop the pond to see art impresario Vladimir Restoin Roitfeld present Sick Atavus of the New Blood, a solo show in New York featuring a stunning collection of 20 paintings and 16 drawings from Paris-based artist Nicolas Pol. I caught up with the two gentlemen this week: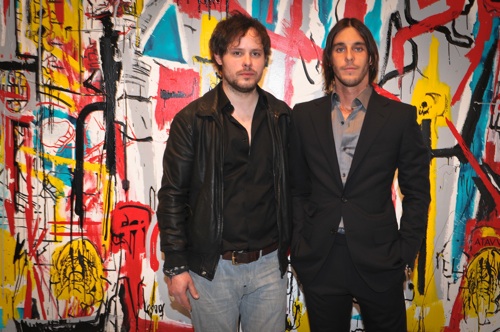 Nicolas Pol and Vladimir Restoin Roitfeld
TG: This is your 3rd solo exhibition with Nicolas, what is it about his work that makes him a provocateur today?
VRR: We've been working together for two years and when I look at a painting the emotion speaks first. I was astonished how bloody, funny and ironic they were, and how human history has led to so many catastrophes. Everyone is inspired by the past. These paintings send a strong message and force the viewers to ask themselves these questions.
TG: Nicolas, your works are so arresting, and after gazing at them for some time I felt hopeful about the human condition. Was this the effect you were going for? Do you want people to feel that there is light after the dark chapters of history?
NP: Yes, I communicate in a language using my fingers. My hands can whisper, shout, croon and be wild. I put things in a context that makes sense. You can balance from one to the other.
TG: What techniques and themes do you use? The references span the ages.
NP: I'm a painter but also a printer. And I work in etchings, text, silkscreen, wood, metal, tar, rubber and plastic. It really depends.
TG: What were some of your influences growing up?
NP: I was lucky to discover music, books and travel at a young age. At age 12, I went to an art collector's home, which blew my mind. I saw the works of Klee, Kandinsky, Bacon and Matisse.
TG: As an artist and lover of painting, do you feel wary of how society has relied on technology?
NP: We are in a very strange position and it's all leading to different things though it feels like the Middle Ages. Power, progress, creating, destroying -- we have to be thinking about these things -- and even love, fear, adoration, technology and energy.
TG: Vladimir, you're transforming an industrial setting into a guerilla museum space.
VRR: Art should be seen be by a wide audience, so an industrial space is a natural choice for me. We experiment with different sorts of lighting, using spotlights for a strong affect. And we have an important guest list -- an audience of thousands who want to learn about art. And of course, we understand the importance of collaborating with credible art institutions and have the natural ability to build trust, friendship and business.
TG: What's different about showing in New York rather than London or Paris?
VRR: I grew up in Paris so it was comfortable but provincial. New York is the most creative and international place to live and work. People are doing things and watching out for new ideas and young artists.
TG: You've been a private art dealer for a few years now, what was the defining moment for you that make you take this step?
VRR: My first show was in Paris with artist Marco Perego. I never felt more dedicated or enthusiastic. I knew it was for me. I find artists I believe in and I love dealing with collectors. My parents taught me perseverance and to always look straight ahead, not in the rear view mirrors.
Sick Atavus of the New Blood runs through May 5-22 at 560 Washington Street.

SUBSCRIBE TO & FOLLOW CULTURE SHIFT
Every Friday, HuffPost's Culture Shift newsletter helps you figure out which books you should read, art you should check out, movies you should watch and music should listen to. Learn more