On a recent steamy, summer day I headed down to Irving Place to meet Eliza Starbuck, designer of Bright Young Things. I've always admired her approach to fashion -- favoring individuality over brand identity -- so I was curious to see how this 30-year old was going to interpret her popular little black dress (LBD).
She tickled the stylist in me, donning a vintage long tunic in a yellow and black abstract polyester print underneath her design.
Starbuck's genius LBD practically screams joie de vivre. "It's about the personal curation of the individual, and about the girl wearing the dress," she says. And she's got quite a palette. Her style icons range from science fiction to screen sirens to saints: Star Trek, Joan of Arc, Iris Apfel and Hollywood stars of the 30s and 40s.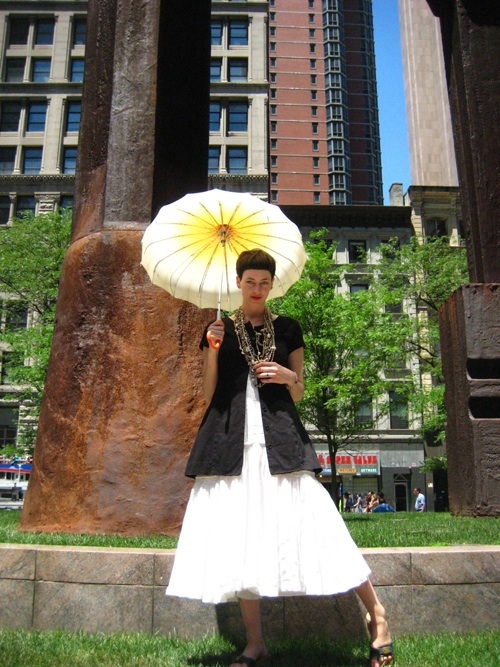 Consistency plays a big part in her success; all of her dresses are sustainable, playful and feminine. When actually designing the LBD, she inserted some strategic pleats into the silhouette, allowing the frock to expand, fit and flatter a variety of shapes and sizes. That's what's so appealing about the dress for so many tastemakers. It's a wardrobe must-have, one that's modern, romantic, sleek and, thankfully, timeless.
In the Style Challenge, Bright Young Things asked a motley crew of fashion darlings to judge the City's most chic fashion bloggers in the Style Challenge: Chris Benz, Vena Cava designers Lisa Mayock and Sophie Buhai, Elettra Rossellini Wiedemann, Eleanor Friedberger from the Firey Furnaces, and East Village doyenne Delanee Koppersmith of Cobblestones Vintage.
The coterie of BYT challengers are: Felicia Walker Benson of This That Beauty, Yuka Yoneda of Ecouterre, Pamela Castillo of Market Publique, Leah Chernikoff of Fashionista, Emma Grady of TreeHugger, Johanna Bjork of Goodlifer, Roberta Correia of It's Only Fashion, Tiffany of Six Six Sick and model Summer Rayne Oakes.
I won't reveal who I selected, but voting ends on August 1st and the winners will be announced on August 2nd. One lucky voter will win the BYT LBD.