I swore to myself all the pixie dust in the galaxy couldn't bring me to Disney World. Friends razz me about being a high maintenance New Yorker, who enjoys the Four Seasons, Blackberry Farm and The One & Only Palmilla. I like peace, quiet, spas, yoga retreats and juice bars. But my seven-year-old had been pleading for months. What kind of mother would I be if I denied his wish? All his friends had gone, and he talked incessantly about the rides he dreamed of going on and meeting the many animated characters spilling out of our TV.
In the end, with much coaxing from my husband, who vacationed there for 10 years as a child, I packed up my sneakers and one pair of Manolo's and headed for Orlando. Along the way, I was awestruck by the magic and wonder of this fabled family theme park, which, despite the global downturn, attracted 17 million Americans last year alone; but also, I was shocked by the near-perfect looking glass this vacation provided into the obesity epidemic plaguing our nation.
As a city dweller I wanted a total fantasy escape, so we stayed at the Animal Kingdom Lodge, a 972-room luxury hotel sitting within a 45-acre wildlife preserve that recreates the African landscape. The Lion King on Broadway inspired me to come here, where giraffes, zebras and a vast array of African species roam freely on the grounds, gazing into the windows. Designed by architect Peter Dominick, the African-inflected décor and restaurants surprised me; this luxury-loving Leo felt right at home, a lioness unleashed. I felt immersed in the African culture, thanks to the some 75 cast members from their native land. And there's so much to learn here. Who knew September 2 was International Vulture Awareness Day?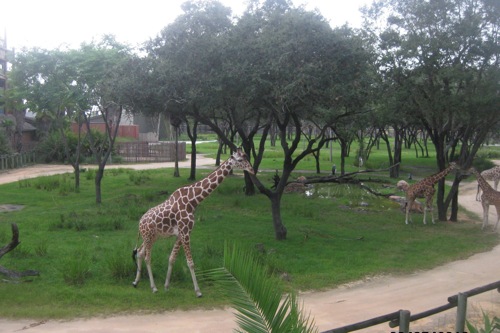 The view from our room
Like all Disney vacationers, I was run ragged during my week there, trotting after our son as we visited The Magic Kingdom, Hollywood Studios, The Animal Kingdom theme park and Blizzard Beach, one of Disney's high-octane water parks. Here are some tips if you decide to go:
1. Banish the flip-flops, people. You'll be on your feet all day, so make sure your whole family wears sneakers or a good walking shoe.
2. Wear lots of sunscreen, preferably one without parabens and PABA.
3. When you see Donald or Mickey, and your child goes running for a photo, seize the moment. My boy waited 20 minutes for a photo with Goofy, only to have him leave for bathroom break.
4. Be brave. I have a terrible history with roller coasters, but I defied Space Mountain, the Rock 'n' Roller Coaster Starring Aerosmith, the Twilight Zone Tower of Terror, Expedition Everest, and the Kali River Rapids, where I was soaked head-to-toe. I faced my fears and came home empowered.
5. Go to The Magic Kingdom at night. The fireworks display over Cinderella's Castle is to die for; it's set to music and I'll never forget the ooh's and aah's of thousands of children.
6. If you're a lady going to a water park, wear your most durable swimsuit. I boldly conquered the Summit Plummet, one of the world's fastest and steepest water slides, located at Blizzard Beach, which drops 12 stories straight down. I tore a nice hole in my bikini bottom. Thank you, Donna Karan, for making the garment double-lined.
7. Drink lots of water. Believe me, you'll be parched.
Disney is like a giant cultural magnet, drawing Americans and foreigners from all socio-economic groups to its many theme parks and resorts. And this was one of the most surprising aspects of this trip - the broad canvas of America you can find here. All races and religions, rich and poor, flock here year after year, even in the hardest of times. They laugh and share memories and just let go for a while. It is a place of unbridled joy and now I get it. My little one falls to sleep each night with his Donald Duck stuffed animal and he's already begging to go back.
However, it was also somewhat sad to see just how morbidly obese our nation has become. This has nothing to do with Disney and everything to do with America's eating habits. Wherever I turned I saw obese moms and dads and grandparents and children, and they all seemed to have sodas in their hands. For a yoga instructor like me, the view was somewhat heart-breaking at times.
Our small world just seems to be getting larger, after all.