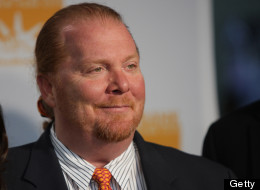 It's a presidential election year, and the sexiest topic this cycle is campaign finance.  With the national conversation tuned to Super PACs, the staggering income disparities between major donors and the rest of America, and Wolfgang Puck's appearance at the $15 million Obama bash headlined by George Clooney, The Braiser wanted to know: how do celebrity chefs support political candidates?  With fancy dinners?  With non-connected joint expenditure committees?  With hundred dollar bills baked into pies and delivered to campaign headquarters?
RELATED POSTS:
The 13 Most Infamous Chef Feuds
A Brief History Of Celebrity Chefs (1577 - Present)
We dug through the Federal Election Commission's individual filings, as well as POLITICO's old trash, to find the chefs who have donated the most to either party -- either through individual donations, or via fundraising and bundling efforts.  Here are the top 15 -- though it's worth noting that overall, the total amount donated by numbers 15 through 5 are obliterated by Nos. 4 through 1.  Hooray for campaign finance laws!
More From The Braiser:
Fox News Slams Mario Batali For Food Stamp Challenge
Anthony Bourdain On Why The Best Celebrity Chefs Just 'Don't Give A F*ck'
They're Coming For Our Kids: 5 Children's Books Written By Food Network Stars
The 15 Largest Campaign Donations Made By Celebrity Chefs
Congratulations, Tim Love, you're the only chef we were able to find who has ever donated to a Republican presidential candidate!  Granted, it was only $500 to the Bush-Cheney '04 campaign back in 2003, and you're from Texas, so it makes sense.  Still, we have a feeling that you're not going to be donating to Mitt Romney any time soon. "Gosh, Tim, look at the size of that steak!  I love how all the steaks in Texas are exactly the right size.  By the way, which fork should I use?"  Exactly.

He donated $250 each to Obama and the DCCC in 2012, but his last foray into campaign donations was back in 2001, to Rep. Steve Israel (D-NY).

Mario is on the list not because he's hosted fundraising dinners for candidates, or said things like "Bankers are comparable to Hitler and Stalin [and by the way, vote Bull Moose, the party of my people]". For his prominence, Batali has been very nonpartisan according to FEC filings, with no contributions or fundraisers in his name to any political candidates... save for one, solitary $1000 donation in 2008. ...To John Edwards. Awks.

Gave once to Democratic NY Senate Candidate Mark Green, back in 2000.

The SF-based baker's last FEC filing was during the 2004 campaign cycle, where she gave to John Kerry and the PAC MoveOn.Org.

Though based in California, Mark Peel has donated all over the map since 2000: $500 to former Senator Olympia Snowe (R-ME), $1400 to Al Franken (D-MN), and $1853 to Hillary Clinton's presidential campaign, to name a few. Overall, his preferred candidates have moderate leanings, though he has donated to the DNC and DCCC.

For a segment on The Rachael Ray show in 2007, Rachael and Hillz went on a holiday shopping trip in Iowa that had absolutely nothing to do with the vicious upcoming primary in that swing state and everything to do with popcorn balls and snowflakes and children's mittens drenched in olive oil. We think. The segment, though publicized, never aired, but it did predate an eventual $2300 contribution to Senator Clinton's campaign.

Her direct campaign contributions: pretty small, for a celebrity. She donated $2300 to both John Kerry and Hillary Clinton's presidential campaigns. Her indirect contributions as the live-in girlfriend of New York Governor Andrew Cuomo:  incalculable.  Never before has a supermarket cake covered in corn nuts wielded so much influence, like a frosting-covered, spongy, culturally-insensitive Edith Wilson.

Much like myself, Ina Garten was once a serious politico before realizing that roasted chicken was way more life-affirming than nuclear energy budget analysis.  She is still registered as a Democrat who has donated to every blue presidential candidate since 1992, though she hasn't participated in the nebulous world of fundraising and PACs.   She did once headline a fundraising event for independent gubernatorial candidate Eliot Cutler, but it was an exception:  Cutler was a good friend of hers from the Carter Administration.

Our national culinary treasure doesn't normally partake in presidential politics, save for a $1000 campaign contribution to Obama in 2008. Since 2005, though, Keller has consistently supported Congressman Mike Thompson (D), who represents Yountville's congressional district. That's actually pretty civic-minded. Good job, Keller.

It's sort of a given that the Hawaii-based chef would donate $2,000 to the Hawaii-born President Obama (as well as feature in one of his fundraising brunches during his reelection campaign).  Yamaguchi, however, also donates consistently to Democratic Hawaiian representatives to Congress, a grand total of $8650 over the past six years.  What's surprising, though, is that Hawaiian Democrats actually feel threatened by the relative non-presence of the GOP on the islands. They seriously don't exist in Hawaii.

The leafy firebrand Alice Waters often asks presidents to do things like plant gardens, and she largely makes herself heard through fundraising. (Her offer of being a presidential advisor in a "kitchen cabinet", however, has never been formally answered.)  Directly, she's given thousands of dollars over the years to Democratic candidates (she supported Obama back in 2004) and PACs such as "Mainstream Moms Oppose Bush." In 2008, after her preferred candidate Hillary Clinton dropped out of the race, Waters hosted a star-studded dinner with Daniel Boulud and Gourmet editor Ruth Reichl which raised over $800,000 for the Obama Campaign.  Waters continues to be a prominent fundraiser for Obama,  and scored a rare appearance from the First Lady in a $25,000 per plate "organic" fundraiser in 2011.

Though Samuelsson has not donated directly to a candidate,  he's hosted a $30,800-per-plate fundraising dinners at his Harlem restaurant Red Rooster, though some residents of the low-income neighborhood disapproved.  The DNC expected the event to raise $1.5 million dollars, though the final amount was never publicized.

(photo credit @DBNewYorkNY) Boulud, a French citizen, is barred from directly contributing to campaigns.  Nevertheless, he's an avowed Obama supporter and has hosted three fundraisers since 2011 for Obama and the DNC at his restaurant, Daniel, with tickets ranging from $5,000 to $35,8000.  POLITICO reports that Obama's latest outing to Daniel, two separate fundraising events held back-to-back on January 19th, cost the campaign $95,000 and probably brought in a lot more than that. Related: after the elaborate dinner, Boulud excitedly tweeted a photo of the autographed box of White House M&Ms he received from Obama as a thank-you gift.

Jean-Georges is really, really good at presidential fundraising. And we're not just looking at his glamorous, $35.8K-a-pop March fundraising dinner with the President and $1000-per-ticket jam sesh with Aziz Ansari, Ben Folds, and the Roots. We're talking about serious, technically-legal-but-frustratingly-nebulous fundraising, which he can do because he's a naturalized American citizen. Vongerichten is the only chef on this list to hold the distinction of being an official Obama bundler -- er, volunteer fundraiser -- meaning that he has personally collected donations from his community and presented them in a "bundle" to the campaign. According to the campaign's website, Vongerichten has raised "between $100,000 and $200,000" for Obama and the DNC. But the item that clinches his status as a true campaign finance ninja is his legal-ish, single day donation of $5000 to Obama's principal campaign committee. FEC laws prohibit individuals from donating more than $2500 to a campaign, either primary or general. So Vongerichten donated $2500 to Obama's general election fund, and $2500 to Obama's primary fund to help him fend off Democrat challengers... who are not actually challenging him because they don't exist. You tricky bastard, Jean-Georges.
Follow The Braiser on Twitter: www.twitter.com/TheBraiser