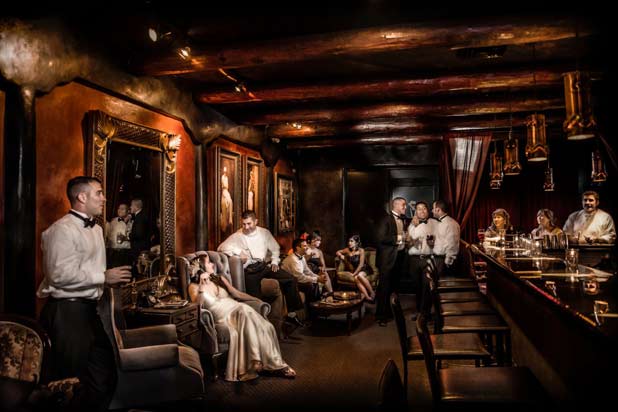 When dining out, not all secrets are meant to be kept -- at least that's partly the intent with the "secret" restaurant trend. Unmarked entrances, unadvertised contact information, and word-of-mouth marketing are typical attributes of this deliberately cryptic experience. Clandestine appeal aside, though, it would be a shame to limit the joy of stumbling upon a well-kept location to this narrow definition (Photo Credit: Vernon's Hidden Valley Steakhouse).
Click here to see America's 21 Most Secret Restaurants
"Secret" can be an underground speakeasy, as much as it can be Hop Kee's (a not-so-secret secret restaurant) subterranean entrance. It can also imply an obligatory reservation (on a Tuesday) to be seated in a 35-person dining room in a town of 2,100 people. Moreover, what's a well-known "secret" to locals in a city like New York (La Esquina, for instance), might conserve its appeal for tourists. You could even argue that the term also applies to known and beloved establishments with tacit practices: a secret menu, for instance.
Click here to see the World's Wildest Dining
So what's the motivation for chefs and restaurant owners who purposefully construct this ambiance? For many, it was originally a way to set themselves apart from the traditional competition. As we noted in last year's list, the trend's popularity has even become a publicity stunt for some (installation of signs reading "Speakeasy" above the entrance, for example). As the "under-the-radar" idea develops, though, it is also becoming a provocative means for a restaurant to compose a unique experience for an invested audience. According to Knife & Fork chef and co-owner Nate Allen (whose restaurant is easily a 40-minute minimum drive from any major highway traversing western North Carolina), a worthwhile dining experience in an unusual location is not about convenience; it should be the reward for a curious and committed diner.
No matter how the following restaurants choose to operate or advertise, their limited accessibility and mysterious allure tempt us. They whet our appetite for a unique meal, and even with a greasy hamburger wrapper, increase our desire for exclusivity.
- Lauren Wilson, The Daily Meal
More from The Daily Meal:
101 Best Food Trucks in America
20 Best Hostels Around the World for Food
10 Best Breweries to Visit in America
101 Best Restaurants in America
Additional reporting for this article was done by Arthur Bovino, Mark Damon Puckett, and Emily Stone.
America's Most Secret Restaurants