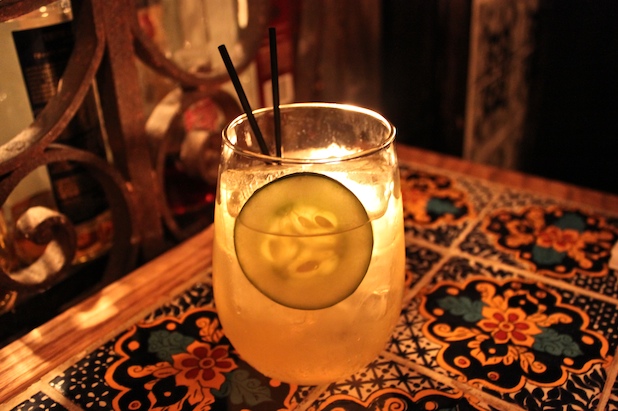 Bars are wonderful institutions, part watering-hole, part social hub, part cultural phenomenon -- places where people go when they want to be out in a crowd or else to be alone; where they can (depending on the bar) laugh, talk, dance, sing, sulk, play, fight, flirt, and of course leave sobriety far behind if that's what they're after. Places where people just go.
Every bar has its own personality, influenced by location and décor, by specialty (kind of music, kind of featured booze, kind of clientele), and by the personality of its proprietors and bartenders -- but that personality can change over time, meaning either from hour to hour or year to year. There are reasonably sedate after-work places that turn into raging singles scenes as midnight approaches, and there are bluegrass bars that evolve into biker bars over the course of a decade.
There are bars with rigidly defined customer bases, bars with themes, bars with specific kinds of music, bars with encyclopedic collections of certain kinds of liquor... There are bars for everyone (even teetotalers) -- because if there weren't a bar for whatever kind of person you are, someone would open one.
Click here for the 150 Best Bars in America.
It is a measure of both our thirst and worldliness here at The Daily Meal that we know bars, of all kinds and in many places, pretty well. In assembling this list of the 150 Best Bars in America, then, we drew first and most of all on our not inconsiderable collective personal experience. We also, though, solicited the opinions of some bar-savvy friends of ours -- people like cocktail book author (and Bartender Magazine editor) Ray Foley, who likes the martinis at The "21" Club in Midtown Manhattan as much as we do; and wine writer Roger Morris, who's the kind of guy we're likely to run into at Cibo, a great bar in the Philadelphia airport.
We spoke to Southern Foodways Alliance director John T. Edge, a fellow fan of The Twisted Spoke in Chicago; and craft beer expert Joshua M. Bernstein, who tipped us off about the treasure-trove of Belgian beers at Ebenezer's in Lovell, Maine.... Then we narrowed our choices down to 150 places and divided our selections into categories according to style, location, specialty, and clientele, offering more than one recommendation in each.
What we've come up with is an admittedly subjective -- but well-researched and wide-ranging -- collection of great places to drink all over the country. Every one provides a great drinking experience -- no two alike, guaranteed. If your favorite bar isn't on our list, let us know in the comments below. We're always looking for new ones.
Visit TheDailyMeal.com to see the full list of the 150 Best Bars in America.
- Colman Andrews, The Daily Meal
More from The Daily Meal:
America's Best Dive Bars
The Best Bars to Watch Baseball
10 Great Places to Drink Outdoors
America's Top 10 Nanobreweries
10 Fantastic Beachside Bars
The 5 Point Cafe (Seattle, Wash.) This long-standing bar's motto pretty much defines dive bar attitude: "We cheat tourists and drunks." Completing the look are duct-taped furniture, a jerry-rigged periscope with a view of the Space Needle in the men's room, and an all-day-n-night breakfast menu to complement the 40-ouncers of Olde English. MORE: • Raven Bar (Washington, D.C.) • Marshall's Pub (New Bedford, Mass.) • The BAR (Hollywood, Calif.) • Replay (Lawrence, Kan.) Related: America's 20 Best Dive Bars

Holeman and Finch Public House (Atlanta, Ga,) Chef Linton Hopkins aimed to create a late-night bar with great food — including his storied homemade burger, of which only 24 a night are served — for Atlanta's chefs at Holeman & Finch, and he's done just that. MORE: • Father's Office (Santa Monica, Calif.) • Aviary (Chicago, Ill.) • Quinn's (Seattle, Wash.) Related: 6 Innovative Herb Cocktails

Alligator Lounge (New York, N.Y.) Big Buck Hunter Pro, a pool table, jukebox, and free pizza: All you have to do is order a drink to get a free personal pie cooked to order in a brick oven (as if you needed more motivation to imbibe). MORE: • Jbar (Chicago, Ill.) Related: 12 Great Non-Traditional Cocktail Garnishes

✓Expert Pick: Mayahuel (New York, N.Y.) The brainchild of tequila guru and Death & Co alum Philip Ward, Mayahuel offers an extensive list of tequilas, mezcals, and cocktails like The Pale Rider (featured left) made with fino Sherry, jalapeño tequila, sugarcane, and lime. MORE: • Tommy's Mexican Restaurant (San Francisco, Calif.) • El Agave (San Diego, Calif.) • Las Perlas (Los Angeles, Calif.) Related: Bar Crawl: New York City's East Village

Seven Grand (Los Angeles, Calif.) There are 300-plus premium whiskies, rare ryes, and small-batch bourbons on the menu. For the whisky/whiskey lover, do any other details really matter? MORE: ✓Expert Pick: Twisted Spoke (Chicago, Ill.) • Char No. 4 (Brooklyn, N.Y.) Related: Meet the Makers: Top 6 Drinking Tours in the U.S.

Tonga Room (San Francisco, Calif.) Since 1945, San Franciscans dreaming of the tropics and visitors to the city alike have been escaping to the South Pacific via this appropriately decorated restaurant and tiki bar located in San Francisco's Fairmont Hotel. And there's more than mai-tais on the offer here — for instance, the sounds of tropical rainstorms and a Hawaiian band floating on a barge in a pool in the middle of the room. MORE: • PKNY (New York, N.Y.) • Trader Vic's (Atlanta, Ga.) Related: Florida's Oldest Bars

Butcher Shop (Boston, Mass.) Star chef Barbara Lynch's neighborhood joint offers both a full-service butcher shop and an extensive list of old world wines from Italy, France, and Spain. Wine Director Cat Silrie handpicks the wines and can suggest the perfect pairing to go with the housemade patés, terrines, sausages, and rilletes. MORE: • Terroir (New York, N.Y.) • Bar Covell (Los Feliz, Calif.) Related: 5 Creative Ways to Open Wine Without a Corkscrew

Smuggler's Cove (San Francisco, Calif.) Owner and rum fanatic Martin Cate opened this nautical-themed, pirate-inspired watering hole with a menu dedicated exclusively to rum. Think Prohibition-era cocktails and Caribbean concoctions. MORE: • Cuba Libre (Washington, D.C.) • Rhumbar (Las Vegas, Nev.) • Cana Rum Bar (LA, Calif.) Related: America's Most Haunted Bars

Station Inn (Nashville, Tenn.) Having hosted some of the best in bluegrass for over 30 years, this Nashville institution is considered one of the places to go to for easy listening in a comfortable family-friendly setting. (The fact they serve pizza, beer, hot dogs, nachos, coolers, and are open seven days a week doesn't hurt either). MORE: • Rebels (Austin, Texas) • Billy Bob's Texas (Ft. Worth, Texas) Related: Bar Crawl: Austin

Old Ebbitt Grill (Washington, D.C.) If you've always wanted to drink like a president, come to this Victorian-style saloon (established in 1856, albeit at another location, and the city's oldest watering hole) — a favorite of presidents Teddy Roosevelt, Grant, and Cleveland. Four bars, each serving up Ebbitt's menu of classic cocktails, ensure that your glass will never go empty. MORE: • Round Robin at the Willard (Washington, D.C.) • Hawk 'n Dove (Washington, D.C.) Related: Bar Crawl: Northwest DC

To see the rest of our picks for America's Best Bars – from the best sports bars to the best speakeasies – visit TheDailyMeal.com.
Follow The Daily Meal on Twitter: www.twitter.com/thedailymeal