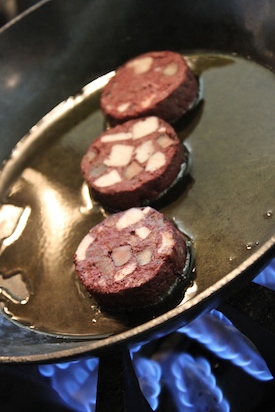 "When you first start making it, you feel kind of squeamish, but you get used to it and then you're like almost drinking the blood."
OK, we realize that not everyone will get to that point, but for Chef Saul Bolton of The Vanderbilt in Brooklyn, Saul and a soon-to-be opened Italian restaurant, making blood sausage is a regular occurrence and one of his specialties -- and we saw him in action.
It was a combination of stealth photography and frantically scribbled notes that allowed The Daily Meal to bring you this detailed slideshow of How to Make The Vanderbilt's Blood Sausage: we captured every fascinating and gory step.
WARNING: This is not for vegetarians or those scared of blood (it is blood sausage after all); it's for people who want a step-by-step visual of the process so they can make it at home (or just see how it's done).
Related links:
5 Creative Ways to Open Wine Without a Corkscrew
Michael Chiarello's Guide to Eataly
PHOTO GALLERIES
How to Make The Vanderbilt's Blood Sausage
More Helpful How-Tos:
D'Artagnan on How to Cook a Wild Turkey