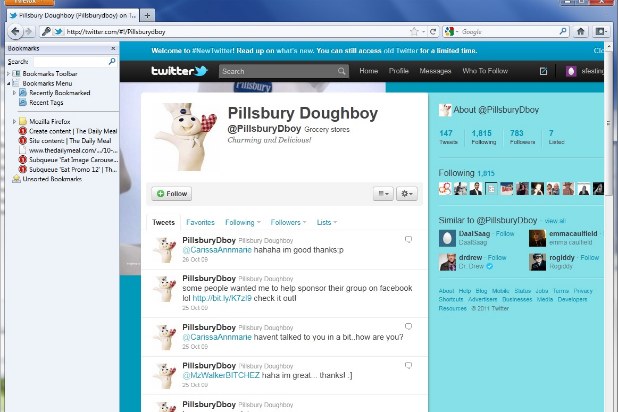 You've been regaled by the most followed food critics on Twitter, noted with interest the Twittersphere's most followed chefs, and intrigued by the antics of food personality mash-up Ruth Bourdain. But food personality as constant commentator doesn't stop with official, or satirical Twitter accounts. Advertisers and companies' classic food characters have also gotten into the act. That's right, the Jolly Green Giant is on Twitter. So is the Chicken of the Sea mermaid, and the Trix rabbit.
Some have multiple accounts and say things that make you doubt their official nature (would the real Trix rabbit truly be tweeting about Captain Kirk's extracurricular exploits?) Others are no doubt real, if shameful and often banal marketing ploys. But there are more of your favorite commercial food icons out there than you would have thought. Who? Find out below.
- Arthur Bovino, The Daily Meal
More from The Daily Meal:
20 Most Popular Fast Food Restaurants on Facebook
Late Night's Culinary King: The Best of Jimmy Fallon
Fictional Food Folk
Celebrity Fast Food Commercials -- Before They Were Famous
15 Most Followed Chefs on Twitter

Commercial Food Icons on Twitter
Who is the real Trix rabbit on Twitter? The one talking about Ghostbusters or the one talking about dressing up as a ninja? Neither probably.Followers: 11Handle: @TrixRabbit_ Related: Healthy, Homemade Cereal

There's no prominent Twitter link from the Aunt Jemima web site to the Twitter account bearing her image. And claims on the account that the icon is married to Uncle Ben make you think it unlikely to be the real deal. Still, this profile, described concisely as "Breakfast maker," has been on Twitter for a while with more than 1,000 tweets.Followers: 139Handle: @Aunt_Jemima Related: Recipe SWAT Team: Pancakes

He's pretty corporate, dealing with customer concerns and the company's advertising image, with none of the charm and personality of the StarKist Charlie of yesteryear, but he seems to be legit. Sorry Charlie, you used to be more fun.Followers: 495Handle:@StarKistCharlie Related: Easy, Mayo-Free Tuna

Elsie seems to be out of the game since 2009 when she noted milk holidays and offered quizzes but she still has a chunk of followers.Followers: 645Handle: @elsieborden Related: 6 Healthy Alternative Milks

The Pillsbury Doughboy is the face on this Twitter account, but Emily and Cate are noted as the team behind the tweets -- recipes, tips, and other cooking advice.Followers: 21,000Handle: @Pillsbury Related: Gluten-Free Baking, Starting with the Basics

As long as there are frequent refrains of, "Ho! Ho! Ho!" and there's no sign of that freaky Green Giant seen in the old-school commercials, you figure you have to be an angry person if you're hating on anything going on at the Green Giant Twitter account.Followers: 1.258Handle: @GreenGiant Related: 13 Frankenstein Vegetables

"Just your average rockin' Mermaid, trying to make my way through meal time. I've got recipes, cool tips, and some terrible tuna jokes." Chicken of the Sea's mermaid tweets frequently on subjects as far-ranging as Bradley Cooper and "Mermaid Breakfast Strudel."Followers: 1,324Handle: @COSMermaid Related: Sustainable Fish Guide: The Best and Worst Fish

She may only have tweeted about 580 times, but Mrs. Butterworth has a pretty strong following. Why not? As her profile says, she's "So thick. So rich. And still just as sweet!" What does Mrs. Butterworth talk about? Advocating breakfast for dinner and fielding compliments mostly.Followers: 1,996Handle: @MrsButterworths Related: 8 Healthy Breakfast Options

The Cap'n doesn't seem to have quite the adventuring lifestyle he supposedly used to ("Famous Cap'n, Adventurer, Breakfast connoisseur formerly lost at sea and glad to be found"). Following him on Twitter means hearing him well-wish people on tests, talk about fixing up his boat, and asking if he should dye his hair. But he may very well have more followers than you!Followers: 2,254Handle: @RealCapnCrunch Related: Cap'n Crunch Fried Chicken Nuggets

Did you know that the Nesquik rabbit's name is Kevin? OK, at least that's the name of whoever is in charge of the Nesquik Bunny's Twitter account. Followers are privy to exclamations like, "Boom goes the chocolatey goodness!" and giving advice to Conan O'Brien about how to deal with getting chocolate milk out of an iPad.Followers: 4,513Handle: @NestleNesquik Related: Tasting Notes: Adult Chocolate Milk

With Ronald McDonald under attack, and Burger King's King about to be retired, it may be time for Jack to make his move. The self-described "Ruler of the Fast Food World" has more personality cache than anyone else on this list. Some musings include what animal he'd be ("the cracker") and the fact that there are male ladybugs.Followers: 20,868Handle: @jackbox Related: 20 Most Popular Fast Food Restaurants on Facebook

The Colonel is the man -- he's the second-most followed character on this list. KFC's Colonel has tweeted more than 3,500 times and riffs on sports, music, and all things KFC.Followers: 35,747Handle: @kfc_colonel Related: 9 Fast-Food Dinner Party Fixes

"I melt for no one," read Ms. Green's Twitter tagline. That may be so, and she seems to have quite the lifestyle, as one recent tweet indicates: "Paris, boots, being VIP, my new book, baking, heels, handbags, cell phone, travel, limos, parties, texting & shopping!"Followers: 60,047Handle: @mmsgreen Related: Quiz: How Much Do You Know About Candy?
Follow The Daily Meal on Twitter: www.twitter.com/thedailymeal