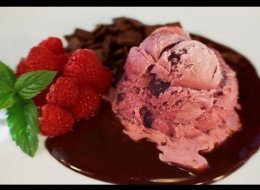 The journey down the ice cream aisle is a long and complicated road when you have a sweet tooth. Choices ranging from basic store brand vanilla to artisanal boozy sorbet crowd supermarket shelves these days, and not just at Whole Foods. More and more, high dollar and high quality 'super premium' products are showing up in our regular supermarket freezer sections. Small producers are also showing a strong online sales presence, serving their far-away fans with mail order services. If these ice creams all have one thing in common, it's the fact that they're quite expensive, oftentimes upwards of $10 per pint. From a Philadelphia gelato shop to a 'milk of the month club' in New York, we've rounded up the top ten most expensive ice creams on the market today.
Click Here to see The Complete List of The Most Expensive Pints of Ice Cream If you're outside of Italy and want to find amazing Italian gelato, you should check outGrom in New York City. They use mostly Italian ingredients, no artificial colors or flavors, and even go so far as to make their sorbet and granita with water from Italy's Sparea spring. That's some serious dedication to quality. Of course, all of these perks come with a price tag. You can purchase to-go containers for any of your favorite flavors. They sell for $26 for large (1 kilo), $14 for a medium (½ kilo), and $10 for a small (350 grams, which is a little less than a pint). Photo Credit: © Flickr /M Bitter

Jeni's Splendid Ice Creams comes up in just about every debate about who makes the best ice cream, and with good reason. Jeni Britton Bauer is a James Beard Award winning cookbook author and has been making ice cream professionally for more than 2 decades. Like this wasn't enough to hook us, she comes up with crazy amazing flavors, like her Sweet Potato with Torched Marshmallow, Middle West Whiskey Eggnog, and Mango Lassi Frozen Yogurt. These excellent flavor combos come with a slightly higher price tag of $12 per pint but hey, you only live once. Photo Credit: Jeni's

Click Here to see The Complete List of The Most Expensive Pints of Ice Cream Forget fruit of the month clubs! Sign us up for ice cream of the month! That's exactly what you get if you are lucky enough to live in New York City, where MilkMade runs a monthly subscription service for ice cream enthusiasts. $30 per month gets you two pints of whatever flavor they dream up, making each pint $15. Recent flavors include chestnut ice cream and a Christmas tree flavor (with actual pine needles!). Currently, MilkMade is only servicing New York, but there are plans to expand soon. Photo Credit: © Flickr /Stacie Joy for CTTC

Ecreamery.com is an ice cream lover's paradise. You have the option of purchasing pre-fab flavors like Double Vanilla Bean Ice Cream with Cashew Brittle, or you can choose to make up your own custom flavors and personalize your packaging, making this a great holiday gift or perhaps a creative wedding gift To purchase 4 pints, the minimum, you'll pay $59.99 for the pre-designed flavors, which is pretty stiff at about $15 per pint, and doesn't include shipping charges. When you opt for your own flavors, you start at $59.99 and then progressively pay more as you add mix-ins for a grand total of $18.75 per pint if you were to add the maximum 3 mix-ins at $5 each! Photo Credit: © Flickr /ramhatter

Click Here to see The Complete List of The Most Expensive Pints of Ice Cream Topping our list of America's most expensive ice cream pints, Cappanari's of Chicago will ship you their delicious ice cream, for a price. This family owned-and-operated ice cream parlor offers delectable flavors created by a master chef. If you want to order it, be prepared to shell out $160 to $190 for 6 pints. If you go the $190 route, then you're left with a grand total of $31 per pint. The Black Raspberry Chip sounds delicious, but that's a lot of money for a pint of ice cream. Photo Credit: Cappanari's
Are the high price tags worth it? What exactly are we paying for? You might notice the term "super premium" on your ice cream pint and that's your first clue.
Click Here to see The Complete List of The Most Expensive Pints of Ice Cream
Super premium ice creams have less air whipped into them during the freezing process, which results in more, denser ice cream in your pint. These super premium treats also tend to contain higher quality ingredients, a higher butterfat percentage (between 13% and 17%, which produces a creamier texture), and are manufactured in smaller batches.
So with all of these premium perks, you'll end up paying more for premium ice cream. That's a given. But some of the options out there are crazy expensive, even keeping these facts in mind. We've rounded up the most expensive ones around, and also let you know how to get them shipped to your door if they're not available in retail shops.
Let's be honest, who wouldn't go to extremes for their favorite ice cream? Whether it's a custom pint with your favorite mix-in's, or a pricey ice cream subscription (get on the waiting list now, there are thousands ahead of you), we've got you covered.
-Rosemary Pantaleo, The Daily Meal
More Content from The Daily Meal:
25 Best Ice Cream Parlors in the World
Follow The Daily Meal on Twitter: www.twitter.com/thedailymeal