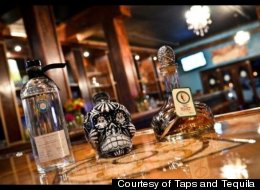 More likely than not, you've had a traumatic experience with tequila. You've done away with it, said you'll never touch the stuff again. If that's the case, you're missing out on a delicious spirit, so let us introduce you to some top-notch tequila bars to help rehabilitate your perception of tequila -- and not the tequila you drank in college (Credit: Courtesy of Taps and Tequila). 
Click here to see the Top Tequila Bars in the US
Tequila and mezcal are seeing the same boom as other brown spirits, like cognac, single malt Scotches, and whiskey. Much as there are great whiskey bars and rum bars throughout the country, there are now great tequila and mezcal bars that are determined to show the versatility, sophistication, and unique profile of agave spirits. Mat Resler, from Empellón Cocina and Empellón Taqueria, says the "tequila boom" happened only a mere five years ago, and the mezcal boom, even more recently. "When I left California [a few years ago], no one had mezcal on the shelves," he says. "Now, I go into an Italian restaurant and can find two mezcals." Now that bartenders have latched onto the agave spirits, it's no wonder that drinkers are looking for new places to experience tequila the right way. "If we [the bartenders] like something, we find a way to get it to the consumers," Resler says.
Tequila Taste-Test: Best and Worst Tequilas for Cinco de Mayo
And what transforms a typical bar and restaurant into a tequila-focused bar is a menu dedicated to 100 percent agave tequilas and mezcals, our experts say. We asked Resler, Jacques Bezuidenhout (Partida's bartender ambassador), and Cesar G. Aguilar (professional bartender and former manager of the James Beard-nominated La Condesa's bar program in Austin, Texas) to share where they like to enjoy a taste of tequila and mezcal.
Tequila 101: The Truth About Tequila
You won't find a mixto tequila, artificial margarita, or sour mix in sight at these spots. And most important to a true tequila program, say the experts, is a knowledgeable staff ready to educate customers on the finer details of agave. "Sometimes at a bar, someone will pour you a shot and walk away," Resler says. "The reason I keep going to a bar is when the people behind the bar love what they're doing. They have that fascination and want to geek out about tequila."
Click ahead to find out where you too can geek out over tequila; your Cinco de Mayo plans just got a little more sophisticated.
- Marcy Franklin, The Daily Meal
More from The Daily Meal:
5 Refreshing Mexican Beers
America's Best Coffee Shops
Top 10 Baseball Stadiums for Craft Beer
7 Facts You Didn't Know About Coffee Production
Top Tequila Bars in the US
Want to know where to find Austin's largest selection of tequila? Look no further than the James Beard-nominated Mexican restaurant. La Condesa's menu of tequila and mezcal runs from Siembra Azul blanco tequila to Patrón Premium, to Deléon añejo tequila to the Del Maguey Tóbala mezcal. And of course, some classic tequila cocktails and house cocktails from the famous bar program, too.  Credit: Yelp/ Aimee W.

The Sandoval brothers, Alfredo, Felipe and Patricio, are taking tacos and tequila to a new level. Each of the Miami, New York City, and Chicago restaurants has its own long list of tequilas and mezcals that range from the traditional blanco tequilas to the especiales, as well as a solid lineup of house cocktails. Try the Big Nose Goes to Mexico cocktail in Miami, a mix of tequila blanco and reposado, dark rum, guava, orgeat, and well, fire — a surefire way to spice up your weekends. Credit: Yelp/ Kate J.

We shouldn't be surprised that a José Andrés restaurant made it on our list of the nation's best tequila bars. On top of a fantastic small-plate menu, the drink menu features an extensive list of tequilas. That includes vintage offerings (like the "Pechuga" mezcal), small-batch mezcals, and extra-añejo tequilas. Not to mention house cocktails with house-made tonics (like homemade hibiscus and ginger tonic or house-made sour orange and epazote tonic) and Andrés-approved margaritas. Credit: Flickr/ kodakitty

Denver's taco truck and new brick-and-mortor taqueria has earned rave reviews as one of the best new restaurants to hit the Mile High City. What we love: its solid list of tequilas, starting with the Partida and Don Julio lineup and expanding into lesser-known, premium tequilas like Excellia Reposado and Corralejo Reposado. There's also a mean Michelada and margarita on the menu to complement an unbelievable menu of tacos, with fillings like scallops and pork belly. Credit: Yelp/ Brent J.

In St. Petersburg, Fla., lies a pretty fantastic tequila bar — and beer garden. But we won't hold the beer against them. In fact, the list of craft beers, like Florida Avenue and Golden Monkey brews, just makes our mind go wild with tequila and beer pairings. With more than 30 tequilas on the menu, you'll find everything from a $5 shot of Jose Cuervo Gold to the Don Julio Extra Añejo for $70. What's even cooler is a signature menu of infused tequilas that will blow your tequila-loving mind. Champagne blueberry? Cucumber cilantro? Mango? Lemon raspberry? You can order flights of the infusions or try them in Taps and Tequilas cocktails. With most major brands on offer, there's a tequila here for everyone. Credit: Courtesy of Taps and Tequila

The Richard Sandoval restaurant Zengo features a hidden library of tequilas that will make you drool. That's 400 tequilas at the bar and lounge at La Biblioteca… 400! Fortunately, Courtenay Greenleaf and her team of tequila experts will talk you through the tasting notes of each tequila and mezcal to pick the right one. Come for the Tequila Tuesday events to meet with distillers and producers and try the different tequilas on hand — all for a mere $15. And if that all wasn't enough, consider the personal tequila lockers on hand, where you can store your personal bottles of tequila for six months for free. Yeah, it's the best.  Credit: Yelp/ Linda J.
Follow The Daily Meal on Twitter: www.twitter.com/thedailymeal