Where to Eat If You Want To Be President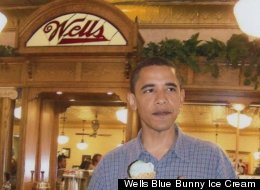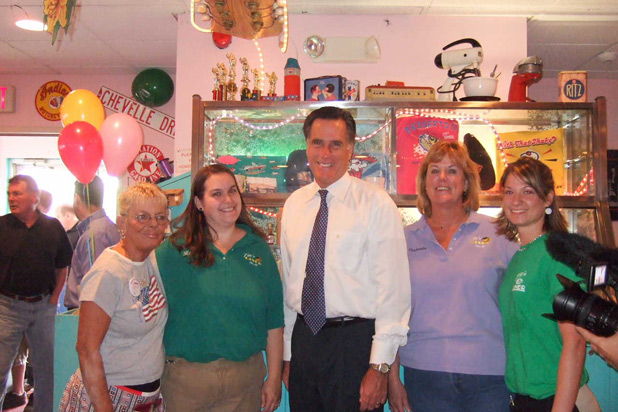 Campaign season is getting into full swing and with the endless coverage about who said what, who thinks what and why the other guy is bad for America, sometimes it's nice to remember the human side of campaigning -- the part where candidates relax, roll up their shirt sleeves and pose for campaign trail photos at restaurants (Photo Credit: Tilt'n Diner).
Click here to see Where to Eat If You Want to Become President
Of course, sometimes they are actually going to eat at these places and they campaign by mistake, but certainly, the restaurant owners don't seem to mind. According to Tommy Stevenson, owner of Tommy's Country Ham House in South Carolina, "It really helps my business... the campaigning gets outsiders to come in that normally wouldn't, and that brings in more business to my restaurant later on... We see new faces in here every day, after and during the primaries."
Click here to see America's Most Expensive Restaurants
So, where are the candidates eating this year? It's a mix of the iconic places, like Ben's Chili Bowl in Washington, D.C. and the restaurants that are known as true community hotspots, like Versaille's Restaurant in Miami. There's some fine dining establishments and some joints serving up down-home Southern fare.
- Rosemary Pantaleo, The Daily Meal
More from The Daily Meal:
High-Tech Restaurants
101 Best Restaurants in America
Most 'Liked' Fast-Food Brands on Facebook
Failed Products of Major Brands
15 Ice Creams You've Never Tried
Where to Eat If You Want to Become President
Josh Haner, a staff photographer for The New York Times who covered the GOP races in Iowa, shared in this article with NY Times blogger James Estrin that Wells Blue Bunny Ice Cream in Le Mars, Iowa, is a must-visit for candidates racing through the state.  Click here to see Outrageous Burger Toppings Photo Credit: © Wells Blue Bunny Ice Cream

Famous for its chocolate-covered bacon and Krispy Kreme cheeseburger, The Machine Shed in Rockford, Ill., has been visited by Mitt Romney and Rick Perry this year. Click here to see The Coolest People in Food Photo Credit: © The Machine Shed

Perry and Santorum both enjoyed some down-home Southern cooking at this South Carolina joint. The restaurant has hosted rallies for half the GOP candidates this year and was Hillary Clinton's restaurant of choice during her 2008 campaign for president in Columbia.  Click here to see What the Stars Eat Between Takes Photo Credit: © Lizard's Thicket

Comma Coffee is a relatively new kid on the block to political campaign stops, but since they opened their doors in 2000, they have hosted Hillary Clinton, President Barack Obama, Joe Biden, Dennis Kucinich, Ron Paul and even former President Jimmy Carter. Click here to see America's 50 Most Powerful People in Food Photo Credit: © Journalist

According to The Sun Sentinel, former President George W. Bush put Wings Plus on the political campaign map in Florida by campaigning there for re-election in 2004. This campaign season, Wings Plus has hosted rallies for Herman Cain, Rick Santorum and Newt Gingrich. Click here to see America's Best French Fries Photo Credit: © Wings Plus

Ames.Patch.com says that there have been more than 35 visits by Republican candidates this year to Pizza Ranch restaurants in Iowa. The sudden popularity is explained by Dennis Goldford, a political science professor at Drake University. "It's a very convenient location where, presumably, the people who go there know what Pizza Ranch is about. It's a good place to find like-minded people who are open to this kind of message." He's referring to the chain's web site language, where they state their vision is "to glorify God by positively impacting the world we live in."  Click here to see America's Most Outrageous Grilled Cheese Sandwiches Photo Credit: © apolitics

Tommy's is a de rigueur stop for candidates on the trail in South Carolina. The Greenville restaurant made headlines this year when both Romney and Gingrich's campaigns booked events for the same time on the same day. Although a Ham House showdown was avoided by some creative rescheduling, both candidates cracked jokes at their rescheduled appearances. "Callista and I are thrilled to be here, but I have a question -- where's Mitt?" Gingrich joked. "I thought he was going to stay and maybe we'd have a little debate here this morning. So I'm kind of confused."  Click here to see America's Oldest Restaurants Photo Credit: © Tommy's Country Ham House

Mitt Romney visited this Springfield, Ill., diner for pancakes and omelettes during a campaign stop in March. While there, Romney told a joke, comparing Charlie's Famous Giant Pancake, to the Puerto Rico primary results: "These pancakes are about as large as my win in Puerto Rico last night, I must admit," Romney said. "The margin is just about as good." Click here to see More Places to Eat If You Want to Become President Photo Credit: © Jimmy Wayne
Follow The Daily Meal on Twitter: www.twitter.com/thedailymeal
| | | |
| --- | --- | --- |
| | | |
| | Obama | Romney |
| | 332 | 206 |
Romney leading
Romney won
Popular Vote
| | Obama | Romney |
| --- | --- | --- |
| Total | 65,899,660 | 60,932,152 |
| Percent | 51.1% | 47.2% |
33 out of 100 seats are up for election. 51 are needed for a majority.
Democrat leading
Democrat won
Holdover
Republican leading
Republican won
| | Democrats* | Republicans |
| --- | --- | --- |
| Current Senate | 53 | 47 |
| Seats gained or lost | +2 | -2 |
| New Total | 55 | 45 |
* Includes two independent senators expected to caucus with the Democrats: Angus King (Maine) and Sen. Bernie Sanders (Vt.).
All 435 seats are up for election. 218 are needed for a majority.
Democrat leading
Democrat won
Republican leading
Republican won
| | Democrats | Republicans |
| --- | --- | --- |
| Seats won | 201 | 234 |
Click for Full Results