By Angela Montefinise, The New York Public Library
Risqué ads - complete with images - promoting safe sex. A guidebook on how to take drugs safely. The typed minutes of a Crisis Intervention Workers meeting in which it's announced that several colleagues have died, and their partners are spinning.
These materials - which chronicle the early history of the AIDS epidemic in the 1980s and early 1990s - are just a small part of a massive collection of material donated to the New York Public Library by the Gay Men's Health Crisis, the first organization to provide HIV/AIDS prevention, care and advocacy.
The collection - made available to the public this summer and highlighted at a Library reception on Sept. 22 - is potentially invaluable to researchers, who "have really started writing the history of the AIDS crisis," according to Jason Baumann, NYPL Coordinator of Collection Assessment and LGBT Collection.
"In the past few years, this has become a major topic for historians," said Baumann, who helped "interpret" and raise money to process the collection.
"It's not just the epidemic itself, but also that the activists and the people in the AIDS crisis had a huge affect on the culture at large and inspired movements around other illnesses," he said. "It affected advocacy around cancer, for example. You had the AIDS Walk, then you had other walks."
William Stingone, the Charles J. Liebman Director of Manuscripts whose division processed the papers, said researchers are already using the collection.
"We have undergraduates writing their senior theses on the beginning of the AIDS crisis, and it's blowing their mind that there was a time that AIDS wasn't called AIDS," he said. "To these kids, it's history. And that's now. Think about 20 years from now. Think about 50 years from now."
"It's sort of perfect, because that's exactly why GMHC wanted their records at NYPL," he added. "They're already educating people. This is why we do what we do."
Broadway playwright Tony Kushner - a longtime supporter of GMHC who attended the opening reception said, "The epidemic is still ongoing, but here's also a history that has to be preserved. It's an important part of America's social memory."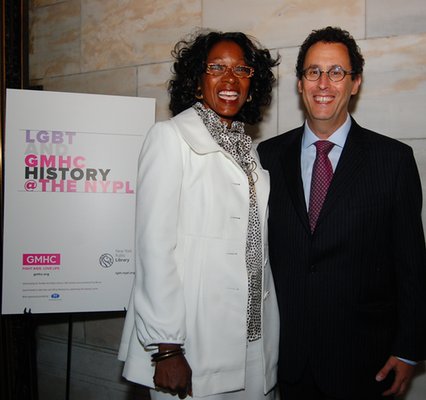 GMHC CEO Marjorie Hill with Tony Kushner. Photo by Nicole Zahour.
He added that his first political action ever was at Columbia as a freshman, when he participated in a sit-in to fight the closing of the Morningside Branch due to budget cuts.
"I love the library... it's one of the main repositories of knowledge in the history of the city of New York or in the country," said Kushner. "So in many ways it's a perfect marriage."
The collection will be available in the Library's Manuscripts and Archives Division inside the Stephen A. Schwarzman Building, the landmark library at Fifth Avenue and 42 St. Archivists from that division processed the collection's 700 feet of boxes of raw material starting in the late 1990s.
"It was a colossal challenge," Stingone said. "Carton after carton of records, a fair portion of which were not very organized, along with much duplicate material and 4,000 videos. A lot of people worked really hard on this to make the collection accessible so people can actually use it."
The result: 170 linear feet of materials, plus plenty of video, including GMHC's "how to" safe sex videos, public service announcements, AIDS Walk footage and commercials.
Archivists had to watch "hundreds of hours of tapes" to process and catalogue them, Baumann said, because, "Some didn't even have labels. It's a long, tough job. But an interesting one, considering some of the safe sex videos."
The videos will be digitized over the next year and will be the first installments into NYPL's digital repository.
Items from the Gay Men's Health Crisis Collection at NYPL