From spectacular sunsets in Hawaii to low-lit bistros in Paris, the world's best places for lovebirds share one thing in common: over-the-top romance. While we're all for lovey-dovey settings to fete your coupledom, we're also of the mind that romantic clichés can be a little tiresome. Sometimes the best spot for a couples' getaway is the least obvious, the one where romance is all the more special because you have to look a little to find it.
In that spirit, Beijing is one of the cities tops on our list for an unconventional yet surprisingly intimate romantic retreat (or honeymoon). To the uninitiated, Beijing's cityscape -- imperial palaces abutting gleaming high rises, masses of bicyclers weaving through snarling traffic, barebones state-run restaurants sharing the block with glam-tastic nightclubs -- might sound like the antithesis of intimate. But know where to look and you'll find plenty to inspire amorousness.
First off are plush hotels where you can nest in either imperial or modern luxury. On the imperial tip, Aman at Summer Palace hotel is housed in the former guesthouse of Empress Dowager right next to the Summer Palace, an 18th-century imperial retreat built during the reign of Emperor Qianlong. Its expansive grounds, with lush gardens and Kunmin Lake, are perfect for a romantic wander. The sumptuous Aman Spa, with its double spa rooms, is ideal for couples' pampering.
On the modern end, the glittering views from the Park Hyatt Beijing, set in a striking skyscraper in the central city, are astounding, and the chic amenities (like its Tian Spa, specializing in Chinese treatments) supremely luxurious. Assuming you'll leave your love nest long enough to see the sights, The Peninsula Beijing is also a good pick for its proximity to attractions like the Forbidden City and Wangfujing pedestrian district as well as its sterling service and swish amenities.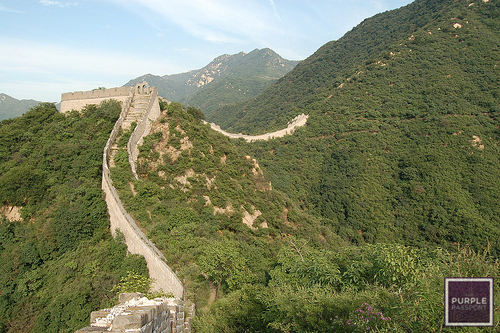 To combine ultra-modern style with pastoral romance, consider checking in at Commune at the Great Wall. This collection of architecturally significant, one-of-a-kind villas is nestled right up against the ancient and magnificent Great Wall, about two hours outside of central Beijing, making it a great launching pad for touring the famous fortification. Spectacular views of the Wall from your couple's suite at the onsite Anantara Spa as well as views of the night sky from your private villa deck make for ultimate romantic moments.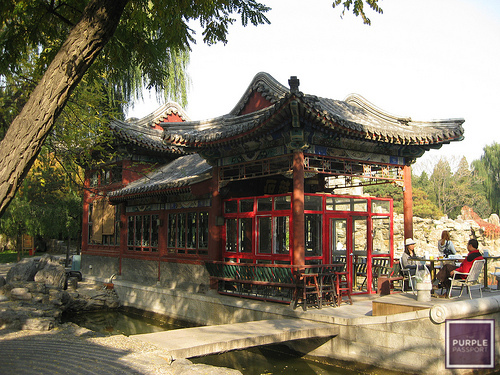 Aside from the Great Wall, Beijing offers myriad places for scenic and serene sightseeing closer in to the city center. By day, cooing couples can stroll through Ritan Park, with its elegant scarlet temples, or Beihai Park, an imperial garden or duck into the Confucius Temple with its tranquil inner pavilions shaded by cypress trees. By night, Houhai is an enchanting destination where soft lanterns and 1920s era music set the mood for dancing cheek to cheek in front of the lake, while the lakeside Stone Boat Bar in the middle of Ritan Park is a similarly evocative spot for jazz and cocktails.
But if you prefer a little bit of an urban edge to your after-dark romance, sexy places for intimate conversation include Redmoon, a stylish lounge in the Grand Hyatt with atmospheric scarlet-hued furnishings and a live band performing modern music on traditional Chinese instruments, as well as XIU, a rooftop lounge with cozy nooks set amid traditional Chinese pavilions and trickling fountains. Perhaps the ultimate lovers' destination is Bed Tapas and Bar, a warren of candlelit semi-private rooms twisted around an open hutong courtyard where patrons imbibe on -- you guessed it -- beds.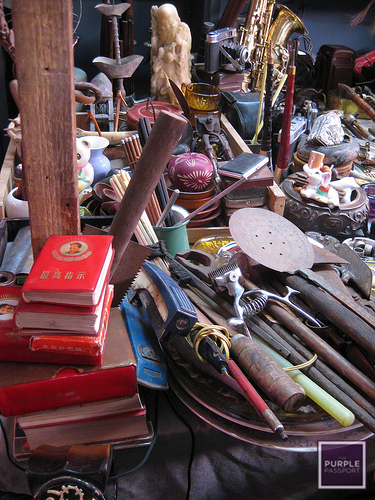 Don't spend too much time in bed, though, or you'll miss those straight-out-of-a-movie romantic montages you could have in places like Nan Luo Gu Xiang, an old Beijing neighborhood where you can poke your heads into shops and rest at cute cafes. At Panjiayuan (Dirt Market), you can browse the flea market riches to spot that perfect antique item to commemorate your trip (or, if you're newlyweds, to decorate your new home). And couples thinking of exchanging rings: you're bound to find a precious gem or two worthy of the occasion at Hong Qiao Pearl Market.
And finally, as love and food are intimately intertwined in Chinese culture, you'll want to hit the best romantic Beijing restaurants. For an urban date-night feel, head to Metro Café, a softly lit Italian restaurant that really channels amore, or Green T House, a stunning fusion restaurant with avant-garde décor. For a more rustic rendezvous in warm weather, take a seat on the lakeside terrace at Le Quai, serving up Nouveau Chinese dishes in a 250-year-old traditional building from Anhui province, or nab an alfresco table in the courtyard at Source, featuring delicious Sichuan fare in a restored Qing Dynasty mansion. Sitting beneath the ancient trees of pomegranates (a Chinese symbol of fertility) and dates (traditionally placed on bridal beds to symbolize a marriage imbued with sweetness), you'll definitely feel like Beijing is offering you its blessing for long-lasting love and happiness.
Click here to view Passport: Romantic Beijing
Click here to follow our Romantic Beijing list on Foursquare
-- Emily C. Brands and Rachel B. Levin, www.thepurplepassport.com