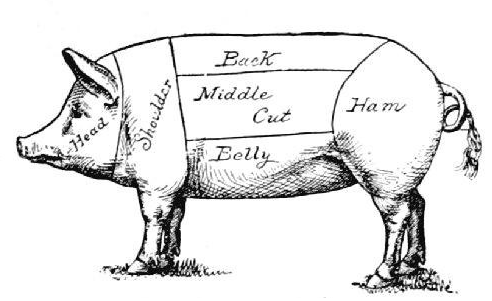 It seems that in the past there was always one dominant food trend at any one time - the no fat/high carb trend of the early 90's, the high fat/no carb trend (aka Atkins) of the late 90's. But these days there are multiple movements, all vying for your membership, some are even complete opposites - think Vegan and Paleo.
Here's my take on twelve trends and whether they're Falling, Rising or Flat ... Your view?
TREND FLAT: Muffins, cakes, pizza -- this trend has been so strong for the past couple years that I think it's flattening out. Though it's hard to say what percentage of those who go gluten-free truly are "celiacs," there is no question that many who cut out gluten claim to just "feel better."

TREND FALLING: The Paleo diet is about eating quite a bit of meat/fish, significant levels of fat, veggies, a little bit of fruit and almost no grains or dairy. Think of it as eating like your "cave man" ancestors. It's quite "niche," is much more popular with men and I don't believe will ever get a strong mainstream following.

TREND RISING: If for no other reason, people are realizing that buying food that was grown and picked the day before, from a farm 25 miles away, simply tastes better -- not to mention the higher nutritional content because it hasn't sat in a truck for three days.

TREND FLAT: No meat, no dairy. It's the new millenium equivalent of the hippy vegetarian. Many do it for health reasons, many for humanity reasons, and some for both (and some because it's trendy). The trend's been around long enough though, that I think those that might want to "go there" have "gone there."

TREND RISING: Fasting for a day is more than most people can handle, but juice as a meal substitute here and there, is pretty do-able and millions are into it. There are several competing brands of juice cleanses out there, and many juice bars are doing a whopping business (with some serious price tags attached to the elixirs).

TREND FLAT: The growth of "alt" milks (i.e. non dairy) has been enormous over the past five years (far exceeding the growth in cow's milk sales), but my sense is the excitement over all these "nut milks" is dissipating, and though it won't disappear, I think the peak's been reached.

TREND RISING: The trend of viewing veggies as more than just a "side act" is in part health-driven and in part driven by the embracing of local veggies. Because if prepared well, they really do taste good enough to stand on their own.

TREND FLAT: The Atkins days of "fear of grains" seem to be over, but there are still many people who have realized how quickly grains convert to glucose in the body and how much less filling they are then say protein. I personally believe one of the quickest ways to drop a few pounds is to cut all starches out of our diet for a week.

TREND RISING: Saturated fat has been demonized for a long time as the "bad" fat. Though there are some that debate this, there seems to be no doubt that are lot more people are embracing coconuts and coconut oil (pure saturated fat) along with eggs and even beef (both which contain significant amounts of saturated fat).

TREND RISING: It's mainly a restaurant trend -- serving pigs' feet, say, along with the pork chops, but this trend stems from both a respect for the animal as well as the feeling that there are less traditional parts of an animal that are perfectly edible and delicious!

TREND RISING: I have seen two new bottled beverages in the past week, claiming "No Sugar!" and using honey instead. Like agave, is it really better for you than sucrose, or does it just carry that "happy bees in a summer field" image?

TREND FALLING: I am a big fan of the benefits of organic, but after a massive surge over the past 10 years coupled with the recession and job losses, I think people are making choices of which items to buy organic and which not to. Unless conventional food prices and organic prices come more into line, then I think there will always be a huge segment of the population that won't touch organic.
Enter to win a case of Greek yogurt from Chobani, by signing up for emailed posts of the food blog, The Sweet Beet! Click here to learn how to win.
Michelle Madden is the creator of the award-nominated food blog, The Sweet Beet (nominations include a Webby and Saveur.com's top food blog). On her funny, engaging but highly informative blog, she shares tips and tricks for eating healthy along with original recipes. You can find her at www.thesweetbeet.com