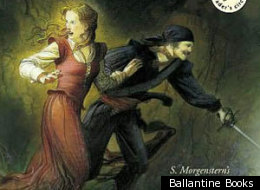 When you're in love, it feels as though you're living in a fairy tale. The prince or princess of your dreams has chosen you, and you're going to spend the rest of your lives together, happily ever after, in a castle on a hill with singing furniture and animals that do all the cleaning. Right?
Of course, real life never works out that way (show me a mouse that does dishes, for example). But fantasy does tell us some important underlying truths about the experience of being in love. There's a reason that romance has always had a fantasy element. (Think of Odysseus falling in love with the sorceress Circe, who turned his men into swine, or Oberon and Titania deciding the fates of lovers in A Midsummer Night's Dream, or Mr. Rochester asking Jane Eyre if she is one of the fairies). Romance is a sort of magic: it changes our perception of the world, making us believe that we've found the person we are meant to be with, that the two of us are truly one. It can fill us with an ecstatic sense of joy and make us feel as though the furniture could sing -- if we just listened closely enough. But fantasy also shows us some darker truths about love. The modern popularity of paranormal romance has its roots in fairytales about women marrying bears, and bulls, and other beasts, which reveal that the one we love is not, in fact, a version of ourselves, but another being -- one we can never know completely. Love can overcome those differences, but they are still differences. Fairytales also reveal that love is difficult: sometimes you have to climb a glass mountain in iron shoes or confront a bloodthirsty ogress. I think some of the truest and most important stories about love are fantasy stories, which show us both love's power and its complexity.
Here are my choices for the top 10 fantasy love stories, both ancient and modern. Fair warning: none of them involves sparkly vampires!
Theodora Goss is the author of the recently released novella "The Thorn and the Blossom" from Quirk Books. She is a World Fantasy Award winner and has been repeatedly showcased in the Year's Best Fantasy & Horror series.
What's more romantic than falling in love with Love himself? That's what happens to the Greek maiden Psyche, who is so beautiful that the goddess Aphrodite becomes jealous and casts a spell: no man will ever want to marry her. But Aphrodite's son Eros, the god of love, has already fallen in love with Psyche. One day, a wind carries her off to a palace where a man comes to her every night, telling her that he is her husband, but that she must never attempt to see him. Curious, Psyche disobeys: in the middle of the night, she lights an oil lamp. Entranced by his beauty, she leans over to kiss him, spilling some of the oil. He wakes and tells her that he is Eros, and that because of her lack of trust, he must leave her forever. Psyche goes to Aphrodite and says that she will do whatever is necessary to win her husband back, performing a series of seemingly impossible tasks for the goddess. Zeus is so impressed by her dedication that he turns Psyche into a goddess so she can be with Eros forever. The tale of Eros and Psyche dates back to ancient Greece: Psyche is the Greek word for "soul." It's one of the oldest love stories we have, but it has been told over and over again; in John Keats's "Ode to Psyche," it symbolizes the union of love and soul that creates poetry.

In Audrey Niffenegger's "The Time Traveler's Wife," Henry DeTamble has a genetic disorder that causes him to travel through time in random and disorienting ways. During his travels, he keeps meeting Clare Abshire, who eventually becomes his wife. Clare lives chronologically, and must content with having Henry appear and disappear in her life. He first meets her when she is a child, and they develop a relationship that begins as friendship and eventually becomes love. What makes "The Time Traveler's Wife" so romantic is its realism: although Henry is dealing with a condition out of science fiction, he and Clare still have to maintain a day-to-day relationship, pursue separate professional lives, and raise a daughter. Henry's temporal displacement is in part a metaphor for what all couples have to face: conflicting schedules, the sense that they are sometimes out of synch with each other, their different ways of seeing the world. Nevertheless, through it all, Clare and Henry love and support each other as much as any real couple.

In the imaginary city where Ellen Kushner's Swordspoint takes place, aristocrats live on the Hill and hire professional swordsmen to settle their quarrels. Commoners like the swordsman Richard St. Vier live in Riverside, the dangerous part of the city. Several aristocrats attempt to involve Richard in their political intrigues, but Richard ignores them until an aristocrat kidnaps his lover, Alec. Although Alec claims to be a poor student, he doesn't look as though he belongs in Riverside: he is too pale and haughty, constantly getting into fights that Richard has to settle with his sword. Despite the political twists and turns of the novel, Richard and Alec take care of one another: when Richard is arrested and tried for murdering Alec's kidnapper, Alec reveals that he is an aristocrat and saves his lover's life. The world of the novel is one of plots and betrayals, where aristocrats struggle for power and the poor are bought with gold. But Richard and Alec demonstrated love and loyalty. Their story shows that if the three most romantic words in the English language are "I love you," the four most romantic are "I've got your back."

In the old Scottish ballad "Tam Lin," Janet is told to stay away from the forest of Carterhaugh, because Tam Lin will seduce any woman who ventures there. But Janet is a typical romance heroine: she's not going to do what anyone tells her! She goes to Carterhaugh anyway and meets Tam Lin, a handsome young man, who asks her to rescue him from the fairies. He reveals that he is not one of the fairy folk, as she had assumed, but a human being stolen by the fairies long ago. Although he has served the Fairy Queen faithfully, every seven years the fairies must make a sacrifice to Hell, and this year he believes he will be the victim. He tells her to wait in the forest on Halloween night, when the fairy court will ride past. Once she sees him, she must pull him off his horse and hold on to him no matter what. When the Fairy Queen realizes that Janet has Tam Lin in her arms, she becomes so angry that she turns him into serpent, a deer, and hot iron, but Janet holds him until he turns back into a man. "Tam Lin" is about holding on to the one you love, about fighting for his freedom and your life together. The ballad has been retold many times, including in a children's version by Jane Yolen.

In Neil Gaiman's "Stardust," Tristran Thorne grows up in the small village of Wall, named after the nearby wall that separates the human world from Faerie. He in love with the beautiful Victoria Forester, and one night, when she sees a star falling from the sky, he promises to bring it to her if she will marry him. Although he knows the danger of crossing into Faerie, Tristran goes over the wall and tracks down the star: a beautiful young woman named Yvaine. At first, Yvaine and Tristran don't like each other at all. He chains her up so he can take her to Victoria, and she immediately escapes. But eventually they find each other again and learn to rely on one another while confronting the dangers of Faerie. "Stardust" shows that the person you thought was your true love might not be, and that instead you might find your true love along the way, when you were least expecting. Although "Stardust" was made into a movie, my favorite version is still the graphic novel illustrated by fantasy artist Charles Vess.

In Patricia McKillip's "The Riddle-Master of Hed," Morgon is the Prince of Hed, a small, unimportant country of farmers. He is content to stay in Hed and be its ruler, but when he was younger, he studied to be a riddle-master in the magical city of Caithnard. In a riddle-game with a ghost, he won a crown and the right to marry Princess Raederle of An. He first met her as a student in Caithnard, and still remembers her pale face and long red hair, while she remembers that he used to hold shells to her ears so she could hear the sea. While he is sailing to An in order to claim Raederle, his ship sinks under mysterious circumstances. Although he is saved, he must undertake a dangerous journey to find out who he is and why his life is threatened. The story continues in "Heir of Sea and Fire," in which Raederle, convinced that Morgon is not dead, sails off to find him and discover her own destiny. The third book, "Harpist in the Wind," brings Morgon and Raederle together at last. By that time, they have come to understand themselves and are ready for a love that is more mature than the infatuation they initially felt. Sometimes, the series tells us, you need to figure out who you are before you can share your life with another person.

There are many version of the medieval legend of Tristan and Iseult, although most of them follow a similar pattern. Tristan is a knight at the court of King Mark of Cornwall. Mark sends Tristan to fetch the Irish princess Iseult to be his wife, but as Tristan and Iseult sail back together, they accidentally drink a love potion. Back in Cornwall, they try to stay apart; however, their love for each other proves too strong. Discovering their treachery, Mark banishes Tristan, who wanders for many years but never forgets Iseult. One day he is mortally wounded. Saying that only Iseult can heal him, he sends a ship for her, directing white sails to be hoisted if she is on board, and black sails if she is not. Iseult is on the ship, but Tristan is treacherously told that the ship has black sails. Thinking that she has refused to come, he dies of grief, and as soon as she sees his corpse, Iseult dies of grief as well. In one version of the legend, two trees grow from their graves, their branches so intertwined that they can't be parted. The legend of Tristan and Iseult shows that love can conflict with other priorities in our lives, but that whatever choices we make, love doesn't go away: Tristan and Iseult's love for each other endures. Although there are many version of this story, in literature, art, and film, the most famous is Richard Wagner's Tristan und Isolde, one of the great romantic operas.

Some fans of J.R.R. Tolkien's "The Lord of the Rings" criticize the movie versions for focusing too much on the romance between Aragorn and Arwen; nevertheless, their love is important to the history of Middle-Earth. Aragorn grows up in the house of Elrond, the most powerful of the Elves. One day, as he is walking in the woods, he sees a beautiful woman: Elrond's daughter, Arwen. Although they fall in love, Elrond warns Aragorn that if they choose to be together, Arwen will have to give up her immortality. Aragorn spends years fighting Sauron, concealing his true identity and making friends such as Gandalf. Arwen waits for him until Sauron has been defeated in the War of the Rings and they can rule together as King and Queen of Gondor. But their happiness has a price: when the Elves leave Middle-Earth, Arwen stays behind and eventually dies. The story of Aragorn and Arwen shows that love involves sacrifice: Aragorn must defeat Sauron before he can be with Arwen, and Arwen must choose to live a mortal life for love of Aragorn. But it is a choice she does not regret, because their life together is worth the eternity she has lost.

"Beauty and the Beast" is one of our oldest and most beloved fairy tales. The version we're most familiar with dates from the eighteenth century, but my favorite versions are the novel Beauty by Robin McKinley, the television series starting Ron Perlman and Linda Hamilton, in which the beauty is an assistant DA and the beast lives underground in New York City, and Angela Carter's short story "The Tiger's Bride." In the fairy tale, Beauty is the youngest daughter of a merchant. One day, he sees roses in a castle garden and picks one for his daughter, but a terrifying Beast appears and tells him that by stealing a rose, he has forfeited his life unless another comes to the castle in his stead. Beauty insists on taking his place. The Beast is a better companion than she expected, but each night, he asks her to marry him and each night, she refuses. Eventually, the Beast allows her to visit her family. Beauty's sisters tell her not to return to the castle, but when she looks into a magical mirror, she realizes that the Beast is dying. Distraught, she returns to him and tells him that she loves him. At that, the Beast turns into a handsome prince and reveals that he was cursed to remain a beast until he could find someone to love him despite his appearance. Since this is a fairy tale, Beauty and the Beast live happily ever after. The fairy tale teaches us that we can see more truly with our hearts than our eyes, and that what we thought was a beast might turn out to be a beauty after all.

Most fantasy readers are familiar with the movie version of The Princess Bride, based on the novel by William Goldman. In both the novel and movie, Buttercup lives on a farm, served by a farm boy named Westley. Eventually, they discover their love for one another. Westley goes off to seek his fortune and is captured by pirates. Believing he has died, Buttercup agrees to marry Prince Humperdink, but before the wedding, she is kidnapped by a trio of bandits: their leader Vizzini, the swordsman Inigo Montoya, and the wrestler Fezzik. She is rescued by a mysterious man in black, who wins a duel with Inigo, beats Fezzik in a wrestling match, and tricks Vizzini into poisoning himself. Buttercup realizes that the man in black is Westley in disguise, and the lovers must face the perils of the Fire Swamp, as well as the treachery of Prince Humperdink and his assistant Count Rugen, who killed Inigo's father. What makes The Princess Bride such a classic is its cast of characters: Westley can't rescue his beloved without the help of Inigo and Fezzik, and we are as satisfied when Inigo takes revenge on Count Rugen as when Wesley and Buttercup find each other again. The Princess Bride shows that friendship is important too. Even after you find true love, you will need your buddies -- to break into the castle, bring getaway horses, or just be there for you.