I am so happy to report that
has become a bestseller!
Thanks to all of
I am grateful beyond words
When I was informed of this
it was even more exciting than receiving
reminiscing about this journey
although some of the humor is
While there is some cool information in it
And if I ask you about it at a cocktail
"Yeah, I enjoyed your book"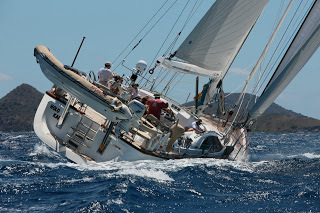 My first blog
Let's start at the beginning...
we sailed to the island of Samos, Greece
As we approached from the south
and Samos came into view,
like Leonardo DiCaprio in "Titanic"
I felt a strong sense of homecoming
all known sources of information
that had come to me over these years
through several different forms...
now I was about to walk where he walked...
see the landscape he saw...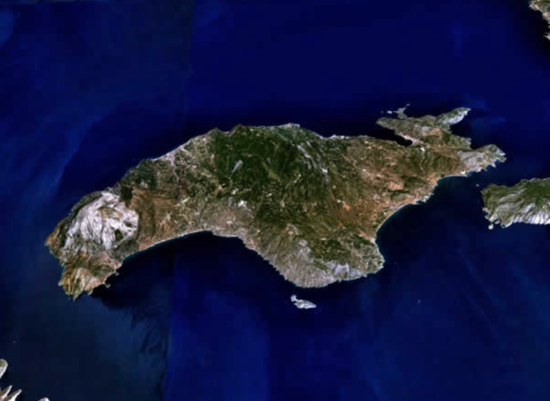 Samos
is among the most lush
and verdant islands in all of Greece
boasting
two prominent mountains
with the latter bisecting
the island from east to west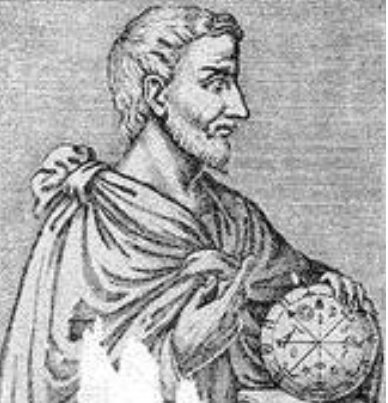 On
this island Pythagoras was born around 600 B.C.
this was an
extraordinary time in history
as superstition began to give way
to
methods proven by their ability
to repeat the outcome of the feat in
question
he placed a stick in
the ground
and by measuring the speed
at which the shadow caused by the
sunlight
Thales calculated the speed
at which the
earth revolves around the sun
the Vatican's book of
history
must have had pages stuck together
around this subject...see
Galileo)
so the Greeks called Thales
Thales is also considered the
that it was placed upon the front façade
of Apollos Temple in Delphi...
Find these tidbits interesting?
They are all integrated into my novel
While
my story of the life of ÆSOP
so was his first biography
which was written in 400 B.C.
The writer remains
anonymous
(coward)...I'm admitting to it...:)

Legend
has it that ÆSOP was born
Thrace, Phrygia and Lydia claim him as well

Back
to our first visit to Samos
when we arrived at the marina in
our captain Will had arranged
for someone to show us
the sites
as we had but two days scheduled there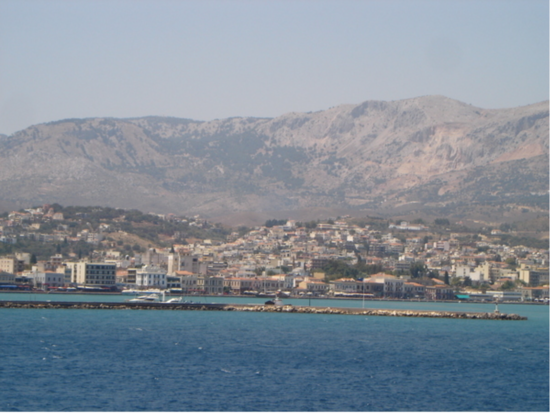 When we told her about my enduring love
for ÆSOP and his history,
Irene engaged us with interest...

She was a superb guide
on many antiquities of interest on
the island for,
in addition to being a top notch guide,
Irene is also an
archeologist!

Lucky us...

Over
time, Irene has become my contact in Samos
and has arranged for an
apartment
as I now return for an extended
research trip
for my next book.

I'll
begin my research
(see how many cool things were going
on in 600 B.C.?)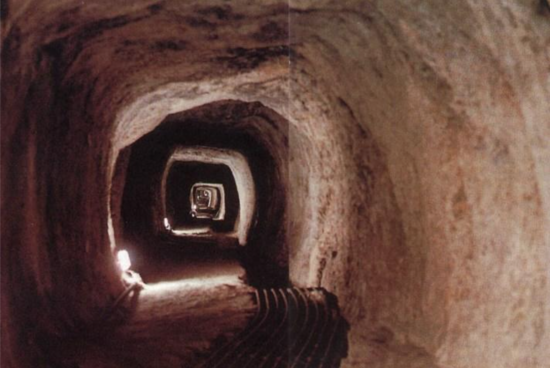 The
Eupalinos Tunnel was constructed
over a period of 10 years
using hand tools!

The dig began simultaneously
from two points as illustrated in the sketch below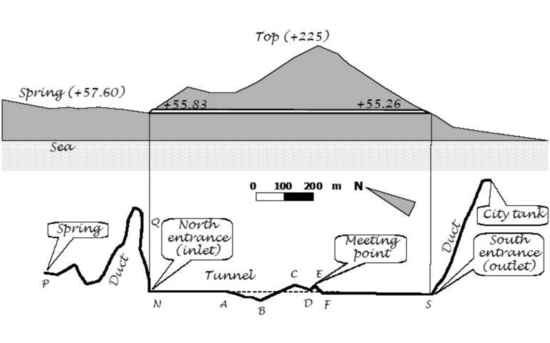 that Herodotus proclaimed
as one of the greatest achievements of mankind...

This
tunnel will play an important role in my new book
it was built by
prisoners from the island of Naxos,
known then as the 'prisoners
island'
any prisoner alive at the completion of the tunnel

Also
on the island of Samos is the Heraion
believed to be the birthplace
of the
right there under that tree
well...a tree...probably not that one
the
legend says that it was a Lygos tree...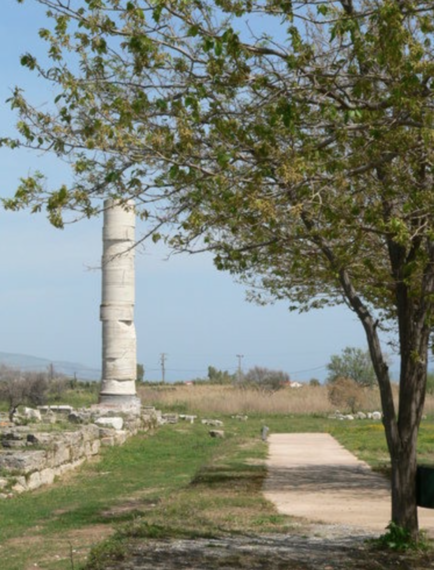 The temple of Hera (the Herarion)
was first constructed in 800 B.C.E.
it was a wonder of achievement.

It boasted
Created as the
greatest tribute to the Goddess
(See overhead sketch below)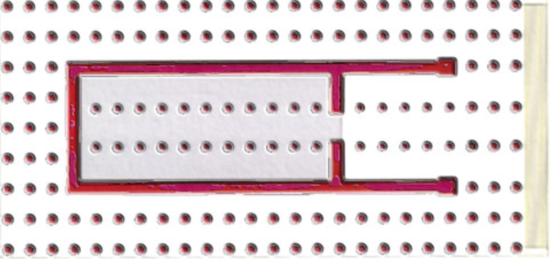 This
temple also plays a key role in my new book
I am enthused about
spending time
in and around this ancient ground
to see what my
characters saw
to experience the elements
that do not change
significantly over time

From
Samos I'll venture to Sardis
the capitol of ancient Lydia
one of the principal characters in my
first novel of
Do you remember the phrase "Rich as Crœsus"?
I grew up hearing it every so often and wondered what it meant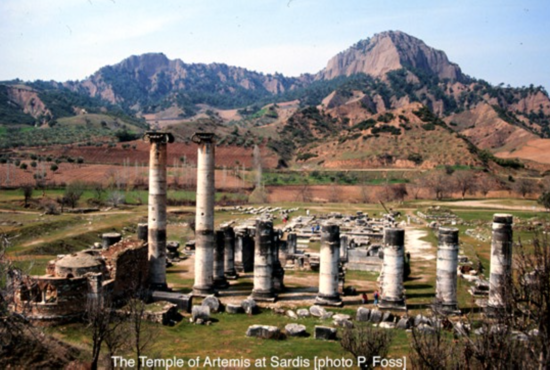 and most powerful kingdom in the world
through the
gold gathered and mined in an around
which you can see in
the background of the picture
above

I am eager to walk this land as my characters did
I want to gaze up at mount Tmolus' majesty
then walk on the banks of the River Pactolus
kneel to savor the cool waters of that body
that transported so much of the gold
that built the Lydian empire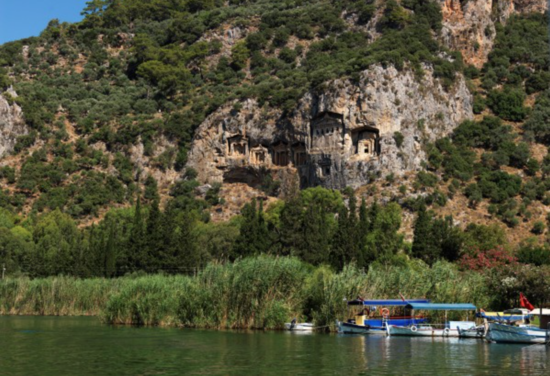 after a long life of slavery
ambassador to King
Crœsus.
(Do you see what drew me to him?)
representing the King Crœsus,
traveling over the known world on his
behalf
sometimes things went according to plan
well
that's what's fun to read about...isn't it?
I shall also travel to Egypt
Where Crœsus' good friend Amasis ruled as king
I am eager to walk that land and see what Amasis saw
in regard to ruins in Sais,
(wow...Sammy Hagar has a city named after him!)
due
to water damage over the centuries
as well as the pillage of stonework
the Rosetta Stone came from Sais

These are the places I'll research on my journey...

I
am excited to experience
the energy of these historic cities
that play
such an important role
and the people that were
in his life.

I invite you to join me on my journey
And today

Thank you to all my friends
Love to all,
Thomas
Tommy
Thom
T
This Blogger's Books and Other Items from...
SUBSCRIBE AND FOLLOW
Get top stories and blog posts emailed to me each day. Newsletters may offer personalized content or advertisements.
Learn more