Considerable press has been given to last week's announcement by the Academy of Motion Picture Arts and Sciences naming four new recipients of an honorary Oscar.
As has been widely reported, veteran actor Eli Wallach will be honored, as will producer-director Francis Ford Coppola, who would take home the Irving G. Thalberg Memorial Award. Many stories, however, have focused on Jean-Luc Godard. The French director has seemingly gone missing, and the Academy has yet to inform the awol auteur of his special honor.
The story the media has largely missed concerns the other recipient of the Honorary Oscar, Kevin Brownlow. The news that Brownlow -- an author and documentary film maker -- is to receive a special Academy Award marks something of a milestone in Hollywood history. Rarely, if ever, has an Oscar gone to an individual who has made his career as a film historian.*
"Each of these honorees has touched movie audiences worldwide and influenced the motion picture industry through their work," said Academy President Tom Sherak in a statement which accompanied the announcement.
That is especially true for Brownlow. As a film historian, author, documentary film maker, preservationist, and long-time champion of the silent cinema -- Brownlow's importance cannot be over-estimated. His 1968 book, The Parade's Gone By, helped shape a generation of film scholars and enthusiasts. And his 1980 television series, Hollywood, which aired on the BBC and PBS, set the standard for film documentaries.
Brownlow is regarded not only as the preeminent historian of the silent film era, he is also one of its leading preservationists. Among his many silent film restoration projects are Abel Gance's 1927 epic Napoleon (shown to great acclaim around the United States in the early 1980s), Rex Ingram's 1921 blockbuster The Four Horsemen of the Apocalypse starring Rudolph Valentino, and the 1924 Douglas Fairbanks fantasy The Thief of Bagdad. And don't forget such seminal works as The Phantom of the Opera (1925), John Ford's The Iron Horse (1924), and King Vidor's The Crowd (1928).
Brownlow's documentaries -- some of which first aired on British or American television -- include the Abel Gance: The Charm of Dynamite (1968), the 13 part Hollywood: A Celebration of the American Silent Film (1980), Unknown Chaplin (1983), Buster Keaton: A Hard Act to Follow (1987), Harold Lloyd: The Third Genius (1990), D.W. Griffith: Father of Film (1993), Cinema Europe: The Other Hollywood (1995), Cecil B. DeMille: American Epic (2004), and I'm King Kong!: The Exploits of Merian C. Cooper (2005). There are six others on subjects including Garbo, Lon Chaney, and Universal Horror films.
Brownlow has also authored a number of books, each are significant works and must reads. Besides the classic The Parade's Gone By, his books include The War, the West, and the Wilderness (1979), Hollywood: The Pioneers (1979), Napoleon, Abel Gance's Classic Film (1983), Behind the Mask of Innocence (1990), David Lean: A Biography (1996), and Mary Pickford Rediscovered (1999). In April, the UKA Press in England issued his newest work, The Search for Charlie Chaplin.
Two other books, How It Happened Here (1968 / reissued 2007) and Winstanley Warts and All (2009), are Brownlow's behind the scenes accounts of the making of his own indie films, It Happened Here (1966) and Winstanley (1975). Each film is available through Milestone, as is Millay at Steepletop (1968), an early documentary about the American poet.
The honorary Oscar is given to an individual for "extraordinary distinction in lifetime achievement, exceptional contributions to the state of motion picture arts and sciences, or for outstanding service to the Academy." Over the years, the Academy of Motion Picture Arts and Sciences have awarded honorary Oscars to numerous individuals and institutions including Orson Welles, Akira Kurosawa, Kirk Douglas, Howard Hawks, Lillian Gish, and Lauren Bacall. Brownlow's award is especially well deserved. It honors a lifetime spent documenting film history while rescuing its early masterpieces and pioneering artists from oblivion.
As a film historian, Kevin Brownlow has always sought to bring recognition to others -- especially the individuals who help create "the movies," an art form we all love. Now, the spotlight shines on him.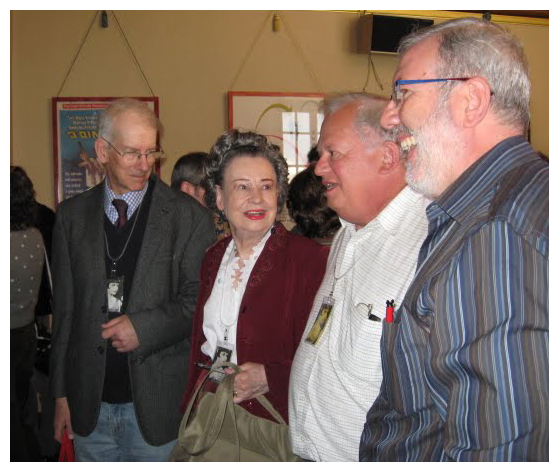 From left to right, Kevin Brownlow, silent film star Diana Serra Cary (aka Baby Peggy), film preservationist David Shepard, and author Leonard Maltin at the San Francisco Silent Film Festival in July, 2010. (photo courtesy of Thomas Gladysz)
Each of Kevin Brownlow's books and films are well worth searching out. The Parade's Gone By is available through the University of California Press. The 13-part series, Hollywood: A Celebration of the American Silent Film, once available on VHS, has yet to be issued on DVD. Highly recommended are the documentaries Buster Keaton: A Hard Act to Follow and Cinema Europe: The Other Hollywood. Though each is out-of-print in the United States, copies can be had through second-hand sellers.
*Is Kevin Brownlow the first film historian to be awarded an Honorary Oscar? Of the approximately 100 individuals who have been given the special award, only two others could be so considered, Kemp Niver (a cinematographer and author who was awarded a statuette in 1954 "for the development of the Renovare Process which has made possible the restoration of the Library of Congress Paper Film Collection"), and Henri Langlois (a French film archivist who was awarded a statuette in 1973 "for his devotion to the art of film, his massive contributions in preserving its past and his unswerving faith in its future.") First, or third, it's rare company.
Thomas Gladysz is an arts journalist and author. His interview with Allen Ginsberg was included in "Beat Memories: The Photographs of Allen Ginsberg" (National Gallery of Art, 2010). And recently, he wrote the introduction to the Louise Brooks edition of Margarete Bohme's classic novel, The Diary of a Lost Girl (PandorasBox Press, 2010). More at www.thomasgladysz.com.
This Blogger's Books and Other Items from...
SUBSCRIBE AND FOLLOW
Get top stories and blog posts emailed to me each day. Newsletters may offer personalized content or advertisements.
Learn more