Here in the San Francisco Bay Area we are lucky to have so many fine venues at which to take in classic cinema. There's the Castro Theater in San Francisco, of course, as well as the Pacific Film Archive in Berkeley, Stanford theater in Palo Alto, the San Rafael in San Rafael (home to the California Film Institute), and elsewhere. And then there are the Festivals. The Noir Festival and Silent Film Festival are each nationally renowned, and among the leading festivals of their kind in the world.
Another local treasure for film lovers is the Niles Essanay Silent Film Museum, which is located in the historic Niles district in Fremont. The Niles Essanay Silent Film Museum is located near the former site of the Niles Essanay Studios, where early stars like Broncho Billy and Charlie Chaplin made films in the 1910s. Every weekend, the museum screens silent films as well as other early cinema in its adjoining theater.
This weekend and next -- and just in time for Halloween, the Museum will screen a handful of spooky films sure to make the dark hearts of horror film lovers skip a beat (should they still be beating at all). Here is what the Museum has planned for this weekend and next.
"Saturday Night at the Movies," with Judy Rosenberg at the piano
Saturday, October 22nd at 7:30 pm (suggested donation $5.00)
In A Fool There Was (1915, Fox), the exotic Theda Bara plays the mother of all vamps as she drives men mad with desire. The feature will be proceed by the short films The Locket (1913, Vitagraph) with John Bunny and Flora Finch, and A Truthful Liar (1924, Roach) with Will Rogers.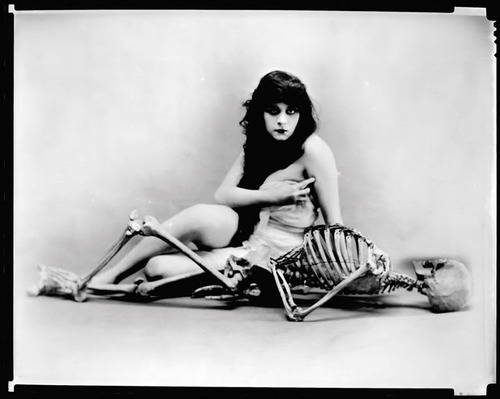 Theda Bara is a vamp in "A Fool There Was."
(photo courtesy of the Niles Essanay Silent Film Museum)
"Halloween Talkie Matinee Double Feature"
Sunday, October 23rd at 4:00 pm (Museum members $6, non-members $8)
At this special afternoon screening, both Cabinet of Dr. Caligari (1920) and Nosferatu (1922) will be shown in special sound versions. Both films have a complete soundtrack including new dialog, sound effects and original music by HobGoblin which brings a new dimension to these original silent masterpieces of German expressionism. In Cabinet of Dr. Caligari, Caligari is a mad doctor with a mysterious sleepwalking captive who is only let out in order to commit heinous crimes. Nosferatu -- the first film adaption of Dracula, has been a chilling vampire classic from the day it first hit the silver screen.
"Saturday Night at the Movies," with Jon Mirsalis at the Kurzweil Keyboard
Saturday, October 29th at 7:30 pm (suggested donation $5.00)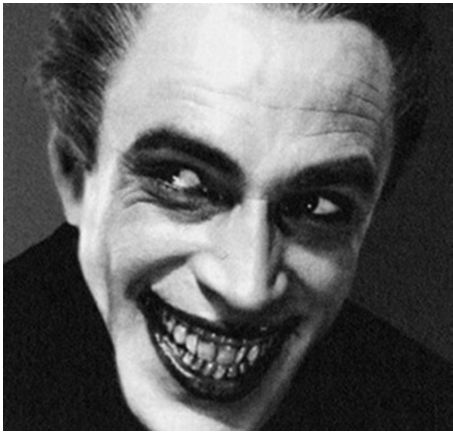 It's been said that the brilliantly creepy Conrad Veidt (pictured right: photo courtesy of the Niles Essanay Silent Film Museum) provided the inspiration for Batman's The Joker in The Man Who Laughs (1928, Universal). Come find out. The evening's entertainment will include three short films, Fortune Teller (1923, Out of the Inkwell) with Koko the Clown, The Ouija Board (1920, Bray) with Koko the Clown, and Her Bridal Night-Mare (1920, Christie) with flapper Colleen Moore.
For more info: The Niles Essanay Silent Film Museum is located at 37417 Niles Blvd. in Fremont, California. For further information, call (510) 494-1411 or visit the Museum's website at www.nilesfilmmuseum.org/.
Thomas Gladysz is an arts journalist, author, and early film buff. He has a fondness for early horror films, especially those from Universal. One of his favorite film biographies is Arthur Lennig's biography of Bela Lugosi. Gladysz writes about movies, books, and popular culture for various publications and blogs.
This Blogger's Books and Other Items from...
SUBSCRIBE AND FOLLOW
Get top stories and blog posts emailed to me each day. Newsletters may offer personalized content or advertisements.
Learn more