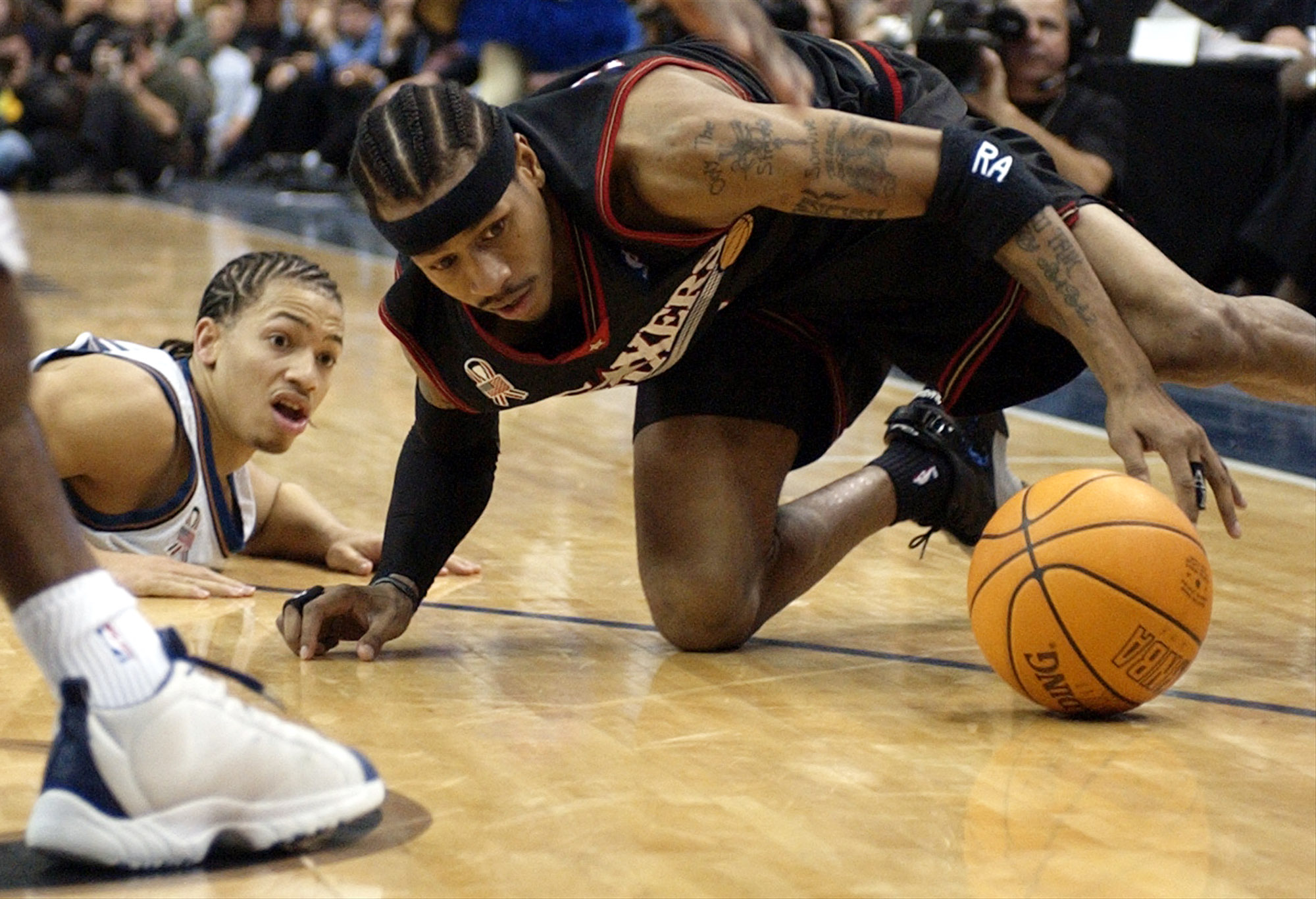 The 2000-2001 Los Angeles Lakers were a purple and gold locomotive.
They entered the '01 Finals riding a 19 game winning streak, including 11 postseason victories. They had just dispatched their Conference Finals opponent, San Antonio, by an average victory margin of 22 points. Pundits were declaring them one of the greatest teams in the Association's history. The 2001 Lakers took the court in Game 1 not just prohibitive favorites to take the NBA Finals -- they were prohibitive favorites to sweep it.
Allen Iverson had different plans for that evening.
Though the 76ers star and Lakers legend Shaquille O'Neal were separated by both continental geography and opposing conferences, the two players had slowly come to be associated with one another by the summer of 2001. The year before, Iverson received an inexplicable first place MVP vote, thwarting the Big Diesel's attempt to become the first unanimous MVP in NBA history (shades of this year's Carmelo-first-place-vote-controversy, perhaps). In 2001, they had swapped places. It was Iverson who won the MVP, leading the league in both scoring and steals, with O'Neal now the one receiving the handful of token votes. In addition to winning the Maurice Polodoff trophy, A.I. also won that year's All Star Game MVP -- no player since has managed to win both in a single season since.
The Game 1 clash between the two superstars did not disappoint. At 5'11 and 165 pounds, Iverson might appear more David to the 7'2 Shaq's Goliath, but he was no less titanic in his on-court performance. The two carried their respective teams and traded blow after proverbial blow all night. O'Neal was dominant in the paint and on the glass, filling the box score to the tune of 44 points and 20 rebounds, while Iverson set the perimeter aflame with 48 points of his own.
Of those 48, however, it was Iverson's last two which made all the difference, and which cemented this game as a classic for the archives. With less than a minute remaining in overtime, and the underdog Sixers clinging to a two-point lead on the road, Iverson isolated defender Tyronn Lue on the right side. With a staggering combination of blaring speed and surgical precision, the Answer proceeded to break the overmatched Lue's ankles with a debilitating crossover, before ultimately burying an 18-footer with 47.6 seconds left on the clock.
It got better. With one unforgettable motion, Iverson quite literally and emphatically stepped over the fallen Lue and silenced the adjacent Lakers bench with a single glance. Broadcasters Marv Albert and Doug Collins could be heard oohing and aahing with exhilaration at Iverson's display. It was a baroque and indelible moment, Iverson equal parts swaggering and unsportsmanlike, both competitor and conquistador, his Ali towering over Lue's Liston. Though the Lakers reasserted their dominance in the following contests, Iverson's emphatic step over was the defining image of those Finals, and perhaps his entire Hall of Fame career.
This overtime barnburner was the only game the 76ers got off the Lakers that June. Los Angeles finished its postseason, impressively if anti-climactically, at 16-1 and repeat NBA champions. Yet, twelve years later, one could argue that the reality of the Lakers winning that series has almost taken a complete backseat to Iverson's immortal theatrics in that first game. Iverson's crossover and step over of Lue is one of the most famous individual moments, wrapped within one of the greatest individual on-court performances, in Finals history.
Allen Iverson's legacy is not without numerous controversies. In addition to off court issues stemming from drugs and gambling, A.I. also was a leading face of the 2004 Olympics debacle, filibustered on "Practice" to memorable effect, and clashed with coaches and the commissioner's NBA Dress Code alike. He also, however, was an insatiable competitor and a once-in-a-generation scorer. At this moment, a dozen years since his breathtaking performance in that first Finals game, we'd be remiss not to remember the one night it all came together so spectacularly for him.
And then someone please help Tyronn Lue off the deck.
SUBSCRIBE TO & FOLLOW THE MORNING EMAIL
Get top stories and blog posts emailed to me each day. Newsletters may offer personalized content or advertisements. Learn more