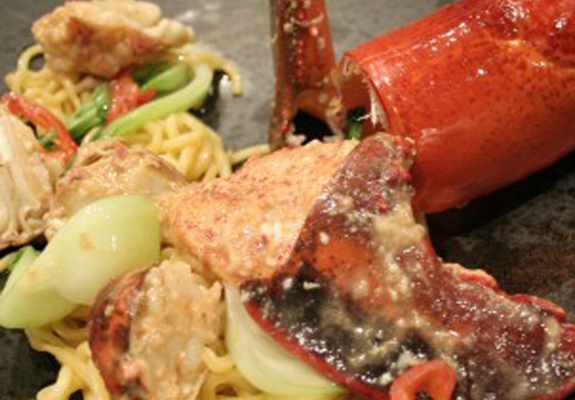 Combining Asian traditions with American sensibilities makes for an unstoppable combo, because you know a crane kick doesn't actually stop once it crushes the front of your face. For a new resto sweeping your tastebuds' legs: Ember Room.
From a culinary team boasting names like Chalermkittichai and English, ER's Asian-ing up their BBQ in a bi-level, 140-seater rocking gold-covered wood accents, hanging caged fixtures, and a showstopping open kitchen loaded with natural stone, clay brick, and volcanic rock, which is no longer just Fire On The Mountain. The menu kicks off with small plates of signature spicy chocolate-glazed baby backs, maple-soy Berkshire pork belly w/ fresh chili-cider vinegar, and skewers ranging from Thai pastrami spiced meatballs (w/ saw tooth coriander & tamarind sauce) to hot basil-sauced duck liver, sure to be anything but fowl. Larger plates include a pulled pork sandwich w/ chili jam aioli, apple slaw & crispy pork crackers; sesame-glazed hacked miso lobster cooked in a stone wok; and whole roasted ginger-hoisin BBQ suckling pig served with steamed buns, apricot mustard, and "warm water cracked bacon", so now you can literally get high on the hog.
Weekends'll bring Dim Sum brunches, while booze includes an international wine list, plus sake cocktails like the Prosecco/Murai sake/plum wine Sparkling Room, a delicious drink that will nonetheless crush any chance of you looking Macchio.