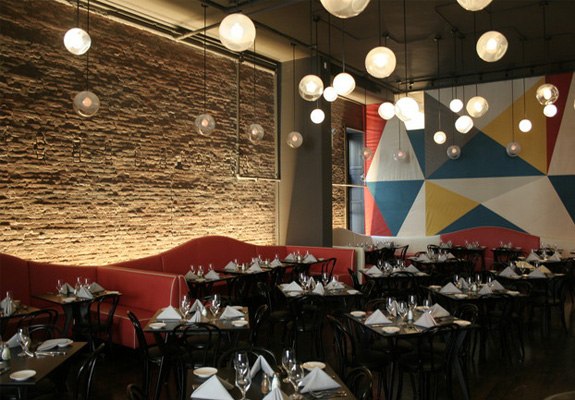 Things can get lost in translation when cuisines pop up outside of their homeland, which explains the universal disappointment in America when Spotted Dicks hit the table. Successfully translating Southern food for NYC: Gravy.
Generously portioned out over 6,000sqft, this Southern eatery's airy columned dining area evokes an art gallery with its handblown hanging orb lights and colorful, Sol Lewitt-steez'd suede wall, while the front bar & lounge is loaded with brightly upholstered hickory furniture that's been custom built to withstand generous portions of you. Elevated Confederate cuisine starts with bourbon- caramel sauced housemade sausage, and blackened king crab legs w/ Tasso ham, plus for-the-table platters of "meats & hams" (w/ Nana's pickles & brown butter mustard), crawfish gumbo fritters, and Black Eyed Pea Hummus, hopefully not served in a super bowl, as everyone knows how that turns out. Meanwhile, side portions of "crackling" creamed corn, handcut gravy fries, and grits three ways (honey, cheesy, pork) abet mains like a massive double pork porterhouse w/ black garlic BBQ sauce; spice-rubbed venison with mulled pear jus; and, swimming in an "ocean herbal broth", succotash-covered drum fish, which you'll want to take on solo.
The beverage program'll be rocking Southern brews from Abita to Dixie, whiskey flights, and original 'tails like The Category 6, a lime and passion fruited Hurricane riff featuring Oronoco rum and a Kraken floater, enough hooch to ensure that even in your own homeland anything you say will be lost in translation.

FOLLOW HUFFPOST