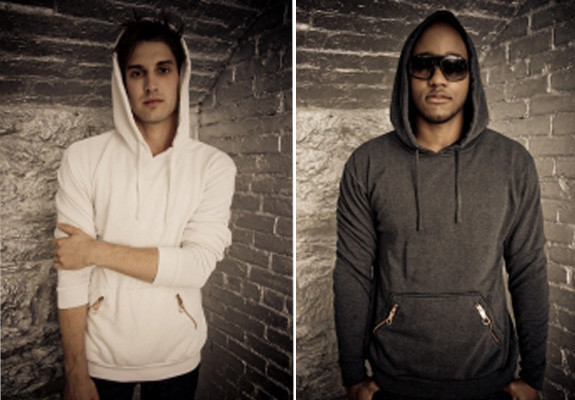 Sweatclothes may be comfy and warm, but they tend to lack style, unless of course you went to school in the Northeast, in which case you know the Bates field hockey chicks are looking fine as hell. Actually synthesizing sweats with style: Kings of Cole.
Inspired by her four year stint in Boston, the native NYer behind K of C left on a mission to blend pleasing aesthetics and comfort into "the perfect hoodie for men", eventually arriving at a line of super soft 65/35 cotton-polyester sweat-gear adorned with everything from signature hardware detailing to gold zippers, which will help keep money in your pockets until noticed by chicks who dig it. The collection kicks off with a front-zip hoodie that's avail in four colors -- white, military black, gray, and acid wash blue -- and features standard hip pockets & drawstrings, but flips things around with slightly contrasting cuffs/interior and a longer, more tailored cut, though not a more Taylor cut, cause Lautner's abs are unachievable. There's also a pullover (same colors) with contrasting fabric on its double-zip front pocket pouch, whose raised stitching gives it the appearance of being a patch, oreven a badge, if you're a committed scrub scout.
And because sweatpants're even harder to class up, theirs feature contrasting raised seams down the legs & around the side pockets, each if which sport a logo'd zipper -- though leave 'em unzipped during a Bates winter, and things won't be Bowdoin well for you.
SUBSCRIBE TO & FOLLOW THE MORNING EMAIL
The Morning Email helps you start your workday with everything you need to know: breaking news, entertainment and a dash of fun. Learn more