Any bar worth its pretzel salt has at least a beer or two at the ready. These are not those bars. These are bars for serious beer people: places where home brewers flock for inspiration and where the beer world's best artisans roll out their experimental and hard-to-find suds. You're not going to find breweries on here (we're looking for a diversity of product), or necessarily bars with the most beers (we went for quality over quantity). Anyway, enough small talk. Here are the 33 best beer bars in the US. Slainte, pass the pretzels, and -- as always -- let us know what we missed in the comments: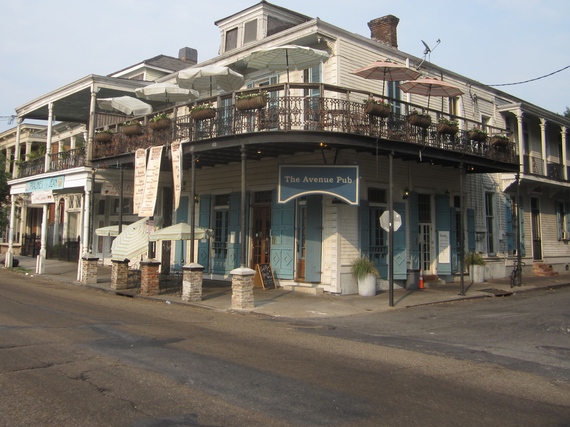 CREDIT: Trev's Bistro
THE AVENUE PUB
New Orleans, LA
You had to expect New Orleans would do its beer bars a little differently, and -- truly -- imbibing at The Avenue Pub is a drinking experience you won't quite find anywhere else. For one thing, it's open 24/7, which can be both a blessing and a curse. The worn mid-19th century building and sprawling, shutter-backed roof deck give you the sense that people have been imbibing here for generations. While they draw hard-to-find selections from all over the country into their 43-strong tap lineup, make sure you get a round or two of the local stuff as well, like a sessionable Red Beans and Rice Ale recently rolled out by local upstart 40 Arpent.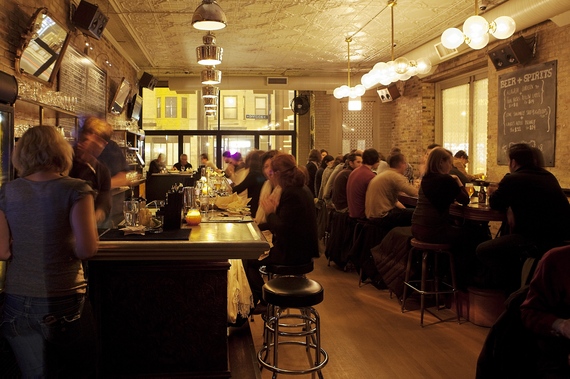 CREDIT: Bangers & Lace
BANGERS & LACE
Chicago, IL
Named for the traces of foam (aka "Belgian Lace") left behind on the glass after downing a beer, as well as the tasty encased meats they sell to keep you upright after downing said beer, Bangers & Lace has made a name for itself with an impeccable, Cicerone-curated 32-handle tap list that offers everything from hard-to-find Midwest collabs to overseas rarities. To sample the finest of what they have on tap, get a tasting flight of the "six-pack", an antique keg cooler adjacent to the bar holding some of the day's most interesting offerings (and a motley crew of taxidermied critters perched atop it).
More: What your beer says about you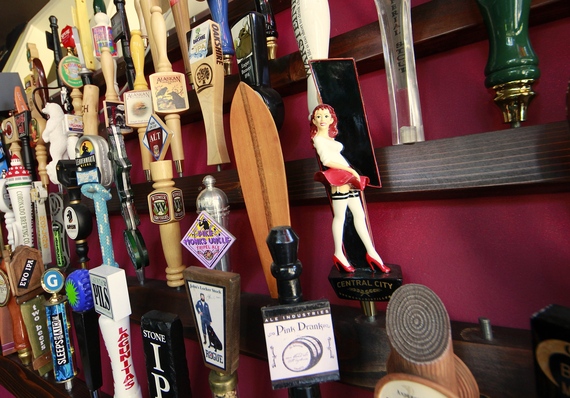 BELMONT STATION
Portland, OR
Half bottle shop and half beer bar, walking into Belmont Station is like walking into a museum, or a temple to the God of Hops (Hopseclese?): With 1,200 bottles crammed into a shop the size of your average convenience store, you can spend hours staring at beers from throughout the world... and drinking them on-site. Whether it's a bottle of a rare lambic or a bomber of a seasonal from local brewers like Breakside and Hair of the Dog, if it's available on the West Coast, it's here. There's also an adjoining biercafe (and huge patio) serving up one-offs from local brewers and hard-to-find imports, in case you prefer your rare beers in a pint rather than a bottle.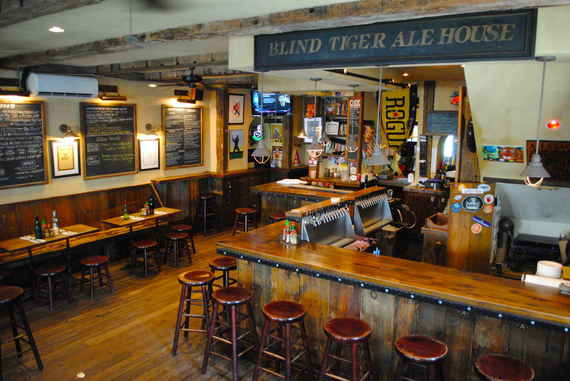 BLIND TIGER
New York, NY
If you're a beer, Blind Tiger is like your Cheers -- everybody knows your name (and pretty much everything else about you). The bartenders at this warm, wood-festooned brew den are über knowledgeable about every type of beer there is, from their ever-changing 30+ craft drafts to their countless bottles and all others beyond. Their house list features some intriguing suds from all over the world (barrel-aged ales, sour Belgian lambics, and vintage beers), but their drafts have an American focus, and you can usually find some otherwise-elusive West Coasters on there (no, we're not talking about Johnny Depp). They're also spitting mad game with their food menu, which is constantly evolving in accordance with their in-stock beers and features some of the city's best wings, in addition to several other killer small plates.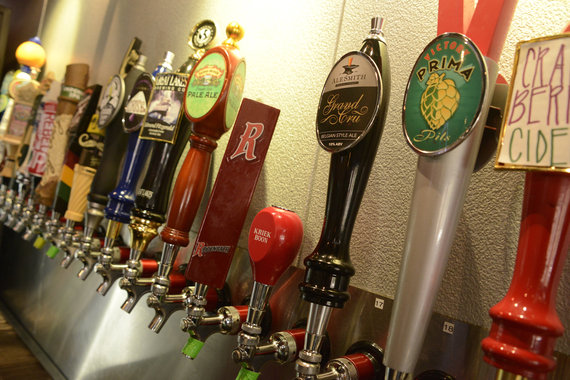 CREDIT: Wendy Savage
BREWMASTERS
Raleigh, NC
Located beneath a still-glowing "Restaurant" sign that has adorned this historic Warehouse District building since it was a destination for departing WWII troops, Brewmasters is now part of a very different war: the one on your liver and cholesterol. This is a place where everything, including candied bacon, comes by the pint. But you're here for the beer, and the island of a bar is stocked with dozens of craft cans (Oskar Blues is particularly prominent) and 60+ taps, with special attention paid to NC brewers like Big Boss, Deep River, and Duck-Rabbit. If that's not enough to prove the local love, the joint also allows local home brewers to take the spotlight some nights, fostering the future of NC's booming brewery scene.
There's still 28 of the best beer bars in the country to go, in cities like St. Louis, DC, Dallas, Austin, Des Moines, Denver, and many more! Check 'em all out on Thrillist.com!
More from Thrillist:
The 22 Best Whiskey Bars in America
A Sommelier Rates All the Trader Joe's Two-Buck Chuck
Follow Thrillist on Twitter: www.twitter.com/Thrillist