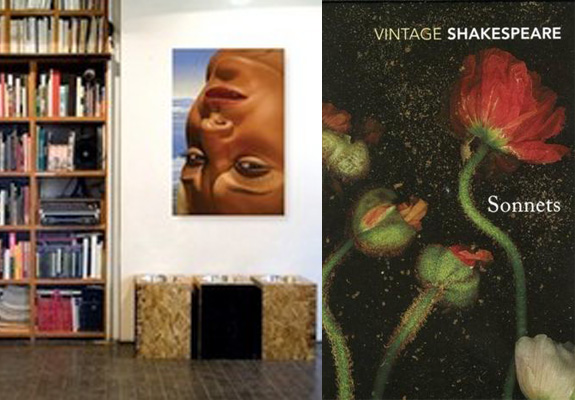 Since you're obviously in need of V-Day help, we checked in with the as-radiant-on-the-inside-as-they-are-on-the-outside girls at Glamour magazine to get some can't fail gift ideas. Check out these ideas below. For even more help, check out the Thrillist V-Day HQ.
it's casual: Shakespeare's Sonnets
Forego the faux pas of cliche candy hearts and stuffed bears, and instead get old school with this paperback compendium of the Bard's poetry, which "balances the thoughtful with the not-too-serious", 'cause if your poetry gets too real your relationship won't stanza chance.
Recently Started Dating/Sexing: John Derian Decoupage Paperweight
Because you'll need to start putting some thought into her too, and also because all NYC girls apparently have "a soft spot for John Derian", nab a decoupage paperweight featuring a circa 1853 map of her hood -- a classy way to tell her she's SoHo.
It's Serious: Lanvin Collier Strauss Necklace
From a designer that "all the ladies love", this necklace features a silk toile bow wrapped around beaded "brass embellishments", not to be confused with brash embellishments, which is probably the only way you managed to land a girlfriend in the first place.
Wifed up: Exhibition A
Increase your marital bliss without destroying your marital bank account thanks to this new online venture, featuring prints of "work by top contemporary artists" available in either a limited quantity or for a limited period of time, which, after you give her the gift, hopefully won't still describe your sex life.
You screwed up: Wrap a gift with your feelings
Whether you're getting her a box of candies or "a pricey piece of bling", they suggest wrapping it in plain paper you can cover with personal handwritten notes, from things you like about her, to favorite things she's said, to "songs that make you think of her", which's sure to make you both much Closer.
SUBSCRIBE TO & FOLLOW THE MORNING EMAIL
The Morning Email helps you start your workday with everything you need to know: breaking news, entertainment and a dash of fun. Learn more