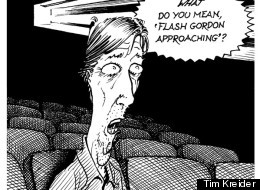 I was a cartoonist for 15 years before I became a writer. Writing is what I'd actually studied in college, and I spent several years trying to be a writer in the way you were supposed to: sending bad short stories off to literary magazines that didn't pay anything. But then my cartoon was picked up by the local alternative weekly, which didn't pay anything either, and, like most people, I pursued the first thing I got any meager positive reinforcement for. I figured: Okay, I guess I'm a cartoonist.
But, like Dr. Jekyll looking down to see the hairy-knuckled paw of Edward Hyde resting on his knee, I found that prose began creeping insidiously back into my work, in the form of what I facetiously called "artists statements" that accompanied my cartoons. These got longer and more polished and started looking quite a bit like what you'd have to call essays. My books' subtitles went from "Cartoons by Tim Kreider" to "Cartoons and Essays," until finally I quit my slumming and said, Okay, fine: I'm a writer.
It was my editor at Free Press who encouraged me to include some cartoons in my forthcoming essay collection, We Learn Nothing [Free Press, $20.00]. I worried that they were dissonant with the tone of the rest of the book, having been drawn by a former self whom I now think of as a sort of unhappily hilarious, drunken younger brother. I was concerned that they might prevent me from being taken seriously as a writer. So far the most respected writer/cartoonist in American history has been James Thurber, who's generally considered a "humorist," which, on the scale of professional prestige, is to "writer" what "cartoonist" is to "artist."
But the editorial thinking at my publishing house was: It can't hurt, and since I was, for a change, being paid, I acquiesced. I reassured myself that many great and well-regarded artists, from Updike to Fellini, started out as cartoonists. People like looking at pictures. Dickens's and Twain's work was originally illustrated. Even the Bible was illuminated! So please do not let the inclusion of drawings of me fellating myself with a Kermit the Frog hand puppet prevent you from taking this book any less seriously than the work of Joseph Conrad or Cormac McCarthy. I await the judgment of literary history.
This cartoon accompanies an essay on drinking, but it might just as well have accompanied any number of other essays in this book. In my own experience, real life is not rife with epiphanies, although they seem to be an obligatory convention of the literary essay. Most of my own essays are inquiries rather than arguments, and the questions they set out to answer often prove unanswerable or irrelevant; what matters, it turns out, is what Rilke called "living the questions." An alternate theory is that I am an idiot who learns nothing from any experience at all.

This was the specific, recurring instance through which I noticed that my life was being insidiously subverted by a shadowy nemesis whose sole agenda seemed to be to thwart and ridicule me: my own past self. Sometimes it was my self of the very recent past, even of the night before, tantalizingly just out of reach of my vengeance, smirking at me as I had to clean out the French press first thing in the morning. But once he'd been implicated in this minor malfeasance, I began to recognize Past Tim's malignant handiwork everywhere, and realized that he had been plotting my ruin for decades.

Earnest, hardworking Present Tim applies for a suitable position, only to find his best efforts sabotaged by that unrepentant loafer, Past Tim, who's squandered his life in the pursuit of petty lusts and vices. The scope of his malice here becomes evident: he means nothing less than to reduce me to penury and obscurity, to leave me a pauper and a laughingstock. Past Tim is not just some sort of amusing nuisance or mischievous imp, but a mortal enemy to be feared--and, if possible, destroyed.

But alas, Past Tim remains forever untouchable by revenge, evading the laws of earthly justice and karma, always laughing down at me from the uphill side of causality. Instead I must take my impotent vengeance on Future Tim, thereby becoming the very villain I despise. I should make it clear that it is my future self who is forced, for reasons best left obscure, to wear the little sailor suit, and that it is I who must call this woman "Daddy," rather than vice versa. (This incident is a pure invention by the author, needless to say, and reflects no actual persons or events.) And so the cycle of violence continues: the eternal tormentor, Past Tim, inflicting insult after injury upon his only available victim, Future Tim, learning, as someone once said, nothing.

This cartoon illustrates an essay on heartbreak, to which I used to be susceptible the way some people always get carsick or have deadly allergies to nuts or shrimp. I drew it in the throes of a bad bout back in '07, an ugly time for me personally and a tiresome one for my readers, who got to watch me writhing it out week by week in print. This one purports to be a sort of self-help guide for the lovelorn.

Here is depicted my evil friend Zero, an invaluable source of sympathy and support in a crisis. There is of course no one thing to say at such times that will ease someone's pain or loss, but Zero always managed to find a kind and tactful word to offer some small solace and help me through another night.

I really did attend a screening of Flash Gordon (1980) during this episode. I couldn't get anyone I knew to go along with me and, even more incredibly, nobody else showed up to the screening. I had a fun conversation with the projectionist, who'd also curated the film series, then put my feet up to enjoy one of the more lunatic spectacles ever committed to celluloid. It's in those darkest moments of our lives that the smallest glints of joy shine most brightly. As Queen puts it in the film's theme song: No one but the pure in heart can find the Golden Grail.

"Mr. [first name]" is a locution one often hears in Baltimore, where one frequently sees specimens such as the sorry individual depicted here, sitting alone at the end of the bar, nursing some heartbreak decades old. O Cher, I have no choice but to believe in life after love--'cause I'm livin' it, man.

The next three images are from a cartoon titled "What's Your Plan (When the Shit Hits the Fan)?", which accompanies an essay about peak oil, the scientific theory/political movement that warns about the imminent depletion of our petroleum supply and subsequent collapse of industrial civilization and descent into Mad Maxian savagery. We'll look at several different possible responses to this imminent catastrophe.

Here we see my friend Ken, a vociferous and persistent proponent of the peak oil theory, depicted in his own well-stocked retreat out in Missouri. Ken's purchased several acres of land in a rural locale, where, as he says, he's cultivating his own sources of food and laying in a stockpile of tools against the day, which he believes is not far distant, when he'll they'll be urgently needed. He holds a scythe, traditional attribute of the doomsayer.

This is my friend Harold explaining his own elegant, less labor-intensive solution to the problems posed by of Peak Oil/global collapse/Road Warrior mayhem. (The drawing is an allusion to fantasy illustrator Frank Frazetta's famous image of one of Tolkein's Black Riders.) It's not clear to me whether Ken has prepared contingency plans for this pretty likely scenario--whether, for example, among all the implements he's purchased in readiness for the post-apocalyptic lifestyle, he's thought to include a gun.

My own plan in the event of global catastrophe is a simple one. I am a silly, frivolous person, a luxury creature like an orchid or a Pekingese, who will quickly perish with the loss of our industrial infrastructure. I predict that neither cartooning nor Creative Nonfiction will be a valued skills in the post-oil economy, so I figure I might as well hole up in my favorite bar (Slurpee McDrunkee's, seen here) and enjoy a valedictory cocktail while everyone else is out looting flatscreens and bulk Cheetos and setting Hummers on fire. It'll be a last moment to savor before my inevitable slaying at the hands of the mobs, or, worse, my conscription as cabin boy by a marauding band of Gas Pirates.

This cartoon accompanies an essay about my oldest friend, who unaccountably disappeared on me 10 years ago--just stopped returning my calls without explanation, ending our friendship. It (the cartoon) reflects ruefully on the unreliability of all things, its ultimate thesis being that it's all bullshit, man.

This rather lavish panel depicts my so-called friend Harold--ever-treacherous Daffy Duck of my cartoon world--firing a flare gun into my face and absconding via hot-air balloon with not only my beloved cat and lovely and talented intern Ms. Czochula-Hautpänz but my fabulous raccoon coat, which I know that bastard has always coveted. This illustrates the important principle that you can trust no one and your dearest friends will surely turn on you the minute things go South. The best policy is probably to kill them all preemptively at the first sign of trouble.

Unlike Christopher Hitchens I have no compunctions about giving hasty deathbed conversion a shot. I'm seeing Pascal's Wager and raising him. Best-case scenario: a lifetime of indolence and depravity, a moment's potentially awkward repentance, and then eternal life, which, if it's any kind of real reward, will involve yet more indolence and depravity. If this is actually okay by God I am more than willing to take advantage of this loophole in the system. The worst-case scenario, admittedly, is not good: an eternity of hellfire, brimstone, poking by tridents. Although if this really is the setup God's devised 1.) I'm not sure he's the kind of God I want to try to ingratiate myself with anyway and 2.) the alternative, which is presumably choir robes and personal hand harps, sounds only slightly less dreadful. The Ultimate Judge as depicted here bears more than a passing resemblance to The Dude, who was also known to enjoy a little Creedence on occasion. Some of the younger designers in Simon and Schuster's production department were sadly unfamiliar with "Down on the Corner," currently on God's playlist.

Here we see my mother's dog Maggie, tragically failing me in a basic rescue situation. Maggie was an admirable dog in many ways but no Rin-Tin-Tin in a crisis, I'm afraid. I adored this animal, but somehow my cartoons of her have always come out looking feral and deranged. How she loved to chase a Frisbee.

My editor and I decided to include this cartoon at the eleventh hour, almost as an afterthought, to show that I am really not such a bitter or cynical guy after all but actually, like most cynics, a sloppy sentimentalist at heart.

This conversation actually took place while I was babysitting my friend Rick's daughter, Dana, who sized me up instantly as a pushover and took advantage of my guileless nature to load up on candy and watch whatever she wanted on TV. I sent her home sick to her stomach and mildly traumatized but alive, which was my only responsibility for the evening.

Here my friend Gabe and I, aged several decades via artistic extrapolation, enjoy a couple of frosty bags of freeze-dried beer in the scenic Earthlite Lounge. Gabe actually works for NASA in a capacity I won't disclose and has vowed to do what he can to get me to the moon before I die. I have a $10,000 wager riding on the outcome of this plan with another friend. So far it's not looking good for Our Hero, unless I can hoodwink the Chinese into taking me. At this rate I'll be lucky to get my ashes shot into space.

It scarcely needs saying that this is a very silly nonsensical drawing with no basis whatsoever in fact. I would like to quash once and for all the ridiculous rumors that I am some sort of a little bunny rabbit. Obviously I am not a rabbit of any kind so do not go around saying that I am. I am a serious writer of philosophical essays in the tradition of Montaigne and Emerson. So stop saying it. Stop it!